Executing with Military Precision at Scale and Around the World
We're able to provide data center solutions around the world at scale because we've solved the talent challenge that plagues even the most sophisticated hyperscalers, colo providers, and edge operators. The 'secret' is our unique people, processes, and technology.
Military Discipline
+
Mission Critical Expertise
"A core differentiator for Compass Datacenters is having a team of folks who get the 'Why' behind what we do. Veterans get it. I don't have to teach a veteran how to follow a procedure and how that helps us achieve our mission."
Hear more from Chris in the case study
"Uptime Institute Network members and the leadership of Uptime Institute recognized that the data center industry needs the discipline, leadership, and flexibility skills of veterans to serve as a foundation on which it can build the next generation of data center operators."
Learn more in the Data Center Operations Playbook
Playbook: The Process by Which Salute Solves the Data Center Talent Crisis
Our business model relies on having solved the talent challenge that plagues most hyperscalers and colocation providers. Take a peek behind the curtain and learn how in our Data Center Operations Playbook.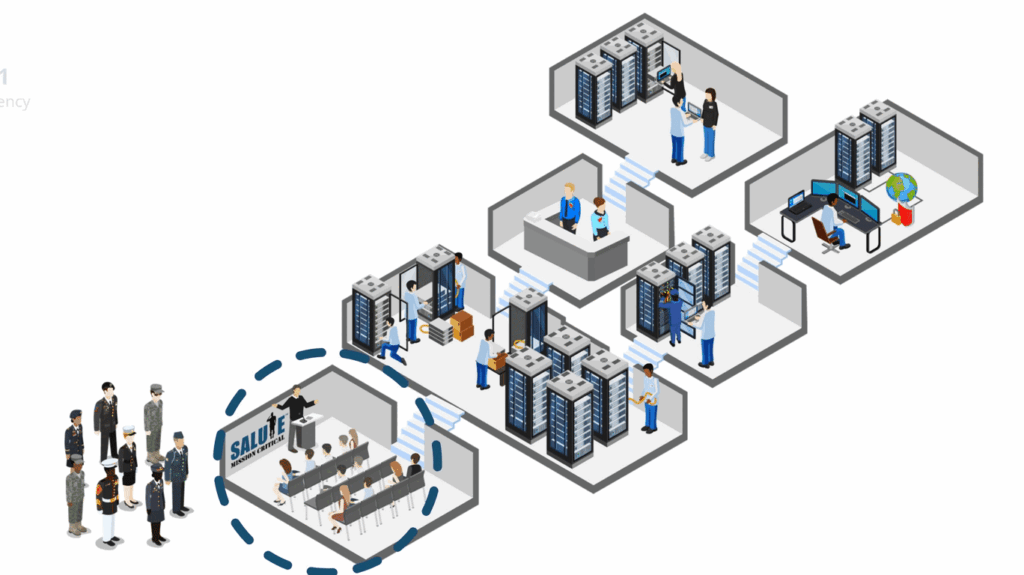 Critical Infrastructure Training
Salute Workforce Supply Chain

Ongoing Professional & Technical Development

IZON (Our proprietary training and workforce management tool)

The Global Command Center
Discover what Salute could do for you
Set an introductory meeting with one of our team members to discuss our data center solutions.
Discover what Salute could do for you
Set an introductory meeting with one of our team members