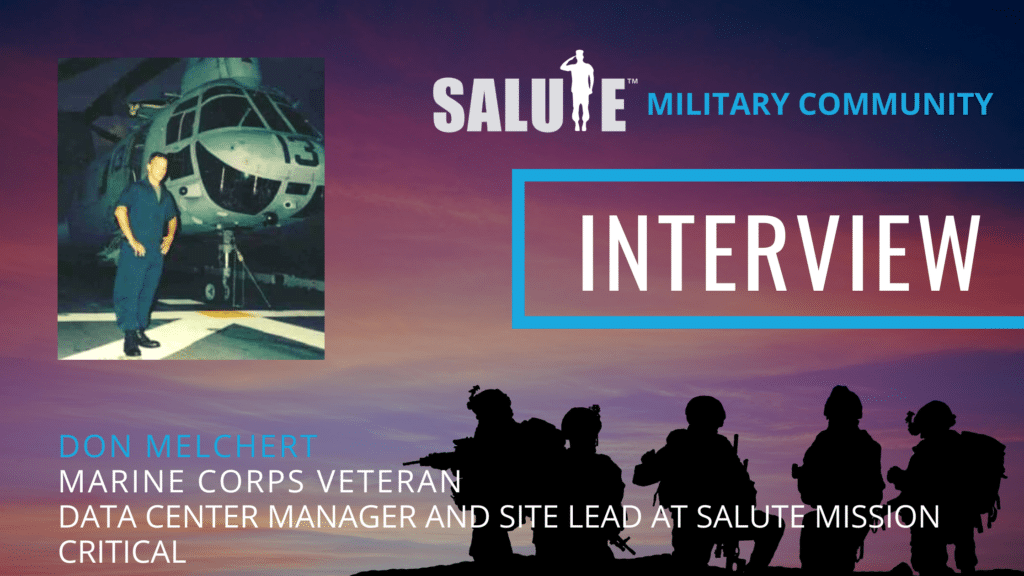 What is the Salute Military Community?
The Salute Military Community is a unique cohort of veterans and the military community who serve as examples of the value their experiences bring to our industry. The Military Community supports Salute's mission and strives to achieve our shared vision of providing veterans and military spouses career opportunities in the data center industry. We are proud of the military community for giving back to other members seeking to start careers in this industry.
Lee Kirby, Salute Co-Founder, and retired Army colonel, interviewed Military Community member Don Melchert, Data Center Manager and Site Lead at Salute Mission Critical and Marine Corps Veteran.
Before we dig in, our readers would love to get to know you a bit. Can you tell us a bit about your childhood?
I come from a hard-working family from Baltimore, Maryland (MD). My grandpa was a carpenter, and my dad was a Chief Warrant Officer 4 by day and a Maintenance Chief for a trucking company by night. My mom kept all of the neighborhood kids in line. Being Active Guard Reserve (AGR), dad's career allowed us to travel every couple of years, teaching us the value of and giving us the confidence to start over again and again. He spent hours at the shop fixing all types of things, from motorcycles to a "Deuce and a half," all while experiencing how my family supported each other and their friends through thick and thin. It led me to learn that the single most influential character trait I learned and carry with me today is to live a quality life.
And what are you doing today?
As the Data Center Manager and Site Lead for our Odessa Team, I'm honored to have the opportunity to grow and lead field teams supporting critical equipment and operations for clients at the bleeding edge of hyper-scale Bitcoin data centers.
Can you tell us a bit about your military background?
It's funny, but I didn't start out dreaming of someday becoming a Marine. I was studying international business and accounting in Indiana when I met a recruiter. But in 1991, there was no faster way to get a guy to enlist and hop on a plane to the United States Marine Corps (USMC) Recruit Depot in San Diego than making him memorize a cost of goods sold statement! After boot camp and Marine Combat Training (MCT), my Military Occupational Specialty (MOS) was rotor wing avionics, with a focus on automatic flight controls, which took me to schools in Memphis, San Diego, Norfolk, and Jacksonville, FL. After a float on the USS Wasp to Haiti and another "Med-float" on the USS Saipan, I was selected and pulled up to Marine Helicopter Squadron One, HMX-1, Quantico, VA, where I led the AVI-600 Division until my End of Active Service (EAS) in April 2001.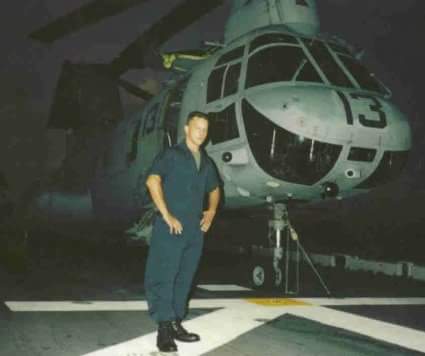 Can you share the most interesting story that you experienced during your military career? What "takeaway" did you learn from that story?
Like many veterans, singling out just one story is a difficult task. The one that stands out today is my trip to the Air Force Academy graduation with my HMX-1 team with President Clinton as a featured guest. Although the trip was eye-opening (especially after getting airborne in an aircraft loaded with two Presidential Blackhawks, all of our tools, test equipment, spare parts, ground support vehicles, a security detachment, and a gang of 20 Marines), what really stood out was what happened after we landed. Once we hit the airfield, all of the Marine enlisted team (myself included) swarmed to get our helicopters ready to fly again and all of our equipment securely stowed (a truly exceptional task as very few of us on the trip had ever worked together before) but what we did never stood out as much as the teamwork I observed from the two Army Aircrew teams setting up their CH-47s. From Chief Warrant Officer (CWO) pilots to the new guys, they all stayed together, with the first team moving over to help the second team finish until the entire job was done. I changed my leadership style that day, caring less for what rank I had on my sleeve and more about how important it was to accomplish the mission…as a team.
Do you think your experience in the military helped prepare you for business or leadership? Can you explain?
Yes, because I focus on quality in all things and that esprit de corps, team-oriented approach as I transitioned from keeping helicopters in the sky to keeping data centers up and running. The skills I learned in the military allowed the teams I supported and led to be successful, regardless of the circumstances. In a corporate society where many are only looking to elevate themselves, the way we conduct ourselves as veteran brothers and sisters isn't always appreciated. Not until that "it can't be done" impossible mission has been successfully achieved.
None of us can achieve success without some help along the way. Is there a particular person you are grateful for who helped you get to where you are? Can you share a story?
Yes. Someone who, although he was unable to join the military because of a hearing condition, never let that stop him from respecting veterans and striving to be a quality man. That man is Jake Carter, Regional Manager at Pipeline Supply Services, and a great friend of mine. Many years ago (over a whiskey or two), Jake and I discussed the challenges of leading civilian teams in the corporate world. In the middle of my lamenting over how the civilians on my team just didn't seem to measure up to the veterans and forgetting the background of the man I was talking to, he called me out by asking me a simple question. Jake asked, "Have you ever considered that you might be the problem?" That one got me, and through more conversations, Jake led me to begin researching how to bridge the gap between veterans and civilians, reminding me to look at the team and consider leading them based on how each member could contribute to the success of the mission in their own way, with everyone winning in the end.
You are a part of the Salute Military Community that shares a common passion for helping veterans and military spouses get into the data center industry. It is centered on veterans helping veterans. Why is this important to you?
Given that Marines have a reputation, and whether that reputation is positive or negative, someone still took the chance on me, and that chance was all I needed to transition into a successful civilian career. Being a Salute team member, I have the chance to give back and help other military families get into this industry and have longterm careers.
You are a person of great influence. If you could inspire a movement that would bring the most amount of good to the most amount of people, what would that be? You never know what your idea can trigger.
Never forget that you only get one shot at this life. While you may have had great mentors, friends, family or influencers in your past, you still have to decide to improve each day, to keep moving forward, building a life of quality for yourself so that you can inspire others to do the same. Always keep reassessing and never be afraid to start over at a new beginning.
How can our readers follow you online?
Readers can follow me on LinkedIn.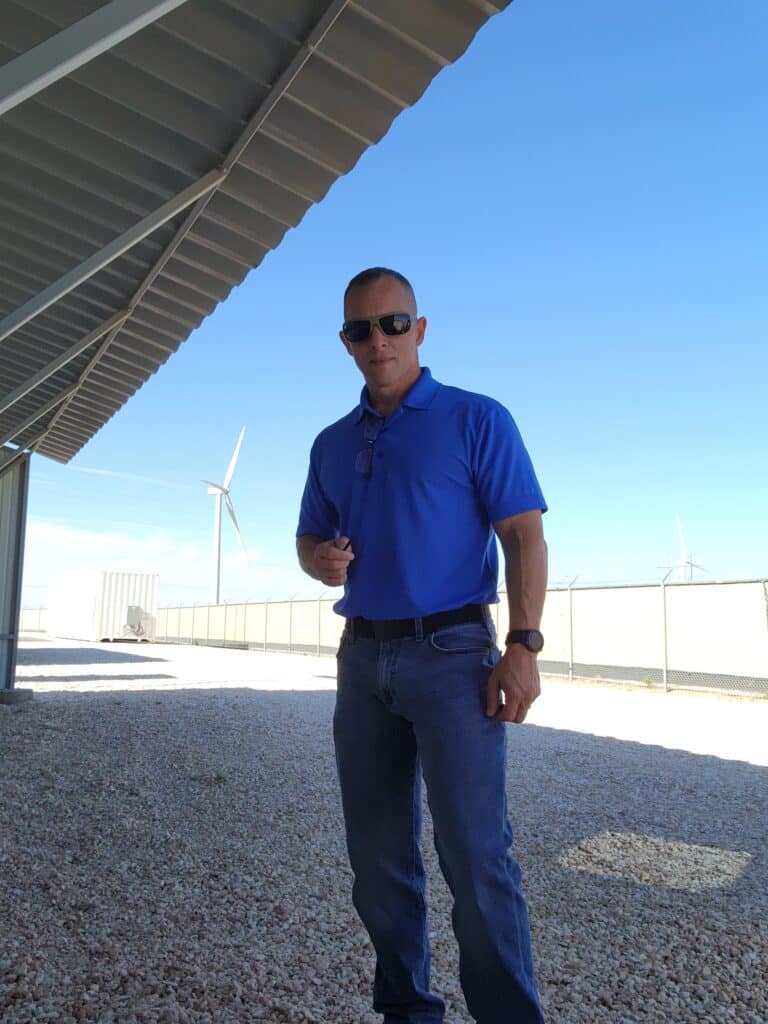 If you are a veteran or military spouse looking for an exciting career in a growing industry, contact us at Salute. We can help put you on the path to success.
If you are looking to close the data center talent gap with individuals committed to bringing military precision to their careers, contact us. Employ the heroes of today, tomorrow.