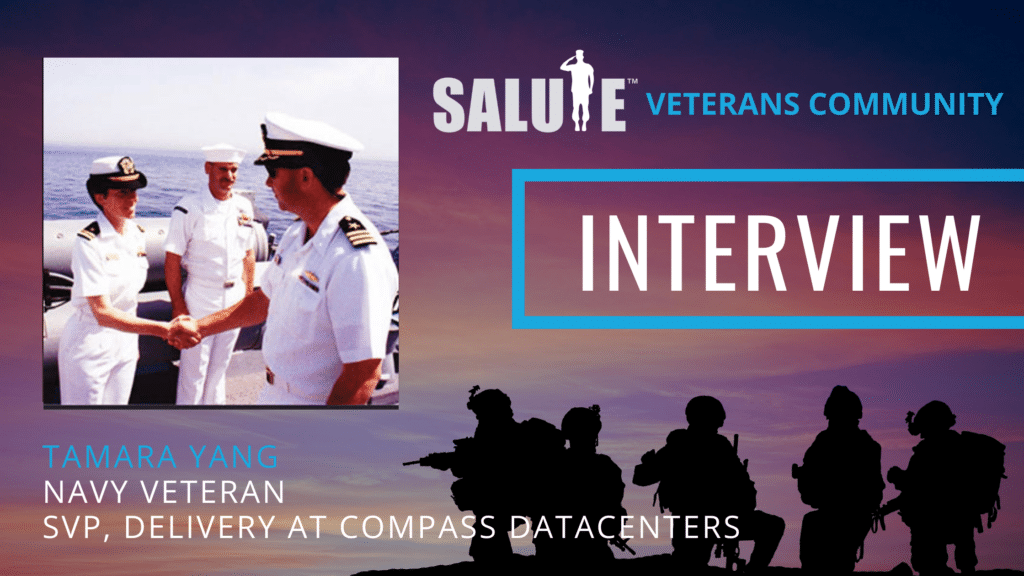 What is the Salute Veterans Community?
The Salute Veterans Community is a unique cohort of veterans who serve as examples of the value military training and experience bring to our industry. The Veterans Community supports Salute's mission and strives to achieve our shared vision of providing veterans and military spouses career opportunities in the data center industry. We are proud of these veterans for giving back to other veterans seeking to start careers in this industry.
Lee Kirby, Salute Co-Founder, and retired Army colonel interviewed Veterans Community member Tamara Yang, SVP, Delivery at Compass Datacenters and Navy Veteran.
Before we dig in, our readers would love to get to know you a bit. Can you tell us a bit about your childhood?
I grew up in a small, rural town in upstate New York. My dad was a self-employed carpenter and my mom stayed home to raise my brother and me. We were taught the value of hard work and that our word is our bond. When I was in high school, I worked part-time as a waitress in the only diner in our town and, in the summers, I was a laborer on my dad's construction projects.
High school didn't really prepare me for much beyond small town life and by the time I reached senior year, I knew that I wasn't ready for college. But I had strong role models in my family – aunts, uncles, grandparents, older cousins – who had made their careers in the military. I followed suit and enlisted in the Navy, entering boot camp just three weeks after graduating high school. It was one of the best decisions I ever made for myself.
And what are you doing today?
I am responsible for the construction and delivery of our data centers across the globe. I have amazing teams on the ground overseeing our active projects in North America, Europe and Israel.
Can you tell us a bit about your military background?
I enlisted in the Navy right after high school in the summer of 1988. After boot camp, I was picked up for Electronics Technician (ET) "A" School in Great Lakes, IL, followed by Satellite Communications "C" School in Norfolk, VA. Sea (ship-based) billets for female ETs were scarce and I was all but guaranteed a shore billet after completing my training. Upon graduation from "C" School, I was given orders to report to OPNAV TCC at the Pentagon in 1989 during Desert Storm. My unit's mission was to maintain 24/7/365 operational integrity of the Pentagon's satellite communications with the Middle East commands for the Joint Chiefs of Staff.
I performed well during this time, winning several Sailor of the Quarter and Sailor of the Year awards. My Division Officer, LTJG Eaton, a graduate of the US Naval Academy, saw my potential and one day, she said to me, "You should go to the Naval Academy". I wasn't sure what that meant, and I remember saying to her, "Thank you, ma'am." A few weeks later, she called me into her office and asked if I would be interested in applying to the Naval Academy. I said, "Yes, ma'am". A few days later (June 1991), I was sitting with her in the office of VADM Tuttle, Director Space and Warfare (SPAWAR) Command. Long story short, I received my nomination and appointment to the Naval Academy and was inducted just two weeks later in, July 1991.
Four years later, I graduated from USNA with a BS in Physics and a commission in the US Navy. I served in the 2nd fleet on the USS Stump (DD 978) as Damage Control Assistant and Main Propulsion Assistant (MPA), and then on the USS Gonzalez (DDG 66) as Navigator. We deployed several times to the Mediterranean Sea, Adriatic Sea, and the Persian Gulf.
After two sea duty tours, I rotated to shore duty as an instructor at Naval Leader Training Unit (NLTU) in Little Creek, VA. In 2001, just over 13 years after joining the Navy straight out of high school, I resigned my commission and was honorably discharged to begin a new chapter of my life.
Can you share the most interesting story that you experienced during your military career? What "takeaway" did you learn from that story?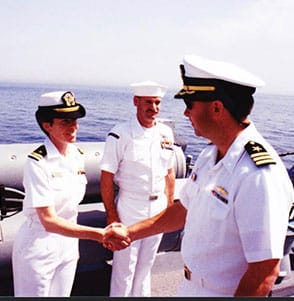 Near the end of our 2nd year at the Academy, one of my best friends and I signed up for Airborne Selection Training with the hopes of being selected for Airborne School that summer. During one of the platoon runs, my friend began to fall behind. Knowing that this would mean immediate disqualification, I grabbed him by the arm to pull him up alongside me. The upperclassmen saw this, pulled us out of ranks, and scratched us from the program. Airborne training is unique in that one of the first rules you learn is: Do not help your shipmate. While this goes against everything we are taught at USNA (Ship, Shipmate, Self), it serves a very special purpose. When a member jumps out of a plane, they need to be able to handle the situation, and any problems they face, on their own. It was a sharp reminder that, in some situations, there is no teamwork and we must rely on our own nerves, training and strengths. Fortunately for me, these situations have been rare.
Do you think your experience in the military helped prepare you for business or leadership? Can you explain?
I do. Naval service taught me how to adapt and learn quickly, develop resilience and self-confidence, and always keep the ultimate concept of Ship, Shipmate, Self at the core of my professional life.
None of us can achieve success without some help along the way. Is there a particular person who you are grateful for who helped you get to where you are? Can you share a story?
LTJG Tina Eaton, my Division Officer at the Pentagon, who saw something in me and helped me get into the Naval Academy. She truly altered the course of my life and helped me become the first military officer in my family.
You are a part of the Salute Veterans Community, which shares a common passion for helping veterans get into the data center industry. It is centered on veterans helping veterans. Why is this important to you?
Transitioning from the military is not the same as changing jobs. It's a change in our way of life, and often times the purpose we have in military service is hard to find in the civilian sector. I want to help other veterans find their paths and new missions.
How can our readers follow you online?
Readers can follow me on LinkedIn.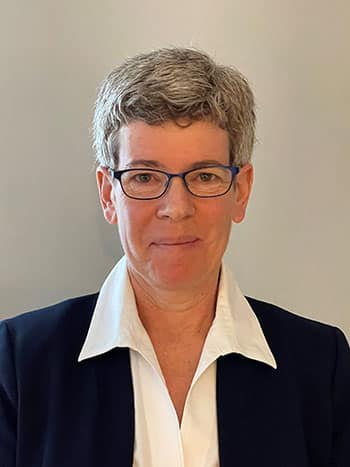 If you are a veteran looking for an exciting career in a growing industry, contact us at Salute. We can help put you on the path to success.
If you are looking to close the data center talent gap with individuals committed to bringing military precision to their careers, contact us. Employ the heroes of today, tomorrow.