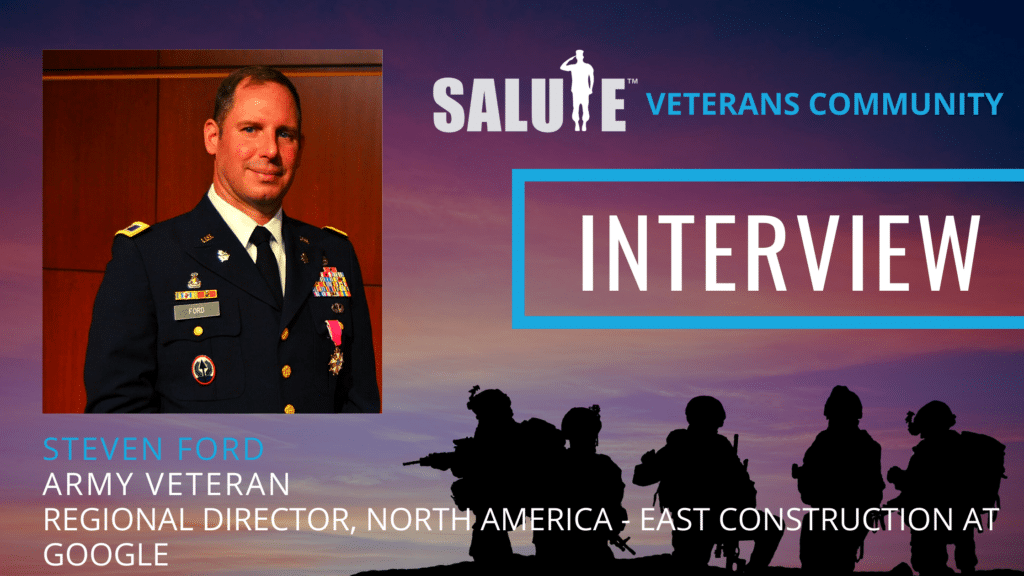 What is the Salute Veterans Community?
The Salute Veterans Community is a unique cohort of veterans who serve as examples of the value military training and experience bring to our industry. The Veterans Community supports Salute's mission and strives to achieve our shared vision of providing veterans and military spouses career opportunities in the data center industry. We are proud of these veterans for giving back to other veterans seeking to start careers in this industry.
Lee Kirby, Salute Co-Founder, and retired Army colonel interviewed Veterans Community member Steven Ford, Regional Director, North America – East Construction at Google and Army Veteran.
Before we dig in, our readers would love to get to know you a bit. Can you tell us a bit about your childhood?
I always knew that I wanted to serve in the military in some capacity. I had one grandfather who served in WWII. Additionally, my father and his three brothers served during Vietnam. Specifically, I also knew that I wanted to be in the Army. I already had uniforms and equipment from a young age.
And what are you doing today?
I am currently the Google Regional Director for delivering data center capacity for Canada, Eastern US, and Latin American. I am responsible for managing the data center construction teams engaged in the entire life cycle of the data centers, from master planning through construction and then delivering the projects post construction in the live environment.
Can you tell us a bit about your military background?
My military "experience" started when I went to Fork Union Military Academy for my last two years of high school. After I went to Fork Union Military Academy, I went to Kemper Military College, where I was commissioned as a 2nd Lieutenant on the USAR. I had 32 years of service when I retired from the US Army Reserve in 2013. I had several leadership positions including Company Commander, Battalion Commander, and Brigade Commander. My deployments include Operation Uphold Democracy, Operation Enduring Freedom, and Operation Iraqi Freedom. My last deployment was in 2009 – 2010 to Iraq with I Corps, Joint Base Lewis McChord, as the Deputy C9 for Multi-National Forces Iraq.
Can you share the most interesting story that you experienced during your military career? What "takeaway" did you learn from that story?
My most interesting story that I experienced during my military career is that of being a Provincial Reconstruction Team Commander (PRT) for the Ghazni Province, Afghanistan in 2003- 2004. I was one of nine Lieutenant Colonels selected as PRT Commanders responsible for the security and stability of nine new provinces to have an ongoing presence I partnered with various units during my time as the PRT Commander including, Infantry Battalions from the 10th Mountain Division, 25th Infantry Division and the 6th Marines. For a couple of months, I even reported to the Commander of 6th Marines. We made a substantial positive impact and dramatically enhanced the lives of the people of the Ghazni Province. We were able to enhance the security of the province but also built numerous schools, medical clinics, and road projects in a very short time. The approach that I took for the projects in my area of responsibility included, standardized designs and materials for the projects and getting the local people to contribute to the projects with their time and labor.
Do you think your experience in the military helped prepare you for business or leadership? Can you explain?
The military was a large part of my preparation for business and leadership; it prepared me in many ways for leadership. One of the most important values that translate directly is taking care of people including, having safety as a value. Construction is an inherently hazardous occupation that requires strong safety leadership and culture. The military taught me how to take ownership of my projects and my organization, effective communication skills and the decision making process. I learned many skills in the military that also prepared me for business, especially the importance of teamwork and collaboration.
None of us can achieve success without some help along the way. Is there a particular person who you are grateful for who helped you get to where you are? Can you share a story?
Many people along the way have helped me and I admire greatly, including Lee Kirby, Christian Belady, Peter Gross, Doug Gardner, Paul DeGroot, Brian Mattson, Dan Costello, and Joe Kava. One of the most influential people is Lee Kirby. Lee was the person who brought me into the data center business and the focus on data center construction and operations. During the "dot com" days, Lee had a mission for me at Exodus Communications for a very important client. He put his trust in me and knew I would accomplish the mission. Throughout my life, Lee has mentored me in both civilian life and the military, including when we deployed together as Colonels as part of 'Multi-National Forces Iraq'. Additionally, Christian Belady was one of my most influential managers of my career. Christian was one of the most empowering and engaging managers that I have had. He taught me that it is critical to trust and empower your team; if done so, they will produce great work.
You are a part of the Salute Veterans Community, which shares a common passion for helping veterans get into the data center industry. It is centered on veterans helping veterans. Why is this important to you?
It is important to me that veterans help other veterans for a couple of reasons. The first reason is that veterans have a lot of value and diversity to bring to an organization. Secondly, veterans have real life experience, leadership and organizational skills to bring to the table.
Another reason is veterans' challenges, including mental health issues that might present challenges or have impacted them in the past. It is also a challenge for many veterans to transition from the military to a civilian organization because, in some cases, the military is all they have known.
You are a person of great influence. If you could inspire a movement that would bring the most amount of good to the most amount of people, what would that be? You never know what your idea can trigger.
If I could inspire a movement, it would be for leaders to truly engage in diversity within their organizations and suppliers which include veterans, women in construction, minorities, and all types of people. In construction, it is a major challenge, but we are making progress. I would like to see more career development for veterans and others entering the workforce but that takes intentional effort and planning. We are constrained in construction by many things but especially cost and schedule. We must see diversity, inclusion and equity as a "value" and not just a priority. If leaders make D&I a value for their subordinates it will make it part of how they manage their organizations as part of their culture. Veterans can play a big part in D&I as not only have they served their country and have great skills, but they represent diversity in every way.
How can our readers follow you online?
Readers can follow me on LinkedIn.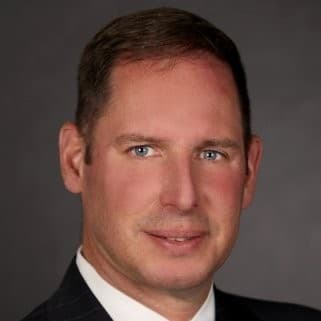 If you are a veteran looking for an exciting career in a growing industry, contact us at Salute. We can help put you on the path to success.
If you are looking to close the data center talent gap with individuals committed to bringing military precision to their careers, contact us. Employ the heroes of today, tomorrow.