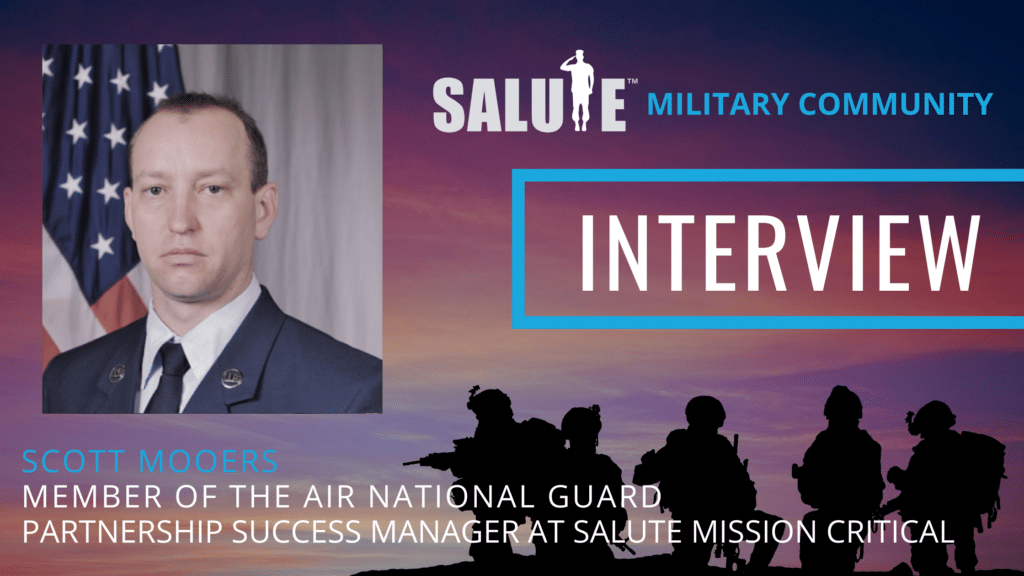 What is the Salute Military Community?
The Salute Military Community is a unique cohort of veterans and the military community who serve as examples of the value military training and experience bring to our industry. The Military Community supports Salute's mission and strives to achieve our shared vision of providing veterans and military spouses career opportunities in the data center industry. We are proud of these veterans for giving back to other veterans seeking to start careers in this industry.
Lee Kirby, Salute Co-Founder, and retired Army colonel interviewed Military Community member Scott Mooers, Partnership Success Manager at Salute Mission Critical and Member of the Air National Guard.
Before we dig in, our readers would love to get to know you a bit. Can you tell us a bit about your childhood?
I grew up moving around a lot because my father was a software engineering Contractor for various defense contracts. We lived in Indiana, Connecticut, and Arizona, where he helped develop and create a battlefield tracking system, the RAH-66 Comanche helicopter, and training simulators for the AH-64D Apache Longbow and other Boeing airframes.

Considering that my father was a software engineer, I was blessed to be around computers for as long as I can remember; working with him on his Commodore 64 and Tandy TRS-80. Some of my favorite memories were my dad bringing me along to computer stores and expos when it was time to get a new computer and helping him install all the hardware and software we had bought. I even remember him teaching me DOS and the command prompt so that I could install video games on the computer when I was 5 or 6. At that time, he bought me primarily educational ones like Math Blaster, Carmen San Diego, The Oregon Trail and Mavis Beacon. I even remember upgrading our modems from 28.8 to 56.6 and then a cable modem in 1996 or 1997 while living in Connecticut. I recall thinking how fast it was and how neat it was not requiring a telephone connection, which meant I could play more online games without tying up the phone lines. At the time, I really enjoyed playing Euchre online in the Yahoo games chat rooms with people from all over.

In Junior High & High school, I took every computer class I could get my hands on, including A+ certification, web page development, programming languages, and desktop publishing. I even helped run and develop the High School web page by taking a teacher's aide hour with one of my favorite computer teachers Mr. Sehl. Once In college, I studied Computer Systems Engineering at Arizona State University and joined the Theta Tau Professional Engineering Fraternity at Arizona State. Unfortunately, I was still very young and undisciplined, so my first attempt at college did not take. Wanting to remain independent and not run back home, I decided it was finally the right time to follow in my family's footsteps and enlist within the U.S. Military.
And what are you doing today?
Although I left active duty just before my 12-year mark, I remain a member of the Air National Guard as a 1D771B Cyber Defense Systems Operator at 185th Air Refueling Wing in Sioux City, Iowa. I am an E-7 Master Sergeant in charge of Quality Assurance and Unit Training for the base communications flight.
As a civilian, I am enjoying my 3rd year at Salute Mission Critical, currently working as a Director on the newly instantiated Partnership Success team. My current focus is developing beneficial solutions that solve our clients evolving needs while providing additional pathways into the Data Center Career fields for our predominantly veteran workforce. Our clients put tremendous amounts of faith and trust in our teams and even assisted in their development at times. In some cases, our staff may not come from traditional backgrounds or training for some positions but have accrued adjacent skills while serving in their respective branches that make them fantastic assets given the proper chance in their new posts. To that end, it is my job to make sure our teams are getting the appropriate training and support they need to be effective and are happy in their work while making sure that our partners are getting exceptional service from the Salute Mission Critical Team.
When I'm not working, you can find me pursuing my newfound Skydiving hobby with my wife most weekends. It is an excellent rush that continues to challenge me and help me grow. When you are falling from 14,000 ft, I can promise a few minutes of freedom from the weekday worries; at least until your feet are safely on the ground again. Being Under a canopy is also a great couple of minutes to enjoy the world from a unique perspective.
Can you tell us a bit about your military background?
I am at least a 4th generation military member from a family history perspective. Both my grandfathers served in the Navy during World War 2. My father was a tank mechanic in the Army before separating from a humanitarian to care for his terminally ill mother. Additionally, I had uncles in both the Navy & the Air Force.

As a youngster, I remember looking at my father's basic training yearbook and photos thinking I wanted to do that someday. While growing up, the only person still serving in the military was my Uncle Randy, whom I was always excited to see and listen to his deployment stories and his travels around the world.

When I met the Air Force recruiter for the first time, I told him that my only requirement for signing up was to work in the Information Technology career field. I was able to select between five different career fields that I would be ok with, and I was guaranteed to get one of them. In 2007, I enlisted and left for basic training at Lackland Air Force base with 3C0X1 Computer Systems Operations as my expected Air Force Specialty Code (AFSC). I graduated from technical training school and went to my first Duty Station at Eglin Air Force Base near Fort Walton Beach, Fl.

At Eglin, I worked at the 96th Communications Squadron, providing base communications support for the Air Force Materials Command mission. During this time, I was also selected for and had the honor of serving on the base honor guard team providing military services throughout Northwest Florida & the Southern part of Alabama. I will say I'm not always the most coordinated person, so this was one of the most challenging duties I ever experienced as an Airman.

In 2010, I went on a seven-month Joint Expeditionary Tasking deployment to the Kandahar province of Afghanistan. There, I served as the sole Airman attached to the Blackhawk Company of the 1-22 Infantry Division. During my time with the Army, I helped build a new Combat Outpost within the Arghandab River Valley, establishing and maintaining all communications support equipment, including the line of sight communications, satellite communications, and all computer networks secure & non-secure.

After returning from my deployment, I attended Airman Leadership School, where I was presented with the Distinguished Graduate and Academic Achievement awards. Following ALS, I began my supervision and leadership journey as the Non-Commissioned Officer in Charge of the Command Support Staff (CSS) team.

In 2012, I was selected for a special duty assignment as a Technical Training School instructor at Keesler Air Force base in Biloxi, MS. I spent four years teaching the next generation of Airman both the Cyber Systems Operations career field and preparing them for their required CompTIA Security+ certification. At this time, I started my foray into project management, leading an entire course rewrite and many tech refresh projects for the schoolhouse. During my last year at Keesler, I earned the rank of E-6 Technical Sergeant.

In my last two years of active duty, I was stationed at Offutt AFB near Omaha, Nebraska, where I had the pleasure of becoming a section chief and then the acting flight chief for the 2nd Systems Operations Squadron. My primary responsibilities were focused on operations support for the Department of Defense's data center housing with their weather modeling and forecasting capabilities. At this time, I was juggling two roles: Facility Operations, which was all very new to me, and Enterprise Services and Server Operations. After a trip to Data Center World in San Antonio, I fell in love with the Data Center Industry. At this time, I decided to use both the work experience I gained from the military and my newly acquired Master's Degree in Information Technology management that I earned using the Air Force's Tuition Assistance program to venture out into the "real world."
Can you share the most interesting story that you experienced during your military career? What "takeaway" did you learn from that story?
I cannot tell my most interesting stories, but I can share some experiences. Sometimes I wish I had carried a journal and written about them. I'll try not to embellish too much, but it is a war story, so some polishing is requisite.

This story is about my deployment with the Army, where I was an E-4 Senior Airman and was the only Airman amongst 100+ infantrymen.
I found out that I would follow the Blackhawk Company into the Arghandab River Valley and learned I would be responsible for all comms for the next several months as the only I.T. support they would have. To get there, we would have to walk through hostile territory using the cover of the night carrying all our equipment on our backs, and this is not something the Air Force is traditionally trained in.

I remember being petrified and maybe a little over-encumbered as we began our ruck. Over the next few hours, we stopped for EOD to dispose of IEDs a couple of times and once for troops in combat (TIC). I can promise you I was tired and scared and especially done being shoved down into the dirt. Although, I did appreciate the infantry for trying to keep me safe alongside them. When we finally got to where we were going, I couldn't set up the satellite communications as it had not yet been airdropped to us. Instead, I took over the night shift in the Tactical Operations Center, sitting on a box of MRE's with a couple of chem lights, ensuring the radios didn't die. If the batteries died, it would result in lost cryptographic capabilities and an unnecessarily dangerous patrol to regain them. That may have been some of the most challenging staying awake I ever did.

Finally, when all the equipment was delivered, I was able to set up the network allowing for redundant forms of communication. Most importantly, that included morale phones that allowed everyone to call home and let their families know they were ok.

In that environment, I was alone with a mission that had to be accomplished. Knowing I wouldn't be able to do it all by myself, I asked for help showing the soldiers precisely what needed doing. Allowing for stable comms within two hours instead of the six to eight it would have taken me by myself. I learned that sometimes you have to trust in yourself and your training to get the job done, but even if you are alone in the skills to accomplish the job, it doesn't mean you can't share knowledge to achieve better results.
Do you think your experience in the military helped prepare you for business or leadership? Can you explain?
Unequivocally! Many things are different between the military and "civilian" life, but ultimately, the lessons translate. Take care of the people you are responsible for so they can take care of business. Follow the core values: integrity first, service before self, excellence in all we do, and your actions should always be above reproach. The military has taught me so many valuable lessons that I will forever carry with me and shape how I think. It taught me respect, confidence, critical thinking, the value of teamwork, and trusting others to have your back because you are ultimately better with a support system behind you.
None of us can achieve success without some help along the way. Is there a particular person who you are grateful for who helped you get to where you are? Can you share a story?
There are so many people that helped me achieve success along the way that it would be impossible to list everyone. The first that comes to mind is my wonderful wife, Heather, who has been beside me since my first duty station. She had pushed me when I needed it and was patient and forgiving when trying to figure it all out.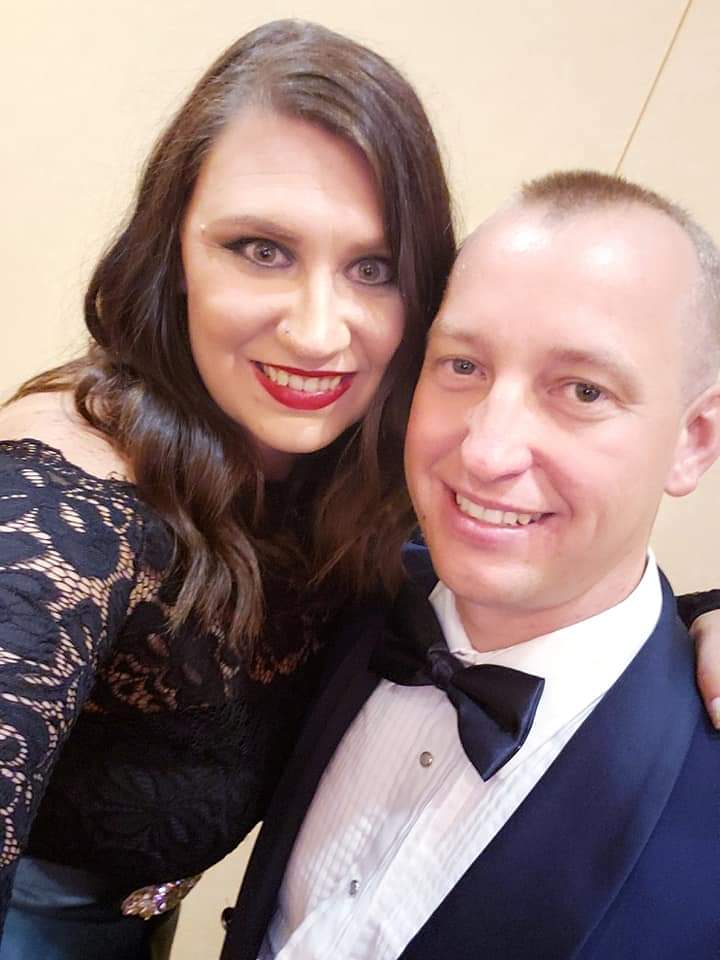 Next would be my first supervisor, Chief Master Sergeant Eric Andujar, at the time, a Staff Sergeant fresh from overseas tours back then. He treated me as an equal and was a good friend. I learned through him that it is vital to take a personal stake in your troops and that we are all just people at the end of the day. He showed me that leaders are not perfect and that we all grow together. I remember one time when he set me aside and talked to me about missing a unit booster club commitment that I was supposed to help at. We discussed personal accountability and then he had me apologize to the club president for letting her down. It was a challenging and embarrassing lesson for a young Airman, but it stuck with me, and I am better for it.

All of my peers, while stationed at Keesler who kept me sane while building me up. At that assignment, there was a lot of bad days, but it was my fellow peers that made the time so very memorable, and I couldn't have been so successful without some of the dark humor and sarcasm that kept the end of the day bright so that we could be our best for the students we were teaching.

Lt Col David Young Ret. was by far the best commander I ever had. He took the time to listen to everyone and understand his people. He could not always fix everything, but he was honest about it. He was exceptionally corny at times, but that was what made him so great. He showed me that a true leader doesn't give up on his people but is forgiving and encouraging. Every time we had a Commander's call or other events, he would remind us that we were "Ohana."

Lastly, those at Salute Mission Critical gave me the freedom to fail a bit while coaching me along the way. Had it not been for Kristen Vosmaer, Jason Okroy, & Lee Kirby, I would not be where I am today, working in an Industry I genuinely feel at home within.
You are a part of the Salute Veterans Community, which shares a common passion for helping veterans get into the data center industry. It is centered on veterans helping veterans. Why is this important to you?
In my time in the Air Force, I was blessed with so many opportunities for growth and development. I was able to push through 3 associates, a bachelor's, and a master's degree in my 12-year run. On top of that, I was afforded the opportunity to attend three leadership schools. I say this not to brag but to suggest that it isn't necessarily a typical path that every enlisted member gets. I realize how lucky I was to have work centers that encouraged and even allowed me the time and opportunities to work on these things. Knowing this, I feel an internal obligation to pass along that same opportunity to those that walked a more difficult path than I and had fewer chances for development while serving. At Salute, I continue to work with veterans at a job that speaks to my soul and core being by helping others find an entry point to a career with such incredible importance and impact.
You are a person of great influence. If you could inspire a movement that would bring the most amount of good to the most amount of people, what would that be? You never know what your idea can trigger.
I fervently believe that each individual is unique and has their own story to tell. Although we share similar stories, we are on our own unique journeys. Each of us has experiences and wisdom we have gained along the way that no one else can share. If we don't take the time to treat others as our equals regardless of position or station, we are truly missing out on understanding the world around us and what humanity is all about. To that end, I would love to see a world where hiring practices are more consistent and more personal for everyone. Too often, the best talent for the situation may never even be seen by those making decisions due to a computing algorithm that sorts them out or outdated hiring conventions that fail to look at what truly matters.

Further, I believe a solution can come from anywhere in the organization. A work culture that fosters that level of support will thrive because each employee knows they matter and can make a difference that will allow them to grow their success. Learning how to look past the tried and true to find diamonds in the rough is one of the most exhilarating work experiences I have ever had, and I constantly find myself learning and growing from each encounter I have with someone new. The strength of the U.S. military is a direct result of such a diverse nation that continuously finds ways to work together despite sometimes having views and perspectives that can be so drastically different. It is inspiring to see the Data Center Industry and its leaders embracing this cause wholeheartedly. However, I believe there is much more work still needing done to combat the previous hegemony.
How can our readers follow you online?
Readers can follow me on LinkedIn.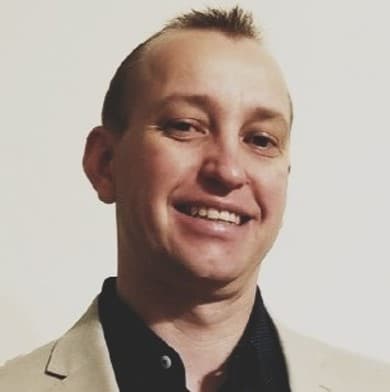 If you are a veteran looking for an exciting career in a growing industry, contact us at Salute. We can help put you on the path to success.
If you are looking to close the data center talent gap with individuals committed to bringing military precision to their careers, contact us. Employ the heroes of today, tomorrow.