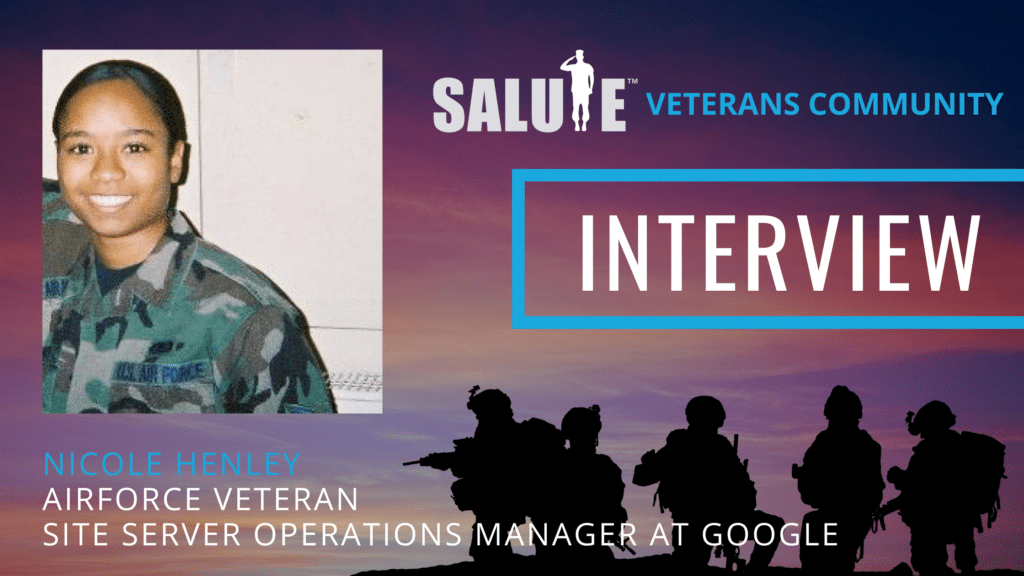 What is the Salute Veterans Community?
The Salute Veterans Community is a unique cohort of veterans who serve as examples of the value military training and experience bring to our industry. The Veterans Community supports Salute's mission and strives to achieve our shared vision of providing veterans and military spouses career opportunities in the data center industry. We are proud of these veterans for giving back to other veterans seeking to start careers in this industry.
Lee Kirby, Salute Co-Founder, and retired Army colonel interviewed Veterans Community member Nicole Henley, Site Server Operations Manager at Google, and Airforce Veteran.
Before we dig in, our readers would love to get to know you a bit. Can you tell us a bit about your childhood?
I was born in Mississippi but lived in Sulligent, Alabama. My mother's family is from Alabama and my father's family is from Detroit, MI. When I was six years old, we moved to Detroit, MI. However, I spent time back and forth between the two locations visiting both sides of the family. Although I experienced more racism in the South, I enjoyed spending time with my grandparents. My mom's family is very close and I enjoyed the southern lifestyle. My grandparents and great-grandmother Lucille taught me about corn shucking and "shelling" peas. Those are memories that I still cherish and appreciate. My father's family had a city vibe to them. There, we engaged in activities like roller skating, going to the movies, and concerts. Detroit was where I attended my first Janet Jackson concert (big Janet fan!). As a child, it was hard to understand the harsh treatment of the Black+ community in the South. I can remember in High School, there was a white and "non-white" homecoming court and it was accepted as common — but it definitely should not have been accepted as normal. The North was a completely different experience, although pockets of racism did exist. However, as a child, it seemed that I was more accepted as a Black person than I was in the South. That acceptance helped me build confidence and understand who I am as a person and as a woman. The experience of both of those cultures has helped shape who I am today.
My dad and Uncles were all in the military, so this is where I gained my interest in enlisting. I was the first family member to enlist into the Air Force. My uncles and dad were Army and Marines. However, there was a sense of pride they had regarding their service to the country and I wanted to experience that as well.
And what are you doing today?
I help deliver the internet to end users. In my role, we make sure our end users have accessible internet to do important and critical things daily. I am a Senior Server Operations Manager for Northern Virginia at Google, and I manage complex teams that deal with infrastructure, cloud computing, and data security.
Information security is actually my bread and butter; the story of me getting into data centers was coincidental because I started out managing info security, and took on the role of data center management, and that is when Google reached out to see if I would be interested in managing at their data centers. But once I got here and realized how seriously Google takes information security at its data centers, it was a perfect fit for my skills and passion.
Can you tell us a bit about your military background?
I was actually scheduled to be at the Military Entrance Processing Station (MEPS) on 9/11 and right before going to MEPS, I decided to cut off my hair. I had this perception that women could not have long hair in the military. While I was sitting there in the chair, the hairstylist said, "Did you hear what happened to the world trade center? Afterward, I went to MEPS they gave us a different briefing and asked if we still wanted to sign up, and I said "yes!". My entry to the military was delayed until mid-September because they had grounded all airlines. My basic training was greatly impacted due to 9/11; the focus was on preparing to go to war.  I spoke with my recruiter about being a lawyer in the military (that is what I wanted to do).  Of course, at the recruiting stage, you can do anything you want in the military.  However, that was not the case as I had the option of selecting my job in basic training.  Let's just say the option to become a lawyer was not offered and I ended up choosing Information Manager (which is technology).  After technical training in Biloxi, MS, I was assigned to Spangdahlem, Germany, where I spent 3 years. During that time, I met my husband and started our family. I served 2001-5 and am very proud of my service and my decision to leave the military to support my family by being the non-deploying parent.  I believe that military spouses play a key role that is often overlooked but vital to allow service members to focus on the service they are called to perform.  You should never underestimate the tenacity and resilience of a military spouse because their skills and experience are invaluable to continuously changing and evolving businesses.
"You should never underestimate the tenacity and resilience of a military spouse because their skills and experience are invaluable to continuously changing and evolving businesses."

Nicole Henley
Can you share the most interesting story that you experienced during your military career? What "takeaway" did you learn from that story?
When I came into the military as an E-1, Airman Basic, from day 1 of my arrival, people automatically started calling me chief because of a funny situation. In my first assignment, I was the IT person for a vehicle unit and they had nowhere to put me. So, they put me in this huge office and the other airmen in the unit didn't understand why I had the big office. My aspirations at that time were to become commissioned and even though they were all calling me chief and stroking those aspirations, I had a decision to make. My husband and I gave it a lot of thought and knew that if we were going to start a family that we did not want to both be deployed and that one of us would need to get out of the military to be with the kids. He was higher ranking, so I chose to get out but told him he had to ride it to the highest rank he could and just a few months ago, I proudly pinned on his E-9 rank at a promotion ceremony. We have served together in our respective roles and are proud of each other because we understand and appreciate the differences and believe that partnership is key to success.
Do you think your experience in the military helped prepare you for business or leadership? Can you explain?
I think one of the valuable lessons the military taught me is the chain of command. I am an avid believer that you resolve problems and conflicts at the lowest level. If you cannot resolve that issue, of course, take the measures you need to take to escalate your concerns. No one should suffer in silence or avoid resolving a problem.
The military is built upon following protocols and the chain of command. The military taught me how to respect and communicate with leadership. Sometimes people think they have a bad leader or employee, but there are two sides to the situation and a lack of communication creates problems. Following the chain of command helped me to improve my communication skills, have difficult conversations, and gain both sides of the story, so I have a better perspective.
Being in the military gave me the skill set I needed to launch into technology. I got hands-on training and formal schooling, which gave me enough foundation to propel my career when I got out of the military. Within a few months, I had a good job from the training I had from the military.
Being in the military gave me the skill set I needed to launch into technology. I got hands-on training and formal schooling, which gave me enough foundation to propel my career when I got out of the military. Within a few months, I had a good job from the training I had from the military.

– Nicole Henley
None of us can achieve success without some help along the way. Is there a particular person who you are grateful for who helped you get to where you are? Can you share a story?
I give all the credit to Jesus Christ. I am a Christian and believe strongly that everything I have, I owe to Him. Also, my husband is the most influential person in my career and life; he has dealt with multiple deployments, hazardous/dangerous conditions and did not complain about any of them. The deployments were hard because of the family separation, but he handled it with great strength. Seeing that — makes it a bit easier for me to overcome challenges in my career. Seeing him succeed in his career and become a Chief in the Air Force is very influential to me. I have a lot of respect for his service, his faith in Christ, our family, and country. My mom is a very powerful influencer in my life; her strength as a woman and mother have stuck with me since I was a child.
You are a part of the Salute Veterans Community, which shares a common passion for helping veterans get into the data center industry. It is centered on veterans helping veterans. Why is this important to you?
I think it's important that veterans help other veterans, but we run across veterans all the time that we do not realize are affiliated with the military. If we see stories of successful veterans, we can relate to them and know that we can get where they are. People are surprised to hear that I am a veteran. And now I can relate to people who have been in the military. Hey, here's what I did and maybe this can help you as well. That is powerful to me that veterans share their stories. We have veterans in positions to help other veterans, share their stories, and lend a hand to open a door to an opportunity. I also believe that anytime you say veterans, you should also be thinking that military spouses are a key part of that group and should not be overlooked. Helping veterans is a good thing at an individual level but in aggregate, it is great for our industry and society as a whole because we capitalize on the enormous training and experience that veterans and military spouses gain in service to our country.
You are a person of great influence. If you could inspire a movement that would bring the most amount of good to the most amount of people, what would that be? You never know what your idea could trigger.
It would be Love. If we learned to love people despite ourselves and what we agree and disagree on but love people for who they are and where they are, we could close many gaps amongst humanity. Martin Luther King Jr said that "Love is the only force capable of transforming an enemy into a friend."
"Love is the only force capable of transforming an enemy into a friend."

Martin Luther King Jr.
How can our readers follow you online?
Readers can follow me on LinkedIn.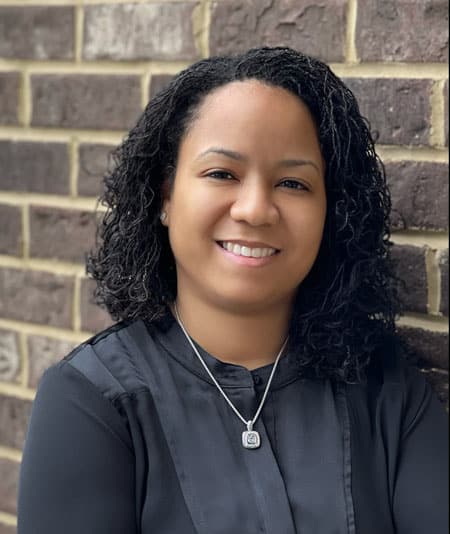 If you are a veteran looking for an exciting career in a growing industry, contact us at Salute. We can help put you on the path to success.
If you are looking to close the data center talent gap with individuals committed to bringing military precision to their careers, contact us. Employ the heroes of today, tomorrow.