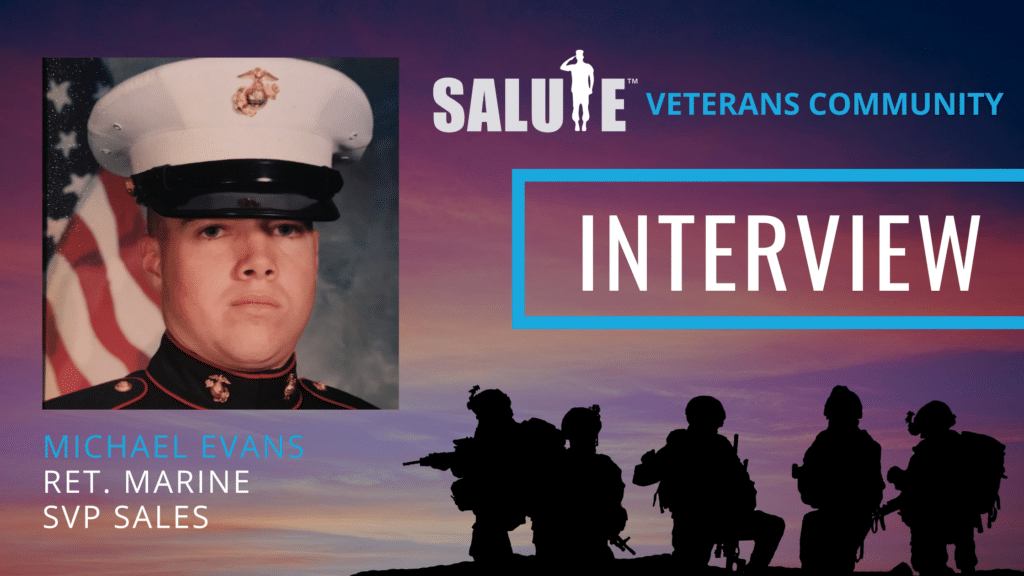 What is the Salute Veterans Community?
The Salute Veterans Community is a unique cohort of veterans who serve as examples of the value military training and experience bring to our industry. The Veterans Community supports Salute's mission and strives to achieve our shared vision of providing veterans and military spouses career opportunities in the data center industry. We are proud of these veterans for giving back to other veterans seeking to start careers in this industry.
Lee Kirby, Salute Co-Founder, and retired Army colonel interviewed Veterans Community member Michael Evans, SVP of Sales at Salute, and Marine veteran.
Before we dig in, our readers would love to get to know you a bit. Can you tell us a bit about your childhood?

I was born in Bethel Park, the suburbs of Pittsburgh. I have one sister, my mother was a Catholic High School teacher and a Certified Public Accountant, and my father was a Chiropractor. I graduated from high school in 1989, then received a B.S degree from West Virginia University and was honorably discharged from the United States Marine Corps in 1999.
Having the time of my life in college was not leading towards a path of success! I felt like I needed a kick in the ass, and the Marine Corps was my answer. I joined during the Gulf War because I was motivated to serve my country. Upon completing boot camp, Military Occupational Specialty (MOS) training, and graduating from college, I participated in a success seminar where I was inspired by key leaders from various professions around the world and quickly realized I wanted to get into business, win, and become successful like the individuals that were speaking to me.
And what are you doing today?
I joined Salute Mission Critical in 2018 and am the Senior Vice President of Sales. I have over 25 years of experience in developing and managing relationships within Fortune 500 corporations.
I am responsible for the Salute's global sales and client relationships.  My other responsibilities include business development, new and current relationship development, proposal development, and revenue and margin growth. 
For those unfamiliar with Salute, we are an industry-leading company that hires, trains, and deploys military veterans to perform hands-on services for mission-critical data centers.
Can you tell us a bit about your military background?
While I was in college, I joined the United States Marine Corps Reserves.  There were several reasons I joined, but one of the main reasons was to help fellow Americans fight for our country during the Gulf war.  My MOS was 0331, or Heavy Machine Gunner.  Once I received all my MOS training, I was attached to a weapons company located in Moundsville, West Virginia. My military unit specialized in infantry MOS's and trained mostly in extreme weather environments. 
Can you share the most interesting story that you experienced during your military career? What "takeaway" did you learn from that story?
My weapons company was sent to the Mojave desert to perform a Combined Arms Exercise, and during this training, there was a training accident.  My platoon was dispatched to aid in transporting the wounded Marines to the local Naval Hospital and provided blood for the wounded. This was a lesson, among many others that I received over my eight years in the Marine Corps, that life will always present challenges but can always be overcome by working with others.
Do you think your experience in the military helped prepare you for business or leadership? Can you explain?
  I believe the Marine Corps instilled several skills which have been invaluable in my personal and professional life such as discipline, perseverance, leadership, and establishing an unmatched work ethic. It becomes ingrained in veterans that failure is not an option, and this has been a great mindset to have in a world that is always changing.
None of us are able to achieve success without some help along the way. Is there a particular person who you are grateful towards who helped get you to where you are? Can you share a story? 
I am grateful for my wife, who helped push me to become a better person and get where I am today. Our combined strengths and partnership mean that no challenge is too big. My wife is amazing in so many ways and has been pivotal in the development and success of our children. I get great professional satisfaction from my role at Salute, but nothing can compare to being a great husband and father to my family.
I also attribute a lot of my work success to my first boss. The lesson he taught me was:
You will have many bosses throughout your working career, some good and not so good- but only focus on the good in all of them and keep those lessons with you as you grow and develop in your career.

Michael's first boss
You are a part of the Salute Veterans Community, which shares a common passion for helping veterans get into the data center industry.  It is centered on veterans helping veterans.  Why is this important to you?
Veterans helping veterans is extremely important to me, and the reason I came to Salute. Any way that I can put forth my time and effort providing solid careers for those who have served our country is time well-spent.
The military provides various skills that might not be learned at home or through a university that are of value to most employers, but like most veterans coming out of the military and having a difficult time transitioning to a civilian job, I also had a difficult time finding employment even with a college degree and several years of military experience. 
Every time I can meet the needs of one of our customers, it is incredibly rewarding to me because it also means more veterans can receive gainful employment with us.
You are a person of great influence. If you could inspire a movement that would bring the most amount of good to the most amount of people, what would that be? You never know what your idea could trigger.
I believe Salute Mission Critical is already inspiring a movement by providing a pathway from the end of military service into the mission critical data center industry.  We also give military spouses and guard and reserve service members the same opportunities and that increases the size of the pool of candidates for this industry.  This industry is rapidly growing and is starving for talented individuals that want to learn and grow.  Salute Mission Critical has the tools and infrastructure to train and develop staff throughout their career. 
Our industry needs more companies doing the same.  I am very pleased with our partnership with Infrastructure Masons. This partnership allows us to share our best practices in workforce development and training with everyone who would like to do something similar. I am a proud member of Infrastructure Masons and volunteer as a military liaison and work with Marine4Life to help raise awareness that we have great careers for Marines and their spouses.  Raising awareness is the key because then people can make informed decisions and we can gain valuable talent into the industry. 
Together we can solve the personnel crisis and do it with a pool of talent that will continuously innovate and change our industry sustainably.  I am focusing on ways to accelerate the growth of Salute Mission Critical further accelerate the rate of veterans, guard and reserve service members, and military spouses to find rewarding careers in the data center industry.  If you are a veteran interested in our industry and reading this, I encourage you to join us and contact me with any questions you might have.
How can our readers follow you online?
Readers can connect with me on LinkedIn or email me at michael.evans@saluteinc.com.
---
If you are a veteran looking for an exciting career in a growing industry, contact us at Salute. We can help put you on the path to success.
If you are looking to close the data center talent gap with individuals committed to bringing military precision to their careers, contact our sales team. Employ the heroes of today, tomorrow.