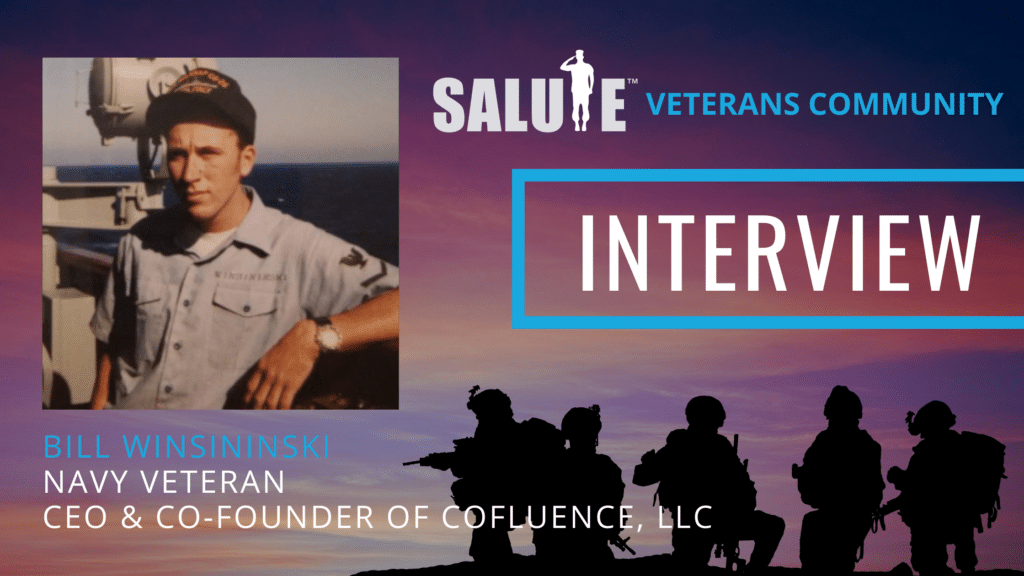 What is the Salute Veterans Community?
The Salute Veterans Community is a unique cohort of veterans who serve as examples of the value military training and experience bring to our industry. The Veterans Community supports Salute's mission and strives to achieve our shared vision of providing veterans and military spouses career opportunities in the data center industry. We are proud of these veterans for giving back to other veterans seeking to start careers in this industry.
Lee Kirby, Salute Co-Founder, and retired Army colonel interviewed Veterans Community member Bill Winsininski, CEO & Co-Founder at Cofluence, LLC, and Navy Veteran.
Before we dig in, our readers would love to get to know you a bit. Can you tell us a bit about your childhood?
I was born in San Jose, CA. My dad was stationed at Moffett Field Air Station, where he met my mom while on liberty and the rest is history. After the Navy, he started with General Motors in Fremont (which is now the Tesla plant) then moved the family south to Huntington Beach, CA. I grew up on the beach and lived the typical southern California lifestyle in the 70's – surfing, swimming, and playing sports. My dad transferred us again while I was a Junior in HS to St. Louis, MO. After the culture shock of living in the middle of the country subsided, I knew I had to get back to the ocean somehow. After high school, my dad moved us again – this time to Detroit. I played music in bands and didn't have a lot of direction. I knew I wanted to go to college; however, my family could not afford to send me. My dad was in the Navy and my brother was considering enlisting and the next thing I knew, I was on a bus to Great Lakes Naval Station in Waukegan, IL! I told my recruiter to send me as far away from Detroit as possible- He did- Gaeta Italy. After the Navy, I attended the University of California Berkeley, played drums in a traveling rock band and worked in technology in Silicon Valley in the '90s. I moved to Chicago and in 2002 and continued to work in technology specializing in the data center.
And what are you doing today?
I am the Co-Founder and CEO at Cofluence, Inc. We are a global data center sales and consulting company headquartered in Chicago, IL. There is absolutely nothing new in business today that does not involve technology. We specialize in the mission critical infrastructure that supports today's business- data center sales, site selection, marketing, operations, and telecommunications. We also have a very robust training practice that helps data center sales, facility managers and operations obtain key certifications to advance their careers. I am also the President of AFCOM Chicago, the founding member of the Data Center Sellers Association and an Infrastructure Mason. My wife Elizabeth and I have 12 year old boy/girl twins. We are very involved with softball, swimming, water polo and our two dogs- Charlie and Penny. I play golf, tennis, and the drums every chance I get.
Can you tell us a bit about your military background?
I was a Navy Search and Rescue Swimmer stationed on the USS Belknap, CG-26. Rescue swimmers usually are charged with the rescue, assessment, and rendering of medical aid to persons in distress in the sea, on the land, or in the air. This highly specialized position is extremely challenging. I was also a Boatswain Mate BM2, SAR. I grew up in the ocean and the job of Search and Rescue appealed to me. Boatswain Mate is one of the oldest ratings in the Navy- I was responsible for a team of 60 that was responsible for maintaining the Sixth Fleet Flag Ship in the Mediterranean Sea.
I spent my whole Navy career in Gaeta, Italy, which is on the west coast of Italy in between Rome and Naples. It is an idyllic resort and fishing community that has been the home to the Sixth Fleet flagship since 1967. I was stationed on the USS Belknap CG-26 Sixth Fleet Flagship forward deployed in Gaeta, Italy, for four and a half years. While in the Navy, we were at sea every two weeks, steaming to a different country – Gibraltar, Spain, France, Greece, Italy, Turkey, Israel, Egypt, Libya, Lebanon, Tunisia, Yugoslavia, Russia, Monaco, Morocco, Kenya, Malta, Algeria, Cyprus. It was an amazing experience.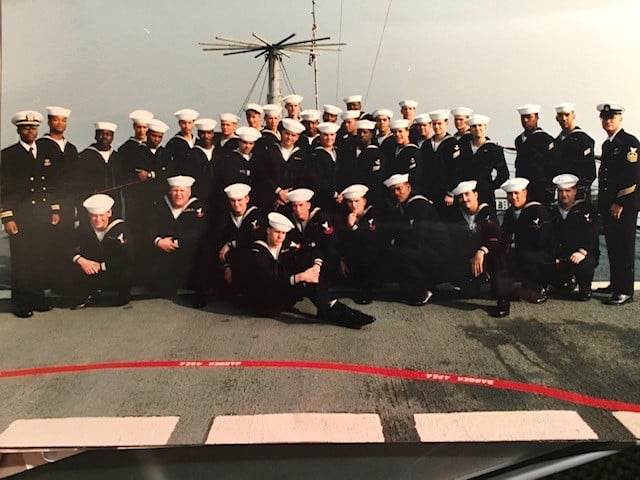 Can you share the most interesting story that you experienced during your military career? What "takeaway" did you learn from that story?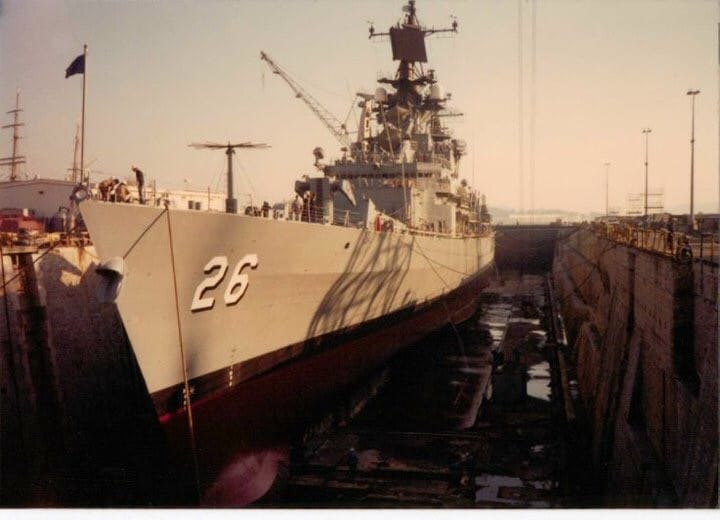 Search and Rescue Training is intense. We started with 75 applicants and only 13 graduated. The 8 week training course is designed to challenge and bring you together as a team. It is also designed to push your physical and mental capabilities. Every week we had a physical fitness test consisting of an ocean swim, run on dry sand, followed by pullups. Each week we had to better our numbers from the week prior. If you missed one pull up, you failed and were sent back to the fleet. Everyone worked together as a team to push you through. In my last week, I had to swim a mile, run 2 miles, and do 12 pull ups to pass this course. Swim and run were ok, but I knew the pullups were going to be tough; I remember ripping through 8 pull ups with no problem, then I just hung there on the bar. The whole team was pushing me and yelling encouragement to me just inches from my face. I was completely spent- The entire team, including the trainers (who were bad ass Navy Seals), started to clap and get me fired up to pull through 4 more pull ups. I barely made the last one – as soon as my chin cleared the bar. I knew we passed. I learned that day that we are all stronger as a team. These guys pushed me way beyond my physical limits. They saw something in me that I didn't know was there. As a SAR Swimmer, you must rely on your team, and they must rely on you. Being a part of a Navy team, a sports team, or a data center team, you are only as strong as the people around you. It is difficult to quantify the value of these experiences; however, you know when you do not have them.
Do you think your experience in the military helped prepare you for business or leadership? Can you explain?
The Navy absolutely prepared me for business and leadership. It instilled a work ethic that still exists to this day- I think this is true for everyone who has had the honor of serving. The military empowers you and gives you heavy responsibility almost immediately- you get the opportunity to lead and work alongside a very diverse group from all corners of the United States with different cultures, viewpoints, and ideas- sometimes in life or death situations. Communication and a clear understanding of your goal and objective are paramount- The Navy taught me to understand the task at hand, delegate authority and work together as a team to achieve our goal. It also instilled a sense of accountability to my team and my superiors. I carry that with me today.
None of us can achieve success without some help along the way. Is there a particular person who you are grateful for who helped you get to where you are? Can you share a story?
When I first moved to Chicago, I helped start the data center practice at a company called Imprint Data Center Solutions. The primary focus of the business was bar code and labeling; however, we had an IT division that sold – servers, switches, routers, and some single phase power products. My first cold call was to Michael Bordenet at Zonatherm Products. We discussed distributed computing, data centers, power, and cooling. At the time, Zonatherm was the manufacturer's rep for Liebert. When Michael and I met, he introduced me to his colleagues, and they came out and met our team at Imprint. I was hungry to learn the business and meet people in the Chicago area. I asked Michael if I could be his assistant- I told him I would carry his (ridiculously heavy backpack), get him coffee, take notes etc. I just wanted to shadow and see data centers. He agreed and took me into every data center in Chicagoland! For a year, we bounced in and out of all these amazing places and met everyone. He introduced me to 7×24 and AFCOM and taught me the infrastructure business. He told me to "never burn bridges; this is a very small industry, treat people kindly and with respect. You keep the person on your left cups full- yours will always be full" I never forgot that and his willingness to mentor this punk kid from California.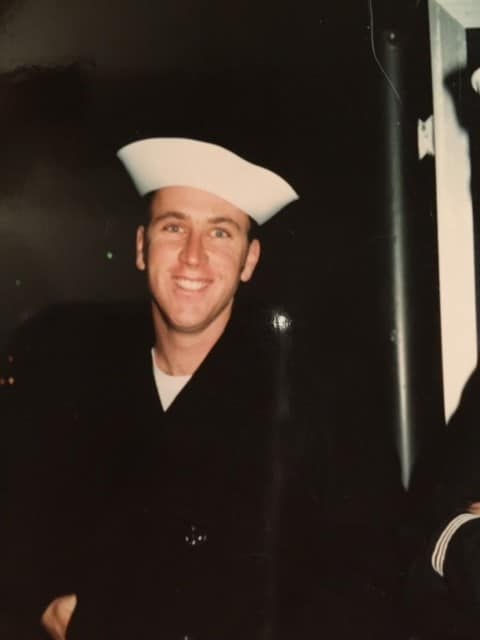 "Never burn bridges; this is a very small industry, treat people kindly and with respect. You keep the person on your left cups full- yours will always be full."

Michael Bordenet
You are a part of the Salute Veterans Community, which shares a common passion for helping veterans get into the data center industry. It is centered on veterans helping veterans. Why is this important to you?
Veterans are my team; I have a general sense of what they are about; it does not matter the branch. They are my brothers and sisters and they joined the service to better themselves while serving the United States. I am grateful for their service and the chance to work alongside them again in the data center. Data centers are run like ships; that is probably the reason I love this industry so much. It reminds me of working on a ship. The data center, like the military, has given me the chance to travel the world and meet some of the greatest people. The majority of my friends are data center professionals; helping veterans matriculate from active service or later in their career discover the data center as a career is extremely rewarding. It is incredible to watch a veteran start in the dc business- they take to it like it is second nature. I love to see them own it, grow, and eventually give it right back to another vet. I guess that is the thing- you know that when you empower a veteran in the data center business, odds are they will be successful and pay it forward.
You are a person of great influence. If you could inspire a movement that would bring the most amount of good to the most amount of people, what would that be? You never know what your idea could trigger.
We are all connected. Not by a network but because of our humanity. The technology data centers support has changed the world, and I think it is very important we do not lose sight of that. Decreasing the digital divide with compassion and understanding to bring people together is a movement I would be interested in seeing, starting in our communities and branching out across the world.
How can our readers follow you online?
Readers can follow me on LinkedIn.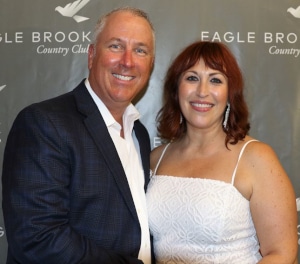 If you are a veteran looking for an exciting career in a growing industry, contact us at Salute. We can help put you on the path to success.
If you are looking to close the data center talent gap with individuals committed to bringing military precision to their careers, contact us. Employ the heroes of today, tomorrow.