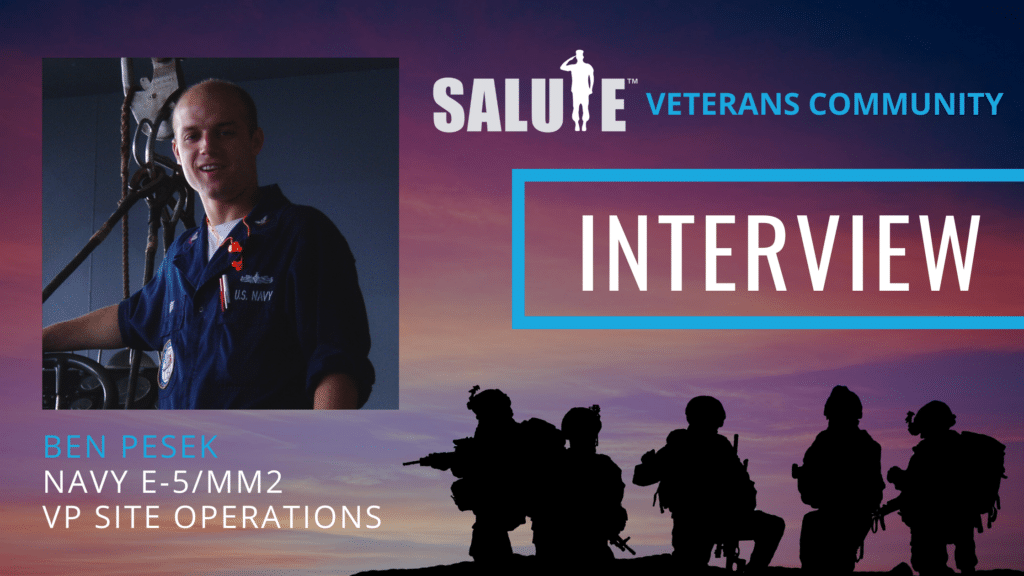 What is the Salute Veterans Community?
The Salute Veterans Community is a unique cohort of veterans who serve as examples of the value military training and experience bring to our industry. The Veterans Community supports Salute's mission and strives to achieve our shared vision of providing veterans and military spouses career opportunities in the data center industry. We are proud of these veterans for giving back to other veterans seeking to start careers in this industry.
Lee Kirby, Salute Co-Founder, and retired Army colonel interviewed Veterans Community member Ben Pesek, VP of Site Operations at Ascent LLC, and former Navy 2nd Class Petty Officer.
Before we dig in, our readers would love to get to know you a bit. Can you tell us a bit about your childhood?
First and foremost, I'd like to extend a sincere note of appreciation to all of those that are currently serving and have served in the military in all capacities, and their families. One thing I've learned along the way, from Col. Kirby in fact, is that it takes a massive effort by civilians as well to support our nation's military branches, thus I extend a heartfelt thank you to those entities too. I am especially grateful to Col. Kirby and Mr. Okroy for this opportunity as well, thank you gentlemen for all that you do for our industry and veteran community.
My childhood was somewhat typical of a kid growing up in suburban Chicago. Outdoor sports/activities in the summer, and hockey just about all year round. I was quite fortunate to have the ability to play AA/AAA travel hockey growing up, and for that, I could never thank my parents enough. We were an outdoor family…camping, fishing, hiking, etcetera. While we went on our fair share of trips, it certainly was not just handed to my brother and me. We were always tasked with some sort of work effort around the house to earn our place on the trip itinerary; a life lesson of which I pass onto my children in the same fashion. Nothing in life is free.
I was somewhat introduced to the critical environment early on, by being a magnetic drive pump technician for my dad for most of my childhood years. Magnetic drive pumps are those that have the motor and pump end magnetically coupled, allowing for the hazardous fluids that are pumped to be contained in the outer casing thus not interacting with mechanical/electrical components. My tasks mostly included spec builds of magnetic drive pumps that were used for corrosive fluids (caustic soda, sulfuric acid), all the nasty stuff that most don't realize are in soap, shampoo, or are used to chrome metal coming off the line. Sometimes (way before 9/11) I'd join on service calls and do some of the dirty work if my height and weight were more applicable to the job at hand.
"Throughout my childhood and adolescence, coupled with a focus on outdoor activities and work, I was engrained with two notable mentalities that I've carried with me since. Always be prepared, and always do the right thing even when no one is looking."

-Ben Pesek
And what are you doing today?
Currently, I am the Vice President of Site Operations for Ascent LLC. I oversee the site operations group, of over 125 personnel, that operate and maintain the critical environments for our operational portfolio. In this role, I am responsible for everything from budgetary responsibilities, critical environment operations, and most importantly- personnel and their safety. I have been part of team Ascent for 9 years now and have thoroughly enjoyed every bit of it; it is a truly fantastic organization to work for.
Can you tell us a bit about your military background?
I was in the U.S. Navy from 2004-2008, on the USS Enterprise CVN 65, and obtained the rank Machinist's Mate 2nd Class Petty Officer, surface warfare qualified.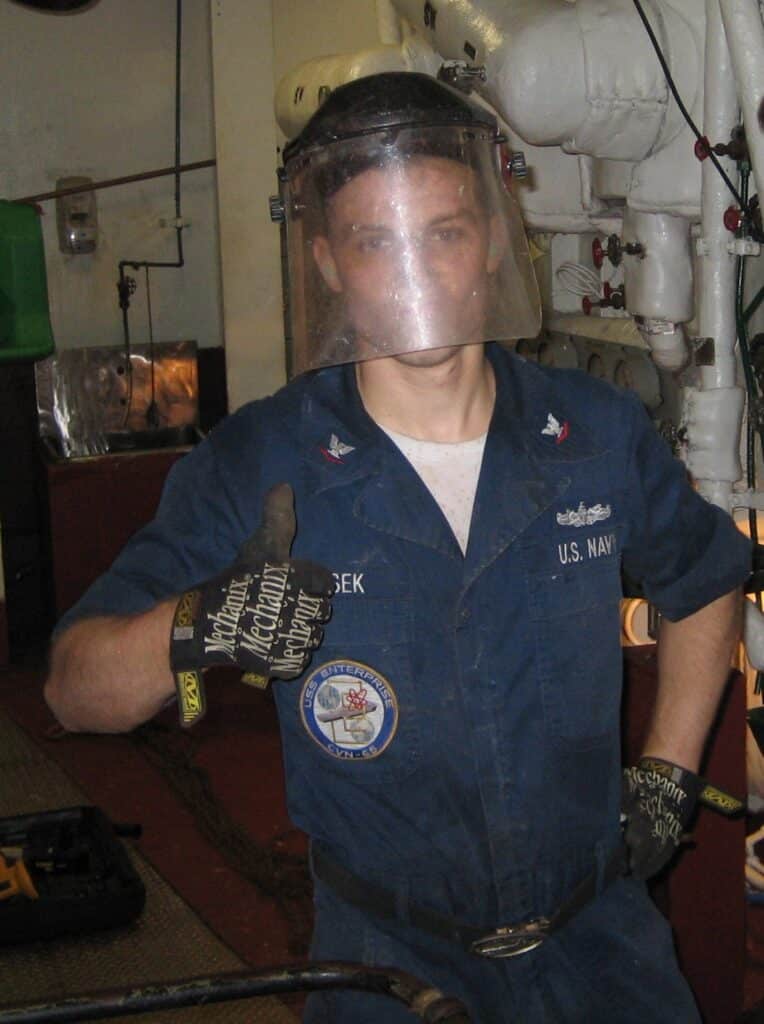 My enlisted naval service is somewhat unique, in that I was stationed aboard the aircraft carrier USS Enterprise CVN 65, where conventional and nuclear machinist mates coexisted in the same divisions/plant operations. I started my enlistment as an undesignated fireman, all the way at the bottom with really no career direction from a military standpoint. Recalling back to the time of enlistment, I guess it really didn't matter to me, I just wanted in knowing that if I worked my tail off, I'd eventually move up or have some options of where to go.
In the beginning, during boot camp, I had my heart set on being a diver, but unfortunately, my reckless teenage ways prevented the diver master chief from quickly signing off on my request package after passing the special warfare physicals due to some security clearance concerns. I eventually obtained the clearances later in the fleet. So, from boot camp, I went to the fleet. I worked as hard as I could, qualified as much as I could, and figured eventually it would pay off. In 2007 I was selected for the Command Advancement Program for CVN 65 and advanced to Petty Officer Second Class (E-5) meritoriously by my Commanding Officer (CO) out of a couple of thousand sailors.
I vaguely recall a conversation with the command and department master chief towards the later part of my enlistment in which I had requested separation orders and they inquired as to why. I had put in a request to enter the diver program, as I originally intended, having then done a successful tour at sea with stellar evaluations and was subsequently denied. I was told at the time I was needed aboard thus the denial was issued. While although I did not stay on active duty afterward, not once have I ever regretted my military service.
Can you share the most interesting story that you experienced during your military career? What "takeaway" did you learn from that story?
As most naval service members do, I have a flurry of "sea stories", a ton of port visit debacles, ship's movements at sea, or horror stories of the dreaded Middle East heat. One story in particular though was a significant lesson learned early in my naval career and the one I'd like to share in this forum. It directly relates to all mission-critical environments and the operations thereof: Complacency kills.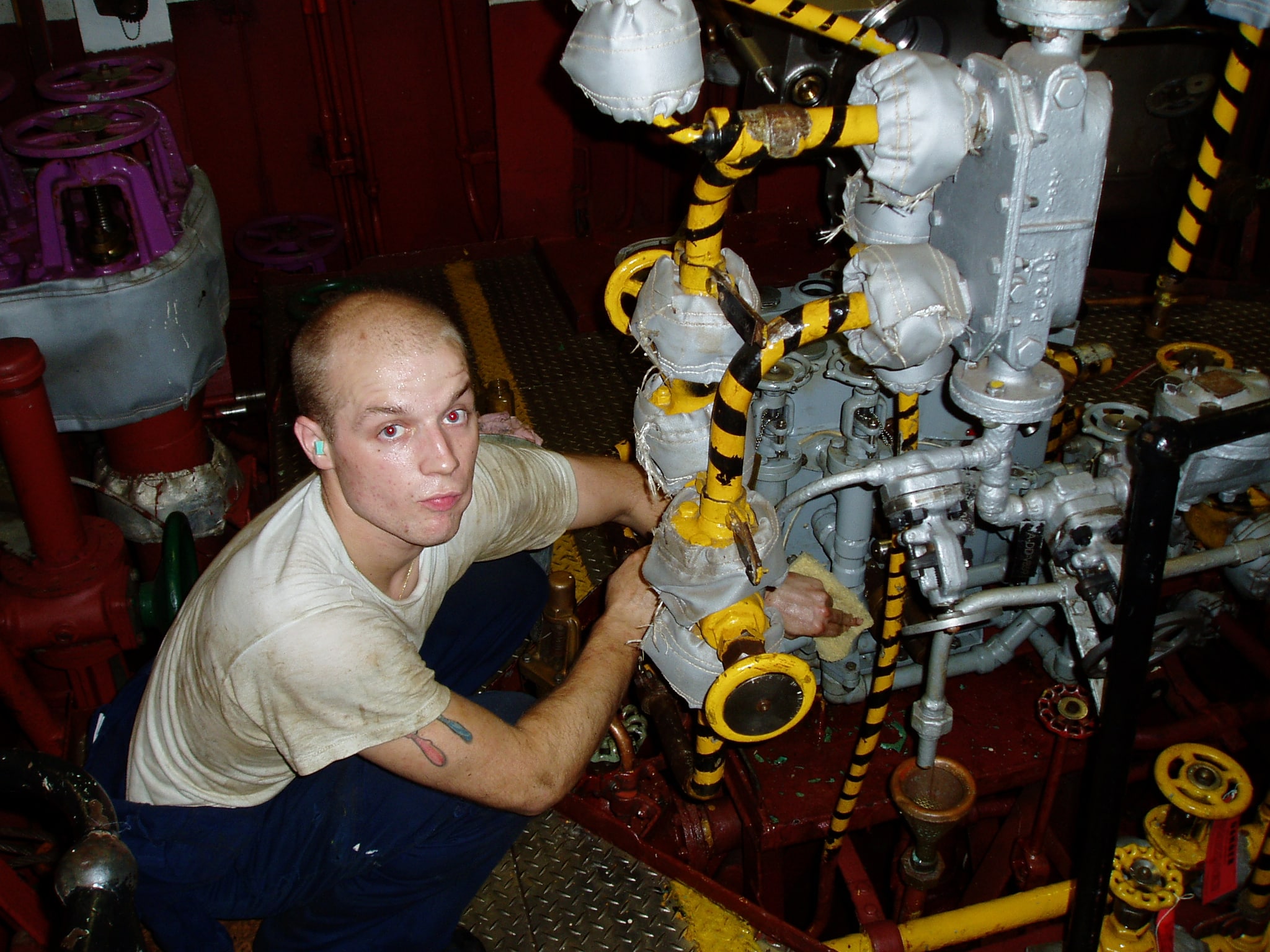 Somewhere in the Arabian Gulf, the ship was conducting flight operations in support of Operation Enduring Freedom and Iraqi Freedom. Ground forces in both arenas were heavily reliant on air support as our CO conveyed over the communication system throughout those weeks. I recall aircraft being launched all day and into the night with full munition packages returning unloaded and most likely low on fuel.
At the time, there was an issue with one of the ship's service turbine generators (SSTG) so our plant's SSTG was carrying 2 busses of load. To make things even more interesting, the Operational Reactor Safeguard Examination team was also aboard inspecting the ship's operations. It was a long day, plant repairs, maintenance, and then watch. All in the extreme heat of the plant. While standing on an operator's watch, I was ordered to secure a particular piece of equipment, something that I had done hundreds of times. After receiving the order, I retrieved and reviewed the procedure. I commenced valve isolation however I did not refer to each step within the procedure as I normally would thinking "I got this" I also did not maintain the "Point, read, operate" mentality and complacently isolated the incorrect valve.
This action isolated condenser water to the SSTG that was carrying the 2 critical load busses, and of course it subsequently tripped offline causing a major incident. The carrier's island power, flight deck lights, and a whole bunch of other critical load was on those busses, thus needless to say it was a massive mistake. I was later told planes in the air had to either divert or refuel mid-air…not my finest hour.
A couple of points to the story though:
"While although massive amounts of risk mitigation are implemented, humans will inevitably make mistakes, but the actions and wisdom passed onto others via subsequent lessons learned following can alter the course of all future operations.

It is vital for superiors to 'stand behind their people' even when honest mistakes are made and to ensure those moments are transitioned into teachable activities that prosper across the entire team."

-Ben Pesek
Nonetheless, I learned from this mistake, especially following the repercussions of my actions. My command could've very well sent me to Captain's Mast, but instead chose for me to train others, be responsible for mentoring future operators, and a whole number of other "go-do's" instead. Don't get me wrong, it was especially painful being sent to the CO's stateroom for a big rear-end chewing, but I'll never forget my command standing behind me even though I made a mistake. I really learned from that incident and have forwarded those lessons learned to others from then on.
Do you think your experience in the military helped prepare you for business or leadership? Can you explain?
Without a doubt, absolutely!
After separating I went back and analyzed the calendar to compare time at sea to time in homeport. More than 85% of my service was completed underway or on duty. The operational tempo of the USS Enterprise during my enlistment was intense, an absolute grind for all ship personnel. This directly relates to the data center environment. Electrons, water, air, all constantly flowing thus relating these critical environments to one big ship on land. Whatever the operational tempo is of the data center environment, I am ready. Incident control is also a major function of our responsibilities as data center operators as well. The on-the-job training in the military provided vital experiences that I have utilized throughout.
From a leadership perspective, the military exposes you to some of the finest 'managers' this nation can produce. I recall seeing Admiral Spicer (at the time he was the strike group commander then the Chief of Staff for the Obama Administration) serving chow to us enlisted folks one evening. When I asked, 'If he'd lost a bet,' his response was something along the lines of "Know your sailors, know their roles, understand their jobs, and then lead." I also recall him saying "Everyone puts their pants on one leg at a time." I'll never forget that, and something I utilize in my role every day.
None of us can achieve success without some help along the way. Is there a particular person who you are grateful for who helped you get to where you are? Can you share a story?
Most notably my true influencer would be my father, John Pesek. A previous enlisted sailor as well, he provided me the foundation of my work ethic. I wouldn't be where I was today without him or my mother Laura.
From an active-duty perspective, that would undoubtedly be Machinist's Mate Master Chief Petty Officer (MMCM) Cameron Cuskey. One thing for sure, MMCM Cuskey always had your back.
Coming fresh out into the civilian world and into the critical environment field, MMCM Robert Massie truly taught me the "ropes" of being a critical operator and data center leader. "RISK MITIGATION is what it's all about," he instilled.
You are a part of the Salute Veterans Community, which shares a common passion for helping veterans get into the data center industry. It is centered on veterans helping veterans. Why is this important to you?
No matter the branch of service, the time active or in reserve, whatever the case, all those individuals in some way, shape, or form put their lives at risk for our country and for our freedoms. The knowledge and experience gained by military service are invaluable, and something our industry can lean on. I welcome any opportunity to assist those seeking a role in the critical environment arena.
You are a person of great influence. If you could inspire a movement that would bring the most amount of good to the most amount of people, what would that be? You never know what your idea could trigger.
As it pertains to our industry, my "suggested movement" would be to in some way completely outlaw energized electrical work. As data center operators, we often bear witness to or are directly involved in mandated work involving the nuances of the fine print within NFPA 70E to allow for energized electrical work to occur, most often branch circuit installations on energized panels since its "critical to the business".
Is this necessary? Why do we put our most valuable assets, our operators/technicians, in harm's way for a server? If the business is not prepared with dual power sources to a device and/or some sort of network redundancy, then is it really that critical? Unless we're installing a receptacle for someone on an artificial heart machine as an example the whole allowance of energized electrical work should be done away with in my opinion. Every business should be prepared for momentary outages of a source of power (if their topology is structured that way) so work can be performed safely, thus mitigating risk to people, not critical load. Whether panels are "finger-safe", or some sort of busway installed, those design attributes should be included in code, not just "best practice."
"Our safety program is ingrained in our culture, and we completely agree with Mr. Pesek. Salute does not do energized electrical work, and we support any notion to regulate the practice as there are still companies willingly putting personnel at risk."

-Salute Mission Critical leadership
How can our readers follow you online?
Readers can follow me on LinkedIn.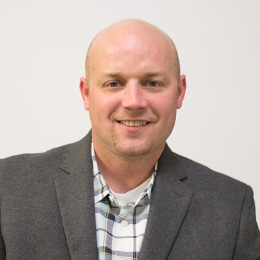 If you are a veteran looking for an exciting career in a growing industry, contact us at Salute. We can help put you on the path to success.
If you are looking to close the data center talent gap with individuals committed to bringing military precision to their careers, contact us. Employ the heroes of today, tomorrow.