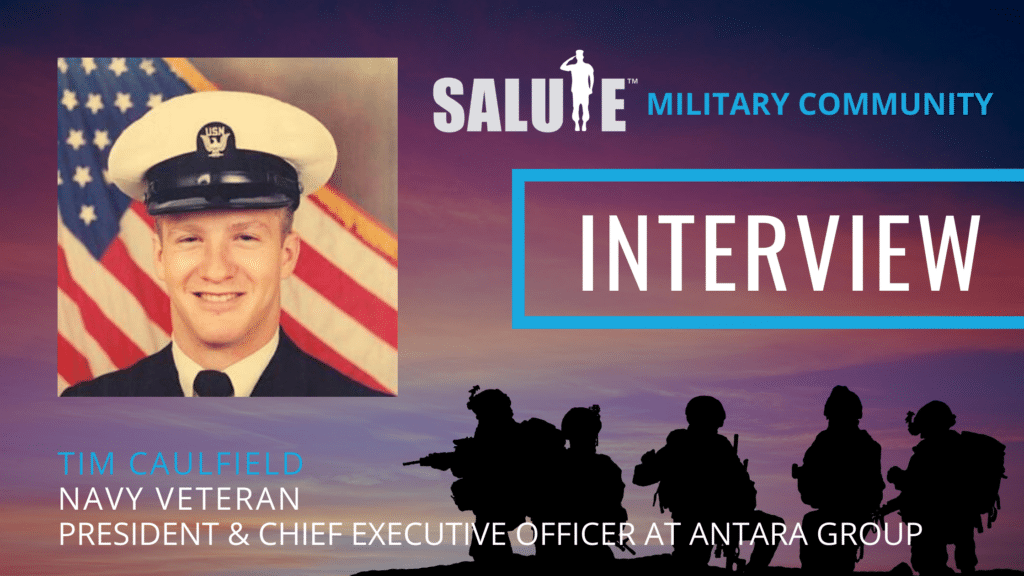 What is the Salute Military Community?
The Salute Military Community is a unique cohort of veterans who serve as examples of the value military training and experience bring to our industry. The Veterans Community supports Salute's mission and strives to achieve our shared vision of providing veterans and military spouses career opportunities in the data center industry. We are proud of these veterans for giving back to other veterans seeking to start careers in this industry.
Lee Kirby, Salute Co-Founder, and retired Army colonel interviewed Military Community member Tim Caulfield, President & Chief Executive Officer at ANTARA Group, and Navy Veteran.
Before we dig in, our readers would love to get to know you a bit. Can you tell us a bit about your childhood?
I grew up on the east coast in Connecticut and Rhode Island. Our winter home was in Norwich, CT but we had a summer house on the water at Jerusalem Beach in Rhode Island. As soon as school let out for the summer, we would move to the beach house and not return till a few days before the start of school. My dad passed away when I was 14, so we ended up moving to the beach house full time. I grew up on the water – sailing, water skiing, surfing, scuba diving etc. My first jobs were all on or around the ocean; boat maintenance, commercial lobstering, etc.
When I was in my teens, without my dad, who had been the strict one in the house, I was a bit of a handful for my mom. I definitely pushed the boundaries. I also had no interest in going to college – mainly because I had no idea what I wanted to do. However, I was also ready for some adventure and wanted to get out of the house.
I had uncles who had served in the military during WWII and one of my older brothers was in the Navy during Vietnam; he flew S-2's off the USS Hornet CV-12. As a kid, I always enjoyed the letters and pictures he would send home and his stories about his military and travel experiences. Since I had no interest in college, I started talking to military recruiters and it came down to Army or Navy. In the end, I was very interested in following in my brother's footsteps and flying for the Navy, so I enlisted during my last year of high school. I spent one last great summer at the beach in 1976 and then reported to boot camp at RTC Great Lakes in September.
After leaving the military, I took advantage of the GI Bill and went on to earn both an undergraduate degree and an MBA. By that point, I fully appreciated the value of an education and had a much better sense of what my career path looked like.
And what are you doing today?
A few things. First, I'm the CEO and President of The ANTARA Group. A consulting company that I founded in 2013. The ANTARA Group is a firm that specializes in helping companies get the most from their Digital Infrastructure investments and initiatives. ANTARA offers a portfolio of solutions tailored to the needs of private equity / vcs, startups / smbs and Fortune 1000 / enterprise companies. The firm consists of seasoned "c-level" executives from both sides of the customer/service provider divide with experience in all functional areas of digital infrastructure.
Second, in 2020, I established ANTARA Capital Group – (ACG). ACG is a Private Equity organization that operates as an Independent Sponsor. Rather than raising our own funds, we team with other financial organizations to provide the capital necessary to complete a transaction. We are currently working to close our first transaction. Lastly, I sit on several company boards.
Can you tell us a bit about your military background?
When I went and enlisted, as part of my enlistment, I qualified for the rate of Aviation Anti-Submarine Operator – AW. At the time, this was one of a few enlisted ratings that flew, which was what I wanted to do. After completing boot camp at RTC Great Lakes, I reported to "A" school at NAS Millington, TN, for training as an AW. Upon graduation, since I was near the top of my class, I had my choice of platforms: the P-3 Orion, S-3 Viking, or an ASW Helicopter. The P-3 is a large 4 engine plane with a crew of 13 and can stay in the air for upwards of 18 hours, but always comes back to land. The S-3 was a cool two-engine jet with a crew of 4, but it deployed on aircraft carriers, and the Helicopter could be deployed from a carrier or other ship. I chose the P-3 as the idea of always coming back to land was appealing and I found myself assigned to a west coast squadron out of NAS Moffett Field. Moffett Field is the heart of Silicon Valley and what was known as hanger 1 is now owned and being restored by Google – but I digress.
After completing flight training at VP-31, I was assigned to my first fleet squadron VP-47 as a Sensor Station 3 ASW operator. The SS-3 was responsible for operating all the non-acoustic submarine detection equipment. This included radar, electronic countermeasures, Infrared sensors, and magnetic anomaly detection (MAD) equipment.
When I initially joined VP-47, they were forward deployed to Misawa, Japan, so I met them there. Later we also deployed to Okinawa, Japan and Adak, Alaska. From these locations, I was able to visit many countries in Asia and the Indian Ocean. This included a six-week deployment to a small spec of an island in the middle of the Indian Ocean and owned by the British, called Diego Garcia. It's currently very well known, but in the late '70s, it was remote and isolated. I received the Navy Expedition medal for my time there, giving you a sense of how remote it was.
The primary mission of the P-3 was sub-hunting, but we also conducted surface surveillance, med-vacs, and search and rescue. We were still in the middle of the cold war, so Russian subs were our primary target. We tracked many during my time in, some that were in very close proximity to our coasts.
In 1980, after four years, I decided to leave the Navy but quickly found that I missed the flying and the missions. I went back into the naval reserve in less than a year and joined VP-91 out of NAS Moffett Field. I then transferred to VP-92 out of NAS South Weymouth, MA. I ended up leaving the reserve in 1983 as it was conflicting with work and school at the time. There were many times since that day that I regretted that decision.
Can you share the most interesting story that you experienced during your military career? What "takeaway" did you learn from that story
Well, I have lots of flying stories. We used to say that flying was hours of sheer boredom followed by moments of complete terror. However, here's a non-flying story that has always stayed with me.
As part of my flight training, I attended Survival Evasion Resistance and Escape (SERE) School. This was right after the Vietnam war and the Navy wanted to make sure that Pilots and Aircrews were prepared to survive if they were shot down, and prepare them for the experience if they were captured. The training started off as survival training, but the end was spent in a camp as a prisoner of war. At one point, a group of us were tasked with making the Soviet Flag out of sand. The guards were not watching us closely and we made the American Flag instead. This really set the guards off and let's just say that the aftermath at that moment was less than favorable. What I took away from it that has always stuck with me is that even a small group or an individual can make a difference.
After the fact, I learned that we screwed up a whole training evolution. What was supposed to happen was that we would make the Soviet Flag and then be rewarded. This would be done in front of the other prisoners. We would then be released back into the general population, and they would have to figure out how to accept us – or not. One of the guards, who had been a POW in Vietnam, said in a real POW situation, we likely would have been shot, so maybe not the smartest move on our part.
Do you think your experience in the military helped prepare you for business or leadership? Can you explain?
The military built my foundation, especially in the areas of discipline, accountability, reliability, and being prepared. It also taught me how to work with others as part of a team. As part of a 13-person aircrew, every member on the aircraft had a role to perform for the mission to be successful. As a nineteen or twenty-year-old, just a couple of years out of high school, the rest of the crew depended on my performance, just as I did theirs.
One of my pet peeves that certainly started in the military was to be early for scheduled activities. This has manifested itself in starting meetings on time today. My teams know that I expect them to show up on time and ready or have a good reason why not. I enjoy learning and continue to refine my leadership style, but the foundation is still very much centered on what I learned early in my career in the military.
None of us can achieve success without some help along the way. Is there a particular person who you are grateful for who helped you get to where you are? Can you share a story?
That's a hard question as I've been fortunate to have worked with and have had many great mentors over the years. But the one that keeps jumping out when I think about it is my mom, especially in the years after my dad passed away. That was not an easy time for her, but she rarely complained and continued to move forward to make the best life for both of us. My mom was very outgoing and would talk with and make friends with just about anyone. She was also very involved in the community and volunteered at several locations. Everyone knew her; I definitely learned the importance of community involvement and the need to give back from her.
You are a part of the Salute Military Community, which shares a common passion for helping veterans get into the data center industry. It is centered on veterans helping veterans. Why is this important to you?
Many reasons. As a Veteran, I appreciate and value the work ethic that I know every veteran brings with them. I also know that it can be a challenge to transition back into the civilian world. Up until recently, I lived in San Diego, and we had a huge military and veteran community. I worked with many to help them explore their options and network with others who could help them along the way. Although I think the military and the community, in general, have gotten better about helping to make that transition smooth, I also recognize it can be hard. If I can give back by assisting, I enjoy doing so. A great byproduct of doing so is that I've developed several lasting friendships.
In digital infrastructure, especially as it relates to data centers, there are many jobs that are well suited to veterans. Over the years, I've had many veterans in my organizations as well as part of my direct staff. I was rarely disappointed in what they brought to the table. One example is the operation of the critical infrastructure side of a data center is very similar to operating a power plant of a ship or submarine – especially if it's nuclear. Many of the well-known names in the data center sector came out of the military.
You are a person of great influence. If you could inspire a movement that would bring the most amount of good to the most amount of people, what would that be? You never know what your idea could trigger.
I'm very concerned about the amount of plastic that ends up in the ocean. One of the largest trash sites on the planet is the Great Pacific Garbage Patch, which is twice the surface area of Texas. Much of the waste there is plastic. Annually 100 million animals die each year from plastic waste alone. Plastic takes 500-1000 years to decompose and a lot of the plastic waste ends up in the ocean each year. It's a big problem for many reasons and we need to work on solutions now before we hit the point where we cannot correct the situation.
How can our readers follow you online?
Readers can follow me on LinkedIn.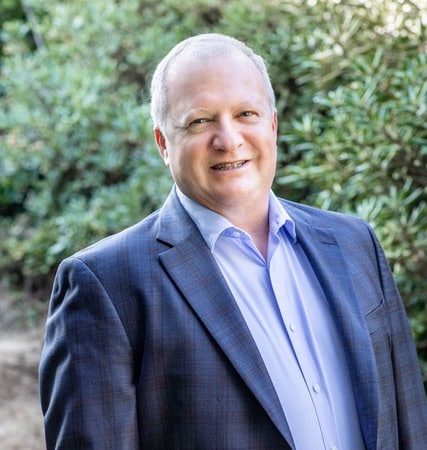 If you are a veteran looking for an exciting career in a growing industry, contact us at Salute. We can help put you on the path to success.
If you are looking to close the data center talent gap with individuals committed to bringing military precision to their careers, contact us. Employ the heroes of today, tomorrow.