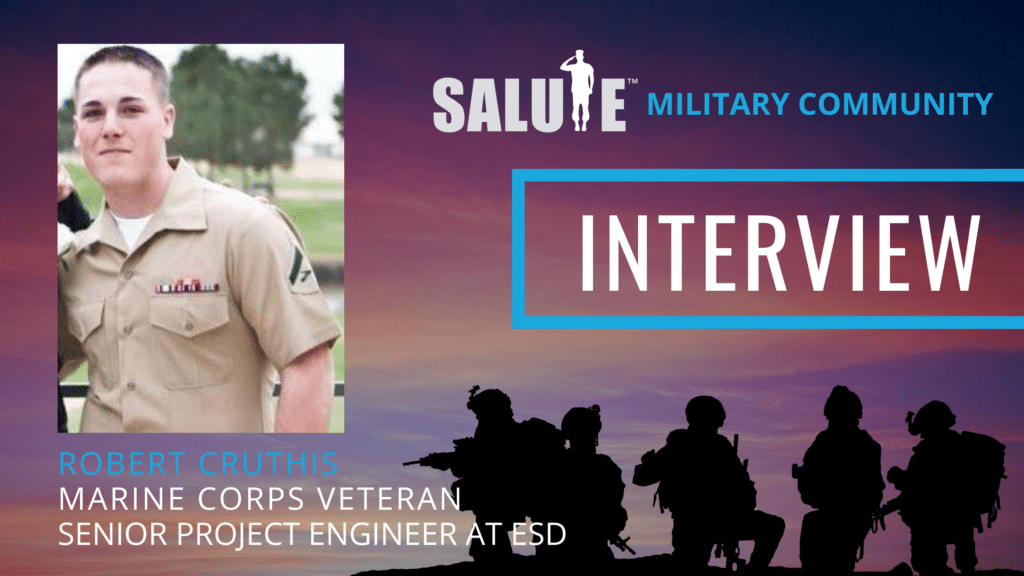 What is the Salute Military Community?
The Salute Military Community is a unique cohort of veterans and the military community who serve as examples of the value military training and experience bring to our industry. The Military Community supports Salute's mission and strives to achieve our shared vision of providing veterans and military spouses career opportunities in the data center industry. We are proud of these veterans for giving back to other veterans seeking to start careers in this industry.
Lee Kirby, Salute Co-Founder, and retired Army colonel interviewed Military Community member Robert Cruthis, Senior Project Engineer at ESD and Marine Corps Veteran.
Before we dig in, our readers would love to get to know you a bit. Can you tell us a bit about your childhood?
I grew up in Southern Illinois on a large cattle farm run by my grandparents. My grandfather was a WWII veteran that told me stories of his time in the Pacific Theater while we worked. After graduation, I joined the Marine Corps and became a Landing Support Specialist (Logistics) and completed my time on active duty. I got out of the Marine Corps in 2008, which left me with few career choices, and took a position as a climber for a cell phone tower company out of St. Louis. I used that experience to get a position as an installer for a Controls contractor in Arizona. I read forums and taught myself how to program and over fifteen years in Controls, I got certified in eleven different controls related software and became the General Manager of the Controls division for a Mechanical Contractor in Arizona/Nevada.

And what are you doing today?
I accepted a position with ESD in 2020 to assist in designing and enforcing specifications surrounding building automation in data centers.
Can you tell us a bit about your military background?
I was a Landing Support Specialist in the Marine Corps, which consisted primarily of logistical work. I loaded/unloaded: rail cars, trucks of all kinds, ships, and aircraft of all types. I was assigned to a Marine Expeditionary Unit, and our mission was to patrol the Pacific in "high risk" areas as a show of force. Our training helped us be prepared to respond to any situation for thirty days to allow a specific force to be brought in to relieve us. We were prepared for conflict, mass casualty situations, and humanitarian aid opportunities. We helped train military forces in Africa, India, and the Philippines, while we trained with them and provided dental and healthcare work as well. We responded to a devastating tropical storm in the Philippines to provide clean water, food, temporary shelters, and medical aid. I spent two years in the Al Anbar Province of Iraq assisting in a strategy to win "Hearts and Minds" as we tried to gain the support of the local populace to assist in organized elections, education, and healthcare in the region. We also provided security at the Iraqi border to Syria and Jordan and organized camps for Sudanese refugees that had walked nearly a thousand miles.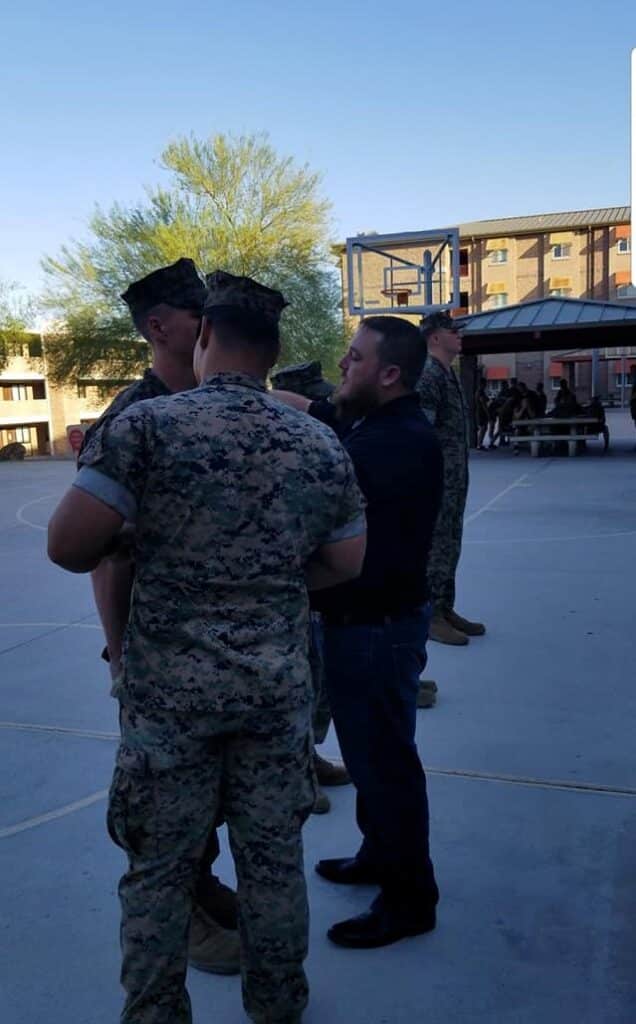 Can you share the most interesting story that you experienced during your military career? What "takeaway" did you learn from that story?
The unit I was with was called on to expedite our deployment overseas for humanitarian aid efforts in the region. Normally loading five naval vessels with vehicles/gear/food/people would take a considerable amount of time, but I remembered a presentation that Northrop Grumman had given on RFID tags and scanners that the Federal Government had purchased. I worked with Northrop Grumman to set up and utilize the RFID tags and programmed all vehicles' pertinent information prior to arriving at the port. Instead of weighing the vehicles and containers and creating a manifest of all items before being loaded on the ships, all of that was done as the vehicles were loaded. This allowed us to pull the vehicles and containers through the readers, automatically giving me the data. Then we could progress the vehicles and containers through the other set of readers to be loaded on the ships. This kept an accurate manifest of which items were in my possession and which ones had been loaded already. We were able to load all five ships in less than a week and provide humanitarian aid over a month earlier than was initially anticipated.

I received a lot of pushback when incorporating new technology; the entire manifestation process had previously been done with pen and paper to accomplish our goals. Some of that was, "it's always been done like this" and "no one else is going to know how to use this software". What we found was that technology made the process extremely efficient and that the individuals involved were very capable. I learned to embrace technology, and not be afraid of it even if I'm not proficient in it, and I learned to delegate/trust those around me to work towards a common goal.
Do you think your experience in the military helped prepare you for business or leadership? Can you explain?
During my time in, I learned a lot about what makes people different and their commonalities I got to know many people who had unique upbringings and cultures due to our proximity; as a result of the military, I was also able to garner respect for our commonalities. I remind myself of the simple things like their sense of humor or their love for their children when I am speaking to people now. I have found that identifying that common ground up front humanizes the experience and makes conversations more productive.
None of us can achieve success without some help along the way. Is there a particular person who you are grateful for who helped you get to where you are? Can you share a story?
When I was very new to Building Automation, I was sent to troubleshoot a mechanical system that I did not understand. The Mechanical Contractor, Darryl Smith the owner of Sunset Air Inc., could have rescheduled the meeting for a more experienced technician, instead, he took the time to teach me about the system. He explained what he needed from me, what he was testing, and why. Fifteen years later, Darryl still consults with me as a mentor and customer. I thank him for taking the time to teach me and he thanks me for taking the time to learn.
You are a part of the Salute Military Community, which shares a common passion for helping military families get into the data center industry. It is centered on veterans helping veterans. Why is this important to you?
I have seen many great active-duty personnel finish their time in service and stand still for whatever reason. I know that the Military community is made up of the best this country has to offer, and we all benefit from having more Veterans in the workplace. Nothing makes me happier than seeing another Veteran make the transition from surviving to thriving.
You are a person of great influence. If you could inspire a movement that would bring the most amount of good to the most amount of people, what would that be? You never know what your idea can trigger.
The military is steeped in tradition; everything has a meaning, from the number of buttons on a uniform to which bootcamp someone attends. That tradition is what Veteran's love; it's what they bond over even if they know nothing else about each other, and there is nothing better than telling stories about where those traditions came from. There can be no tradition without those that came before us, and the veteran community is loyal to each other but there is a lack of direction or availability to each other. The VFW is working on an app that could connect volunteers with Veterans needing help, and various organizations give Veteran's purpose. What Veterans need is a common platform that allows them to connect to Veterans in need in whatever capacity they can. Be it yard work or housework, or listening, or getting out of the house. This impact is not only for the Veterans who need a service; it will leave a lasting impression on those who can volunteer as well. I believe this is a great way for communities to honor and give back to Veterans as well.
How can our readers follow you online?
Readers can follow me on LinkedIn.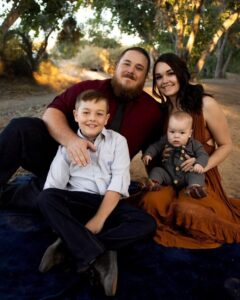 If you are a veteran looking for an exciting career in a growing industry, contact us at Salute. We can help put you on the path to success.
If you are looking to close the data center talent gap with individuals committed to bringing military precision to their careers, contact us. Employ the heroes of today, tomorrow.