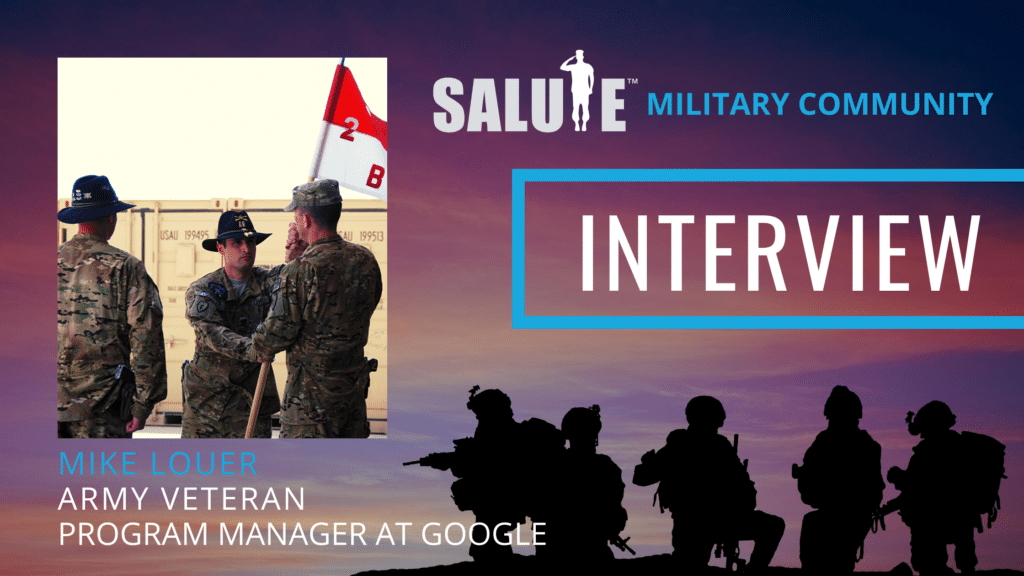 What is the Salute Military Community?
The Salute Military Community is a unique cohort of veterans who serve as examples of the value military training and experience bring to our industry. The Veterans Community supports Salute's mission and strives to achieve our shared vision of providing veterans and military spouses career opportunities in the data center industry. We are proud of these veterans for giving back to other veterans seeking to start careers in this industry.
Lee Kirby, Salute Co-Founder, and retired Army colonel interviewed Military Community member Mike Louer, Program Manager at Google, and Army Veteran.
Before we dig in, our readers would love to get to know you a bit. Can you tell us a bit about your childhood?
I was born in Green Bay, WI and spent the first part of my childhood on an apple and cherry orchard. When I was 10, we moved to Napa Valley as my dad made the change from apple and cherry trees to growing grapes. My dad was a big driver for me eventually joining the military – he had served in the Navy and was on a destroyer during the Cuban Missile Crisis. He loved this time in his life and always told me about his experiences while in the Navy. His influence and passion surrounding the idea of "serving a greater cause than yourself" made me want to join the military. I was fascinated with helicopters, so I started taking lessons in high school and got my private rotorcraft license years later while in college. I had earned a Reserve Officer Training Corps (ROTC) scholarship to Santa Clara University and loved it. I got lucky and was selected to be part of an exchange program with the UK and spent a summer with the UK's officer training corps. While on the exchange program, I traveled through France and was in awe when I saw the Normandy beaches, guided by actual British WWII D-Day veterans. Several years ago, I returned to Normandy with my dad for the 75th anniversary of D-Day. A passion for history and respect for service to one's country continue to be a big part of my life.
And what are you doing today?
I am a program manager in the Google Data Centers organization. I was initially hired to bring the "postmortem" program to the next level. Postmortems are similar to what we would do in the Army after an operation; we call those Action Reviews (AARs). Since joining Google, I've established in-depth processes to ensure a deep Root Cause Analysis (RCA) is conducted for all facility power and cooling incidents. My team and I are constantly striving to attain the actual root causes of an incident. This is important because we can then put in place comprehensive global action items to prevent the recurrence of the issue. Being such a large organization, it is an interesting challenge to ensure that lessons learned are actually consumed, leading to behaviors changing – and that is one of the many reasons I love my job. My responsibilities have gradually expanded over the years – I'm currently working to strengthen our data center operation team's partnership with Site Reliability Engineers (SREs). When infrastructure subject matter experts (SMEs), infrastructure engineers and SREs work together to mitigate a complex infrastructure issue in real-time, we can truly reduce time to mitigation and make the incident invisible to our customers.
Can you tell us a bit about your military background?
I graduated in 2003 and went straight to flight school at Fort Rucker, AL – where I was trained to become a scout pilot, flying the OH-58D Kiowa Warrior. Once I got my wings, my first duty assignment was the 10th Mountain Division at Fort Drum, NY, specifically to the 3rd Squadron, 17th Cavalry Regiment. We trained hard and had an outstanding history to live up to. In preparation for deployment to the Middle East, we went to both Joint Readiness Training Center (JRTC) at Ft Polk, LA and then the National Training Center (NTC) at Ft Irwin, CA.
All of that training allowed me the time and experience required to become a pilot in command and air mission commander. 3-17 Cavalry then deployed to Iraq in 2007 during the surge years. We deployed as part of the 3rd Combat Aviation Brigade (3rd Infantry Division), a storied unit whose gallantry in WWI earned them the moniker "Rock of the Marne." Shortly after deploying, I was plucked from my platoon leader position and made the Squadron S4. This is where my staff experience began – and this job's scope was overseeing everything logistics related – ensuring our Soldiers had the equipment, supplies and ammunition they needed to maintain the helicopters – so that the pilots could fly in support of US ground forces. This was a tough deployment because it was extended to 16 months – and as the S4, I was the last one to leave. The end finally came, and I returned to Fort Drum, NY, and promptly headed to the Captain's Career Course at Fort Rucker, AL.
I was then assigned to the 25th Combat Aviation Brigade at Wheeler Army Airfield in Hawaii. I promptly deployed again to Iraq in 2009, this time to COB Speicher in Tikrit. I served as a battle captain in the S3 shop inside the brigade tactical operations center (TOC). This was a different type of staff job than what I was used to, and instead of focusing on logistics, I was focusing on operations. The brigade commander was highly demanding, and it was a challenging deployment – I was on the night operations shift as the battle captain from 10pm-10am for 12 months straight. Looking back, I think it was that kind of tough-but-fair leadership that shaped me into an effective staff operations officer. It's the skills I learned on that job that I still use today: skills around attention to detail, the ability to rapidly develop situational awareness and synchronize simultaneous efforts, respond to unexpected events and always try to identify and mitigate risks. These skills were not taught in any school; rather, they were learned on the job and sometimes even through mistakes and failures. And it's exactly those skills that continue to serve me and have made me effective at Google.
I returned to Hawaii in 2010 and got my first company command in headquarters and headquarters troop (HHT), 2nd Squadron, 6th Cavalry Regiment, 25th Combat Aviation Brigade. Company commands are an important job for junior officers, and this is where I started to build new leadership skills. Things went well and I was lucky to be given a second company to command, Bravo Troop, 2-6 Cavalry. With a great group of warrant officers, NCOs and Soldiers – we prepared ourselves and our 10 OH-58Ds for an upcoming deployment to Afghanistan, and we deployed in 2012. I changed out of command partially through the deployment and went to what ended up being my final job in the Army – the brigade Chief of Operations (CHOPs) for the Brigade S3 in Kandahar. In this job, you oversee the real-time operations of 120+ helicopters in support of ground forces all over Afghanistan. It was high-stress, in large part due to the violent nature of the war in Afghanistan in 2012. US ground forces, alongside our ISAF allies, frequently became entangled with Taliban fighters. These engagements often resulted in critical injuries (multiple amputees), making the need for a prompt evacuation from the battlefield into the right level of medical care extremely urgent. Doing what I could from the brigade TOC to ensure a point-of-injury medevac was executed smoothly within the "Golden Hour" – by organizing gunships or other assets to help protect the medevac helicopters – was one of the most important things I've ever done in my life and I'll never forget it.
I finished the deployment and returned home in 2013. I loved serving but after 10 years of service, 3 combat deployments and around 1,700 flight hours, I wanted a new chapter in my life and to start a family.
Can you share the most interesting story that you experienced during your military career? What "takeaway" did you learn from that story
I've got a simple little story that involves some of the tenets of operational excellence. While in Afghanistan as the CHOPs and towards the end of our 12-month deployment – we were overseeing the large logistical effort required to redeploy a brigade of 3,000+ people (and their equipment) back to Hawaii. There were multiple "main body" flights over many weeks and each of them was on a tactical Air Force aircraft, like a C-17. Ensuring these redeployment operations go smoothly is a high priority – it is important because every Soldier's family, of course, wants their Soldier back ASAP and they want to be able to plan on the date/time of their return.

One night, while on shift during what should have been a quiet night as no main body redeployment flights were scheduled, our operations staff detected an empty C-17 flying into Kandahar in the middle of the night. We weren't expecting an aircraft at this time and suspected some sort of scheduling SNAFU. So, I called the Air Force and told them we'd do our damndest to get that plane filled with Soldiers to redeploy. And so, we did. In a matter of hours, we got several hundred Soldiers woken up in the middle of the night, packed up (with all of their sensitive items) and onto that plane. We could have done nothing that night and squandered an opportunity, but because we cared about the mission and we were constantly vigilant with a high degree of situational awareness, both of incoming Air Force traffic but also of our brigade's complex redeployment plan, we were able to detect the anomaly – and get it fixed. I must say, however, that when Soldiers are redeploying from a 12-month combat tour – they are very motivated! I believe this story is interesting because it contains elements of operational excellence.
Do you think your experience in the military helped prepare you for business or leadership? Can you explain?
Without a doubt. The logistical, operational and leadership experiences that I acquired from 10 years of active duty service are the primary reason I can be effective at a company like Google. Because of my military experience, I can almost instinctively filter out the noise and maintain a laser-like focus on the "real" risks. And then feed those risks up to senior management before an incident occurs. Interfacing with senior management is also a strength that I learned in the military. I learned that bad news does not get better with time – and that there is certainly an art to how much detail you put into your comms to senior leaders. The other thing the military gave me was the ability to handle stress and deliver under pressure. My threshold for stress is high because of the Army and it's comforting to know that even on the worst day in a civilian role, things won't get as bad as they were while in combat. It's this penchant for mission-critical operations that I think is an important factor that veterans bring to the table.
None of us can achieve success without some help along the way. Is there a particular person who you are grateful for who helped you get to where you are? Can you share a story?
A veteran helped me get into Google! Long story short, my first job after the Army was at Lockheed Martin but I found myself looking for something different, so I found a data center role that Google posted on LinkedIn. I received great advice to start this process by looking for people who had a similar role and I came across an Army Blackhawk pilot who was already working at Google. Turns out, we were connected to the 2nd degree because we had both worked for the same boss in the Army, but we did not know each other. So, I used our common connection to get an introduction and the next thing I knew, we were meeting in person. This veteran helped mentor me and ultimately land the job.
You are a part of the Salute Military Community, which shares a common passion for helping veterans get into the data center industry. It is centered on veterans helping veterans. Why is this important to you?
There is nothing more fulfilling than helping someone achieve success. The term "pay it forward" comes to mind, and I believe veterans want to do good work and be challenged – and it's likely they can be successful in this industry, but sometimes it takes a little help. I look at what Salute Mission Critical has done and see even more opportunities. Especially with veterans who have staff experiences, e.g., S3 (Operations) or S4 (Logistics), the mission-critical industry needs folks who have that sort of experience. I feel blessed that it worked out for me and grateful to the veterans that helped me arrive, and I want to help other veterans as best I can.
You are a person of great influence. If you could inspire a movement that would bring the most amount of good to the most amount of people, what would that be? You never know what your idea could trigger.
We can better streamline the processes to get motivated veterans more efficiently placed into the civilian workforce. Like I said above, I believe many veterans sincerely want to do good work, be challenged and feel the satisfaction that one gets when they know they're making a positive impact on an organization. If we could help streamline processes to make it easier for veterans to find their dream job, everyone wins. The current state process is siloed, based on branch of service and ripe for improvement and central coordination.
How can our readers follow you online?
Readers can follow me on LinkedIn.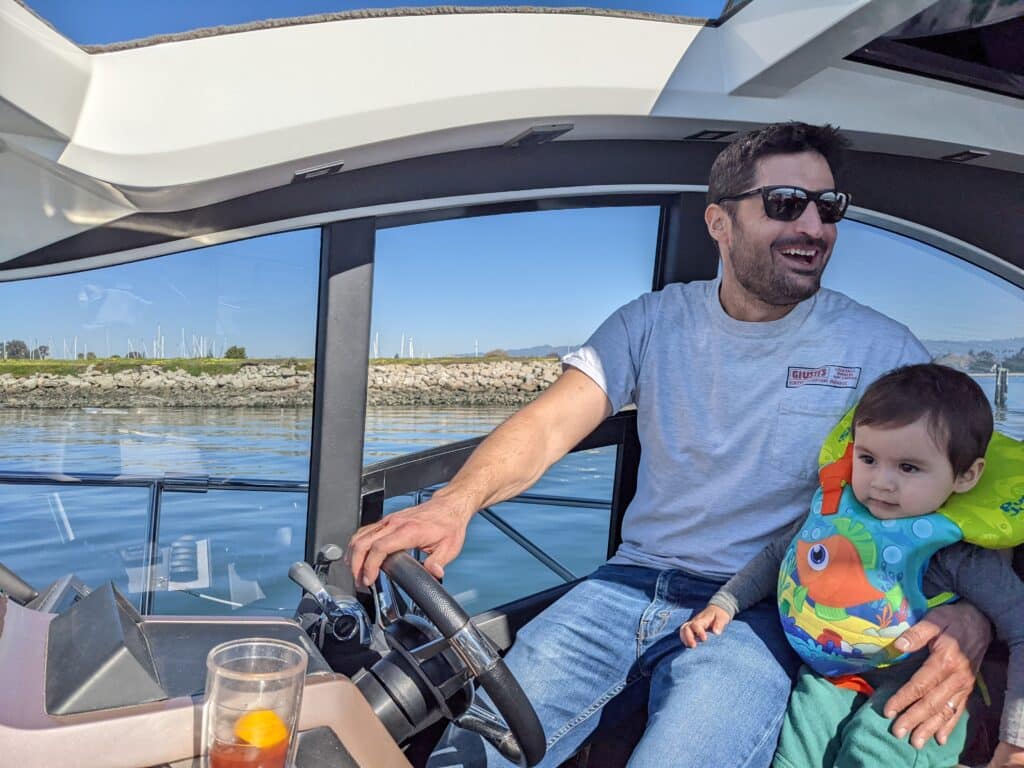 If you are a veteran looking for an exciting career in a growing industry, contact us at Salute. We can help put you on the path to success.
If you are looking to close the data center talent gap with individuals committed to bringing military precision to their careers, contact us. Employ the heroes of today, tomorrow.