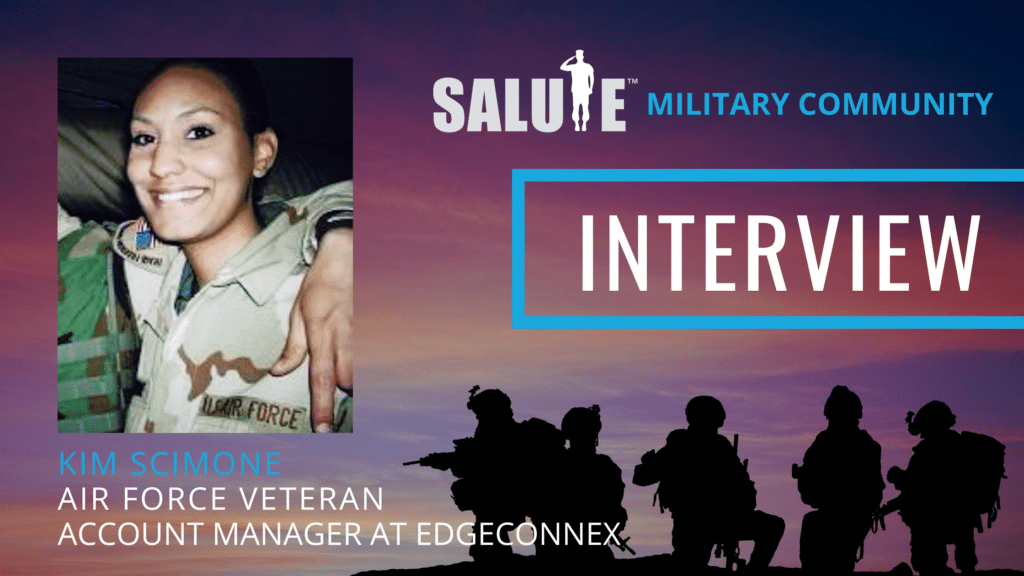 What is the Salute Military Community?
The Salute Military Community is a unique cohort of veterans and the military community who serve as examples of the value military training and experience bring to our industry. The Military Community supports Salute's mission and strives to achieve our shared vision of providing veterans and military spouses career opportunities in the data center industry. We are proud of these veterans for giving back to other veterans seeking to start careers in this industry.
Lee Kirby, Salute Co-Founder, and retired Army colonel interviewed Military Community member Kim Scimone, Account Manager at EdgeConneX and Air Force Veteran.
Before we dig in, our readers would love to get to know you a bit. Can you tell us a bit about your childhood?
I am the middle of two sisters and a younger brother. As a child of a single mom, I learned resiliency at an early age but did not really appreciate what I had learned until I was grown. My sister went to the Army and my mom encouraged me to follow her lead because it was the only way I would get out of the small town in Virginia, where there was a lack of jobs. So, I took my mom's advice and with my sister motivating me, I joined but found the Air Force (more of a fit) and chose it over the Army.
And what are you doing today?
I am an account manager for EdgeConneX (ECX). I am responsible for ensuring that clients have an effortless experience transitioning from sales to implementation to ongoing support. The mantra at ECX is that it is all about the client experience. So, my position is "the tip of the spear" that delivers on that promise. I cannot begin to explain how much I appreciate the culture and the incredible team I get to work with at ECX. I came to ECX from Salute Mission Critical and it was such an easy transition. Salute was such a great point to enter the industry and grow. I was there for over three years and moved from an entry-level technician position to team lead, regional lead and ultimate manager of Workforce Development. While I was at Salute, I was assigned to ECX and we got to know each other so that when an opportunity came to join ECX, I was thrilled. It was so refreshing to see ECX and Salute collaborate with me on the path forward and rather than the tension of resigning; it was a celebration because I am still a part of the same ecosystem and the cultures of ECX and Salute. They are so much alike that I was immediately at home. The impact that Salute and its clients have had on so many lives is outstanding and I am so proud to be a part of such an incredible team.
Can you tell us a bit about your military background?
I went into the Air Force in 2003 and my first experience was working with senior officers and NCOs (O-6s & E-9s) as their support person. This was an administrative role and involved a lot of systems, processes and forms to ensure new team members were onboarded and their career was documented so that their careers could be tracked and developed. After almost three years, I got deployed to Iraq and was assigned as part of the force protection team. That team augments the Military Police and ensures that the base is only accessed by authorized personnel. It was hard work and being on your feet 12 hours a day and reacting to daily motors can wear on your body and mind but I persevered because that was my job. In 2006, I moved into IT and had a help desk team that I led to support the base. This was your typical help desk function of responding and resolving tickets generated by users and systems. This was at Lackland AFB, where everyone starts with basic training, so I was back to where I started but on familiar ground. In 2009, I was medically discharged because of back injuries I suffered in Iraq. I loved serving and would do it again and feel that I grew as a person and proved to myself that I can do anything.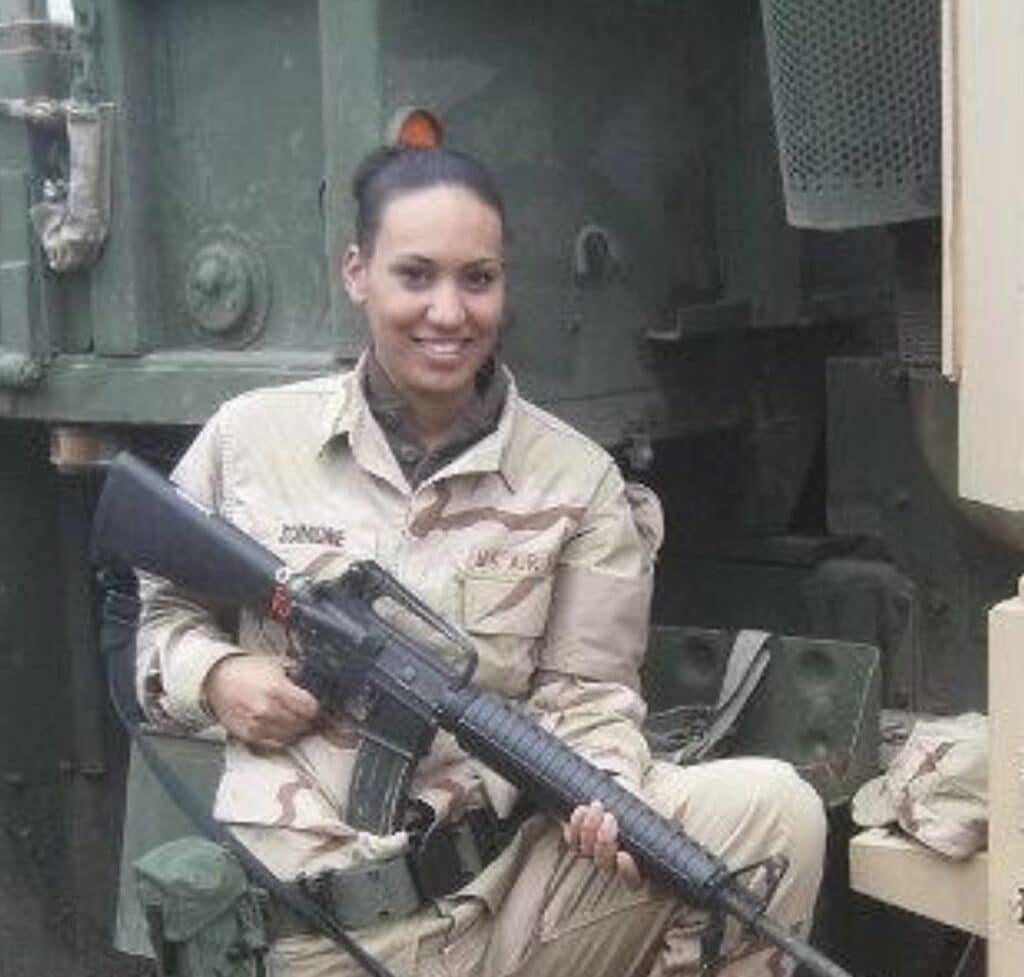 Can you share the most interesting story that you experienced during your military career? What "takeaway" did you learn from that story?
I gained so many strengths in the military, but what sticks out to me the most are resiliency and responsibility. Just before I was deployed to Iraq, both of my parents passed away and I was given the option of deploying or staying. If I did not go then, I would be going later. I learned responsibility because it was my job; someone else would if I did not go. I felt responsible to my team and would not let them down because we had trained together, and it was our time to go to war together. Going to Iraq and seeing my immortality scared the heck out of me and made me stronger. We were mortared every day and someone would die randomly sleeping or eating without any notice and that makes you realize that you never know when but until then, you focus on doing your part. By staying resilient and focusing on the mission, you grow as an individual and a team. Sometimes that means ignoring your problems, knowing that at some point you are going to have to take a break but not right now because there is a job to do. No one likes being in that situation but when you choose to serve your country you have to be ready to do whatever it takes, no matter what it means to you personally. It is all about the higher mission. Your individual needs come second.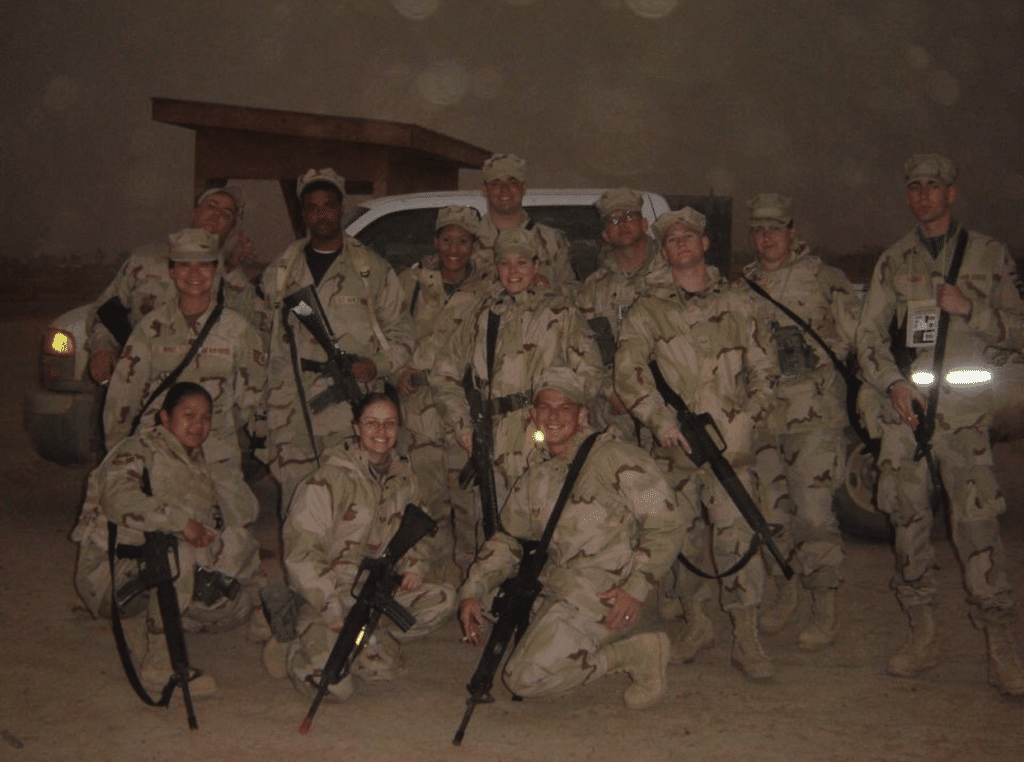 Do you think your experience in the military helped prepare you for business or leadership? Can you explain?
The military gave me the desire to help develop others. The Air Force instilled in me the drive to know my job, be the best I can be, and do the same for my team. I drive myself and my team to always learn and to master not only our job requirements but that of others too so that the team is resilient and the individual grows and can ascend to higher levels of responsibility. I love building confidence in team members and helping them grow. That thirst for continuous learning and being resilient is part of what I like in the data center industry. This industry is proliferating and the technology is changing just as fast. And I love that I learn every day and if you are not learning every day in this industry, I think you better check your expiration date because it will come faster than you think.
None of us can achieve success without some help along the way. Is there a particular person you are grateful for who helped you get to where you are? Can you share a story?
My older sister, Melissa Martin, convinced me to join the military. She has always mentored me and encouraged me to seize the opportunity and not be timid about doing so. She is still a Master Sergeant in the Army National Guard as a Senior Human Resources Manager. Pablo Martin, her husband, who is now retired military, also motivated me. When I was in Iraq, he was in Afghanistan and what I learned from his experiences was enlightening in so many ways. Both Melissa and Pablo gained Master's Degrees and are great examples to me as they are always pushing themselves. Pablo Martin is a Senior Executive at Canon. Another example of veterans' value in the industry is that most people do not realize the level of education that enlisted and non-commissioned officers have. Many have a Bachelor's, some have multiple degrees and Master's but it is always assumed that only the officers will have degrees.
You are a part of the Salute Military Community, which shares a common passion for helping military families get into the data center industry. It is centered on veterans helping veterans. Why is this important to you?
It is kind of like a family. You remember the things you went through, and you see someone who has served and you want to help them. When I was at Salute, we were hiring veterans and military spouses who were unemployed or, worse underemployed. So many of them were mowing lawns, moving furniture, or making coffee, which is a waste of talent. When you see a veteran with a Bachelor's degree and years of military experience, it makes no sense to find out that they are delivering sandwiches. That is Salute's mission; you can find a challenging career even if you were not in IT in the military. Not many people serve but those who do share common values and experiences that are worth a lot. After being so close when you are in the military, you feel isolated when you get out and things don't click as they should. It breaks my heart when I see homeless veterans and feel that this is one of the poorest reflections of our society. Salute has filled a gap that is good for veterans and the industry and has become a company that is leading the industry on new ways of doing things.
That is because Salute was smart enough to realize the collective value of veterans and have turned this incredible pool of people into something outstanding.
You are a person of great influence. If you could inspire a movement that would bring the most amount of good to the most amount of people, what would that be? You never know what your idea can trigger.
I want to tell women and girls that you "do" deserve to be where you are and don't let anyone tell you that you don't. I overcame preconceptions in the military and I will do the same in the civilian world and do whatever I can to help all women realize that they are equals to men in every way. When a woman is assigned to a new team, she is immediately labeled as the new coffeemaker.
This is 2021, not 1960, in an episode of Mad Men and we need to start driving change quicker. At ECX, WomenX is trying to develop, advance and support women in the industry and there are so many great assets that are now available to us.
How can our readers follow you online?
Readers can follow me on LinkedIn.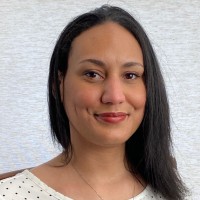 If you are a veteran looking for an exciting career in a growing industry, contact us at Salute. We can help put you on the path to success.
If you are looking to close the data center talent gap with individuals committed to bringing military precision to their careers, contact us. Employ the heroes of today, tomorrow.