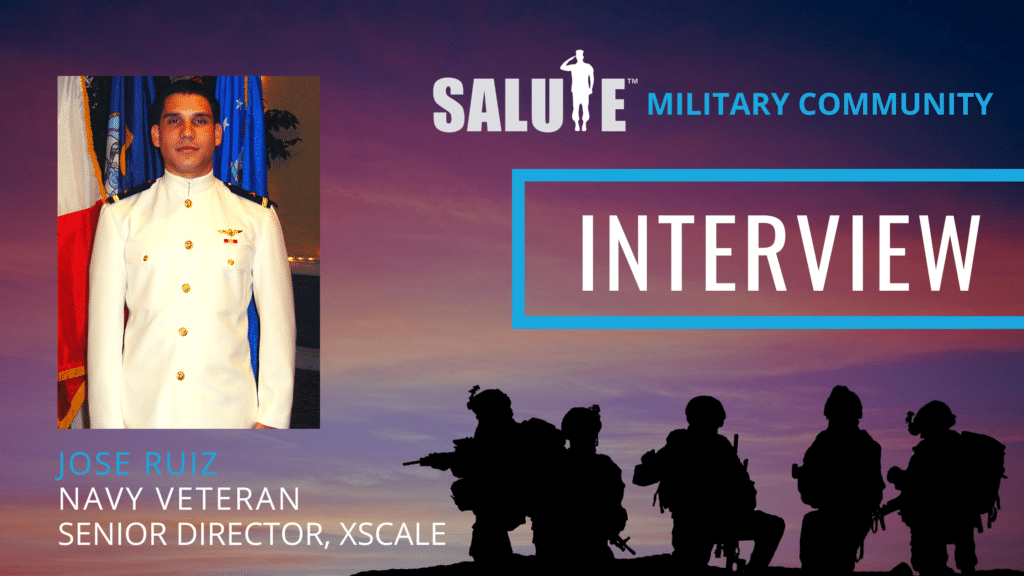 What is the Salute Military Community?
The Salute Military Community is a unique cohort of veterans who serve as examples of the value military training and experience bring to our industry. The Veterans Community supports Salute's mission and strives to achieve our shared vision of providing veterans and military spouses career opportunities in the data center industry. We are proud of these veterans for giving back to other veterans seeking to start careers in this industry.
Lee Kirby, Salute Co-Founder, and retired Army colonel interviewed Military Community member Jose Ruiz, Senior Director, xScale at Equinix, and Navy Veteran.
Before we dig in, our readers would love to get to know you a bit. Can you tell us a bit about your childhood?
I was born and raised in Puerto Rico. I attended the American Military Academy, a PK-12 school with an Army JROTC program and then I went to UMass to attend college and majored in biomechanical engineering. For as long as I can remember, I wanted to be an astronaut, but I knew that I had to be a pilot first, so, during my junior year of college, I applied to be a Navy pilot and got accepted. A few months after graduation, I was on my way to Pensacola, FL, for officer candidate school and to begin pilot training.
And what are you doing today?
Today I work at Equinix, focusing on developing and executing Equinix's global hyperscale strategy and serving the top 12 hyperscale customers.
Can you tell us a bit about your military background?
My military background dates to grade school, when I started wearing a military uniform in first grade. During high school, I was part of the schools' JROTC program. These were my military introduction years, and I enjoyed every minute of them. Little did I know that I would end up serving for almost 12 years in the US Navy. During my junior year in college, I decided to apply for a pilot slot in the US Navy and was accepted. Days after graduating college, I drove to Pensacola, FL, to start my Naval career. There I completed Office Candidate School and started pilot training.
I had a blessed Navy career. I could fly multiple aircraft platforms, see the world and serve my country. My last duty station was NAS Brunswick in Maine, but I was deployed to places like Rota Spain, Sigonella Italy, Bahrain, Djibouti, and Atsugi, Japan. After almost 12 years of duty and earning the rank of Lieutenant Commander, I decided to transition out of the military and into the data center industry.
Can you share the most interesting story that you experienced during your military career? What "takeaway" did you learn from that story?
Checking into my first duty squadron as a young first Lieutenant, I was assigned to be the maintenance division officer within the squadron's maintenance department. I oversaw over 25 enlisted personnel, which more than half of them were older than me. I confess this was a bit intimidating. How could I lead these people with a lot more experience than me? How do I resolve conflict within the division without being labeled the new guy who doesn't know how "we do things around here"? My initial thought was to let my rank do the talking. A few weeks went by, and I still felt like I should be walking on eggshells and then it hit me. I needed to immerse myself in their day-to-day activities and learn from them with a hands-on approach. So asked the supply officer for some coveralls (the enlisted maintenance daily uniform) and started working with them on routine tasks, getting my hands dirty working on fixing airplanes. It was then when I quickly learned the amount of wisdom enlisted personnel have and working WITH them was the key—being a part of their day-to-day—experiencing first-hand what they do. They accepted and respected me as their leader because of my actions, not my rank. A very humbling lesson that I carry with me to this day.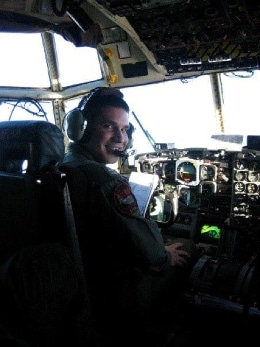 Do you think your experience in the military helped prepare you for business or leadership? Can you explain?
Absolutely, my military experience has helped me in business and leadership. Like the story I just told, the experiences in my 12 years of duty have invaluable lessons that are applied in my daily life—for example, the importance of communicating effectively. Flying airplanes require us to use crew resource management (CRM). CRM is key to the success of every mission. If you don't communicate clearly and ensure that the other crew member understands what you are saying or asking, things can go wrong very quickly. The military's attention to detail skill translated very well in the data center industry from a business perspective. Being another mission critical industry, having learned and embraced attention to detail in the military has truly helped me along the way. Some may think that having attention to detail is easy, but it is not. Being meticulous about how a procedure is executed, thinking through multiple scenarios, or just thinking outside the box requires a lot of mental energy that most people are unwilling to spend. From a leadership perspective, I learned how to be a good leader from some of my own leaders and mentors. They instilled discipline, courage, self-confidence and fostered an environment of teamwork and service to others.
None of us can achieve success without some help along the way. Is there a particular person who you are grateful for who helped you get to where you are? Can you share a story?
There is certainly more than one. First and foremost, God. Second, my wife Neila. She has been my rock throughout my military and professional careers and her unwavering support has been crucial to my success. From a business perspective, my mentors Adil Attlassy, Chris Crosby, Brent Behrman and Jim Smith have challenged me with great opportunities through the years. They have made me grow as a person and professionally. They believed in my transferred military skills and my potential; for that, I am beyond grateful.
You are a part of the Salute Military Community, which shares a common passion for helping veterans get into the data center industry. It is centered on veterans helping veterans. Why is this important to you?
This is very important because I truly believe that's serving others is what leaders should do. I want to help fellow veterans realize that their skillset is highly valued in our industry and that opportunities abound. In my opinion, the data center industry is a perfect fit for military veterans.
You are a person of great influence. If you could inspire a movement that would bring the most amount of good to the most amount of people, what would that be? You never know what your idea could trigger.
I have a passion for teaching leadership and growth to the next generation. My mission is to live an intentional life and add value to people daily. I believe teaching leadership and personal development to the next generation can solve the world's most challenging problems. So, if I could inspire a movement, it would be to equip our children with these skills today. Skills that empower them to make better choices add value to others and live intentionally. This could be done by teaching children directly or teaching parents, teachers, coaches, etc., leadership training in their household, classroom, or field. I've started the building blocks for this effort but still have more work to do. You can read more at: joseruiz.com
How can our readers follow you online?
Readers can follow me on LinkedIn.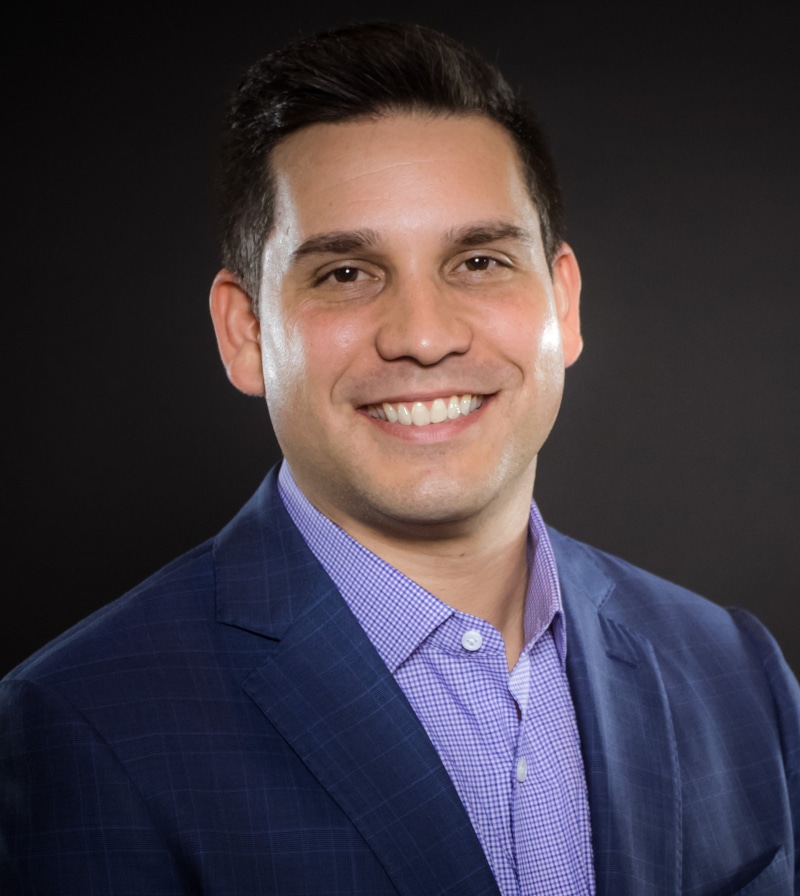 If you are a veteran looking for an exciting career in a growing industry, contact us at Salute. We can help put you on the path to success.
If you are looking to close the data center talent gap with individuals committed to bringing military precision to their careers, contact us. Employ the heroes of today, tomorrow.