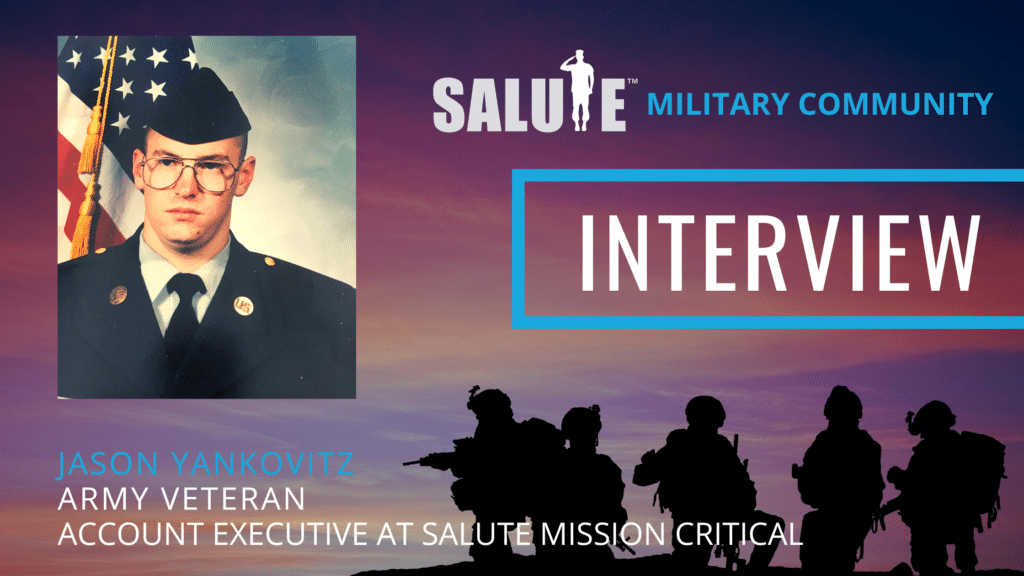 What is the Salute Military Community?
The Salute Military Community is a unique cohort of veterans and the military community who serve as examples of the value their experiences bring to our industry. The Military Community supports Salute's mission and strives to achieve our shared vision of providing veterans and military spouses career opportunities in the data center industry. We are proud of the military community for giving back to other members seeking to start careers in this industry.
Lee Kirby, Salute Co-Founder, and retired Army colonel interviewed Military Community member Jason Yankovitz, Account Executive at Salute Mission Critical and Army Veteran.
Before we dig in, our readers would love to get to know you a bit. Can you tell us a bit about your childhood?
As the son and only child of two hardworking factory workers in the Midwest, I learned responsibility, hard work, and accountability at a young age. This served me well growing up, participating in sports throughout high school while working full-time and carrying above a 3.3 GPA. Humble beginnings can be a great motivator, but the funny thing about it is you do not realize it until later in life. I am forever grateful for the values and work ethic my parents instilled in me.
And what are you doing today?
I am happy to say I work for Salute Mission Critical as an Account Executive. I concentrate on building and fostering relationships with all clients, from General Contractors to Fortune 500 Hyperscalers. I worked up through the operations teams and feel that experience helps me interact with our clients as I understand how requirements, schedule and budget are the key drivers for any successful engagement.
Can you tell us a bit about your military background?
I joined the Army in 1995, just 3 months after graduation from high school. I had offers and scholarships from several local universities but didn't feel ready for more school. Instead, I wanted to make a difference while gaining experience. Many veterans in my community urged me to go into the intelligence field, while I was initially most interested in the Military Police Corps. Ultimately, I took their advice and went the way of Military Intelligence. More specifically, I worked in signals intelligence and learned the morse code language.
You probably heard "morse code" and immediately concluded that I am way older than I am. You are correct that morse code is obsolete and not used in the western world. In signal intelligence (SIGINT), we intercept messages, and you master the skills required to work with messages from less developed countries.
Although much of my work was classified and/or under NDA due to my clearance, it was 9 years of my life I will cherish and will never forget. I loved serving my country and made lasting relationships with fellow brothers and sisters I still speak with to this day. The bonds that you develop in the military are so strong and enduring over the years.
Can you share the most interesting story that you experienced during your military career? What "takeaway" did you learn from that story?
As mentioned, the majority of my work was classified, but there are many experiences you gain that help you grow that can be shared. There was one event while working a first shift in the Republic of Korea where we came across real-time communication of activity from North Korea. This information was able to be relayed to the higher ups in time to make a timely and decisive decision in response prior to anything transpiring. Although this event was isolated, to say the least, it showed each of us on duty that day that complacency and a "ho hum" attitude could have prevented us from obtaining this information. We all learned that diligence, attention to detail, and staying alert are necessary.
Attention to detail is one of many great strengths that you gain in the military. You do not realize it at the time, but from day 1 when you get off the bus at basic training, you are being taught to focus on the details. How you make your bed, how you stand in line, and how you put your uniform together are just learning exercises to build a discipline that is applied to how you operate in any environment. Attention to detail has saved many lives because there are hazards even in peacetime, ensuring the safety of your teammates and mission success. We have all taken this to the civilian roles we now fill, and I believe it is a key advantage of hiring veterans that are overlooked.
Do you think your experience in the military helped prepare you for business or leadership? Can you explain?
Absolutely! I was so fortunate to have great leaders all along the way. Because of their mentorship and guidance, I was motivated to excel in every assignment. This resulted in me being promoted to Sergeant (E-5) in just over 4 years and Staff Sergeant (E-6) in just over 7 years, which is fast. I think the combination of the leadership environment and my personal drive helped me achieve rank faster. I had a hunger to do more and always sought out leadership opportunities whenever possible. I think it is common for all veterans who did well in the military to do well in civilian life because those leadership skills are transferrable. I know that it has helped me in my role with Salute and will continue to motivate me to grow and contribute even more. I feel blessed because of the values and traits my parents instilled in me and the leadership experience the Army gave me. To me, that is a recipe for success both personally and professionally.
None of us can achieve success without some help along the way. Is there a particular person you are grateful for who helped you get to where you are? Can you share a story?
As a young NCO, I benefited from the mentorship of many senior leaders. One person, in particular, was instrumental in my development. 1SG Krista Munyon helped groom me as a young leader and taught me how to balance the responsibility of being a leader while remaining empathic and understanding of those in your charge. There are so many examples that I could attribute to her but the one that stands out most in my memory is a great example. A soldier was being discharged from the military for committing multiple crimes. He was reassigned to my platoon and put directly under my charge. 1SG Munyon helped me understand that while he was convicted of crimes and being discharged, at the end of the day, he was still a human being and needed to be treated with respect while being processed out of the military. I took this to heart while escorting him to all out-processing appointments and finally to the airport back to the United States. She was a great leader because she lived her values, and you could see in her actions every word of guidance she would give.
You are a part of the Salute Military Community that shares a common passion for helping veterans and military spouses get into the data center industry. It is centered on veterans helping veterans. Why is this important to you?
I take being a veteran very seriously. By being able to help find positions for fellow veterans, I am continuing to do my part in ensuring fellow veterans not only find a job but instead a career in an ever-growing industry. Salute has been an incredible success story and I am proud to be a part of it. I never understood the "triple bottom line" phrase that everyone seems to throw around because I had never seen it in person. I know now that you can achieve great success if you embrace an inclusive culture like Salute's that gives everyone a chance to succeed.
You are a person of great influence. If you could inspire a movement that would bring the most amount of good to the most amount of people, what would that be? You never know what your idea can trigger.
I can't say it enough regarding raising awareness of the needs of veterans. Whether it is the growing issue of veteran suicide, homeless veterans, or those veterans out of work, there needs to be a better platform for their reintegration into society. The military does a great job of transforming you into a soldier but does not seem equipped to transform you into a gainfully employed civilian and sadly, too many veterans are too proud to ask for help or assistance. There need to be more organizations like Salute Mission Critical that welcome veterans with open arms and provide training, stability, and a career path. A job is the basic building block for a self-reliant life and the career paths that Salute provides allow our team to continually grow and be rewarded personally and professionally. Salute has hired so many homeless veterans and changed their lives forever. I burst with pride knowing that everything I do at Salute is helping my fellow veterans and military families.
How can our readers follow you online?
Readers can follow me on LinkedIn.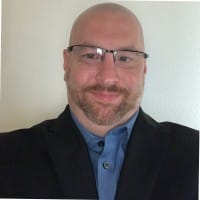 If you are a veteran or military spouse looking for an exciting career in a growing industry, contact us at Salute. We can help put you on the path to success.
If you are looking to close the data center talent gap with individuals committed to bringing military precision to their careers, contact us. Employ the heroes of today, tomorrow.