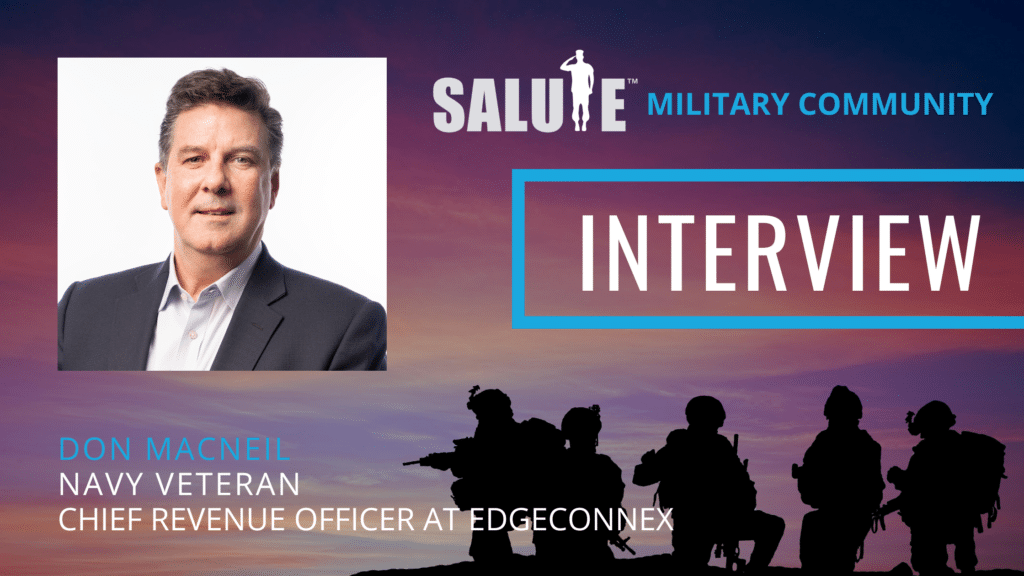 What is the Salute Military Community?
The Salute Military Community is a unique cohort of veterans and the military community who serve as examples of the value their experiences bring to our industry. The Military Community supports Salute's mission and strives to achieve our shared vision of providing veterans and military spouses career opportunities in the data center industry. We are proud of the military community for giving back to other members seeking to start careers in this industry.
Lee Kirby, Salute Co-Founder, and retired Army colonel, interviewed Military Community member Don MacNeil, Chief Revenue Officer at EdgeConneX and Navy Veteran.
Before we dig in, our readers would love to get to know you a bit. Can you tell us a bit about your childhood?
I grew up in the Boston Area and attended Boston College High School, where my favorite sport was ice hockey. Later, I attended Boston College, my launch pad to the U.S. Naval Academy, and my Navy journey. While at the Naval Academy, I majored in Naval Architecture and ship design, but despite traveling the world, several times over, I have yet to design a ship!
Good news, I am two years into building a kayak with my sons, and hopefully, this summer will be the launch. For those who know me, from time to time, the Boston accent still comes out now and then.
And what are you doing today?
Today, I am the Chief Revenue Officer (CRO) at EdgeConneX, responsible for the sales and marketing of a global build-to-suit data center portfolio. During my civilian career, I served as the Chief Operating Officer (COO) at two global telecommunications companies, the Chief Executive Officer at a U.S.-based fiber services company, and in various leadership roles in the global data center and telecommunications industry. In all my assignments, I have been fortunate to have served alongside fellow veterans, which always creates an immediate bond in our shared service experience and takes up the mission in our corporate assignments. Much like on active duty, our diversity in skills and perspective carries over into the corporate world.
Can you tell us a bit about your military background?
I served fourteen years on active duty as a Surface Warfare Officer (SWO serving aboard a cruiser, destroyer, and a frigate) and served in leadership roles in the engineering, combat systems, and operations functions. I attended the Naval Postgraduate School in Monterey, CA, and earned a Master of Science in Weapons Physics. I also served in the Pentagon as the Director of Surface Warfare, as a Requirements Officer, and as a Flag Aide.
In addition, I served for 13 years in the reserve component attached to the Office of Naval Research to focus on research and development in support of the Navy budgeting and priorities for early technologies. This provided future capabilities and basic science competence to ensure warfighter dominance and superiority.
Can you share the most interesting story that you experienced during your military career? What "takeaway" did you learn from that story?
Preparation. While serving aboard an Aegis class cruiser as the Operations Officer, we experienced a significant turnover in the operations and combat systems department and were scheduled for a six-month Western Pacific/Middle East deployment. One of our crucial mission capabilities was executing cruise missile strikes as the National Command Authority (NCA) ordered. Successfully executing a mission is a team effort, and formatting a new team requires significant training to gain proficiency. Ultimately, three months into our deployment, we were called upon to execute a 20-missile salvo supporting National Command tasking. The mission was significant and successfully executed – demonstrating that you can never be too prepared; success in execution requires a well-trained and cohesive team and leadership involvement early. Consistency is critical – the Captain can't just show up on the day of the mission – the preparation and participation from ALL are vital.
Do you think your experience in the military helped prepare you for business or leadership? Can you explain?
First and foremost, leadership, responsibility for the safe navigation, mission execution, and caring for a team while deployed for extended periods – all reinforce the importance and practice of leadership 24 hours a day.
Additionally, another important skill was decision-making. This is key, especially as an Officer of the Deck navigating a ship at sea or as the Tactical Action Officer responsible for properly employing a ship's sensors and weapons. Decision-making is a critical and near-constant process while serving in those positions – in some cases, they can be detrimental to the safety of the ship and the crew.
None of us can achieve success without some help along the way. Is there a particular person you are grateful for who helped you get to where you are? Can you share a story?
During my time on active and reserve duty, two important people played essential roles – my wife and the Chief's Mess. During my seven-year extended deployment and numerous other periods at sea – I missed a lot, from running the household to caring for my children. Keeping things organized allowed me and others that serve the ability to focus on the mission. The list my wife had to handle and address was endless. In two cases, she packed up our house and moved from the east coast to the west coast on her own while I did a split tour on an extended 8-month deployment. My wife was the rock and aided my ability to focus while in the military.
The Chief's Mess: In my professional capacity, many peers, senior officers, and senior enlisted influenced my success and development. However, it is worth noting that the "Chief's Mess" is the term used for the senior enlisted on the ship. You can think of it as the leadership that makes the ship go – critical to the proper operation and the ship's morale. When I transitioned into my first civilian role, I ultimately found the Chief's Mess at my first company – and just like the ships I served on, the Chief's Mess in the corporate role is as critical in a company as it is on a ship at Sea. 
You are a part of the Salute Military Community that shares a common passion for helping veterans and military spouses get into the data center industry. It is centered on veterans helping veterans. Why is this important to you?
Without reservation, all that I am today is because of my service. From my initial days at the Naval Academy through all my active and reserve assignments, my character, work ethic, and my family life from the age of 17 years and onwards are all attributed to my experience in the Navy. I feel very strongly about helping all veterans find their place following their service.
You are a person of great influence. If you could inspire a movement that would bring the most amount of good to the most amount of people, what would that be? You never know what your idea can trigger.
Embrace our differences. Just as we have all served in a joint military environment – diversity of U.S. Armed Services and ally militaries around the world – our differences bring strength and success.
How can our readers follow you online?
Readers can follow me on LinkedIn. For more information on the EdgeConneX Salutes program and EdgeConneX For Veterans By Veterans series designed to help veterans and the veteran community build careers in the data center industry, check out Top Tips, motivational Q&As, and insightful videos here: https://www.edgeconnex.com/category/edgeconnex-salutes/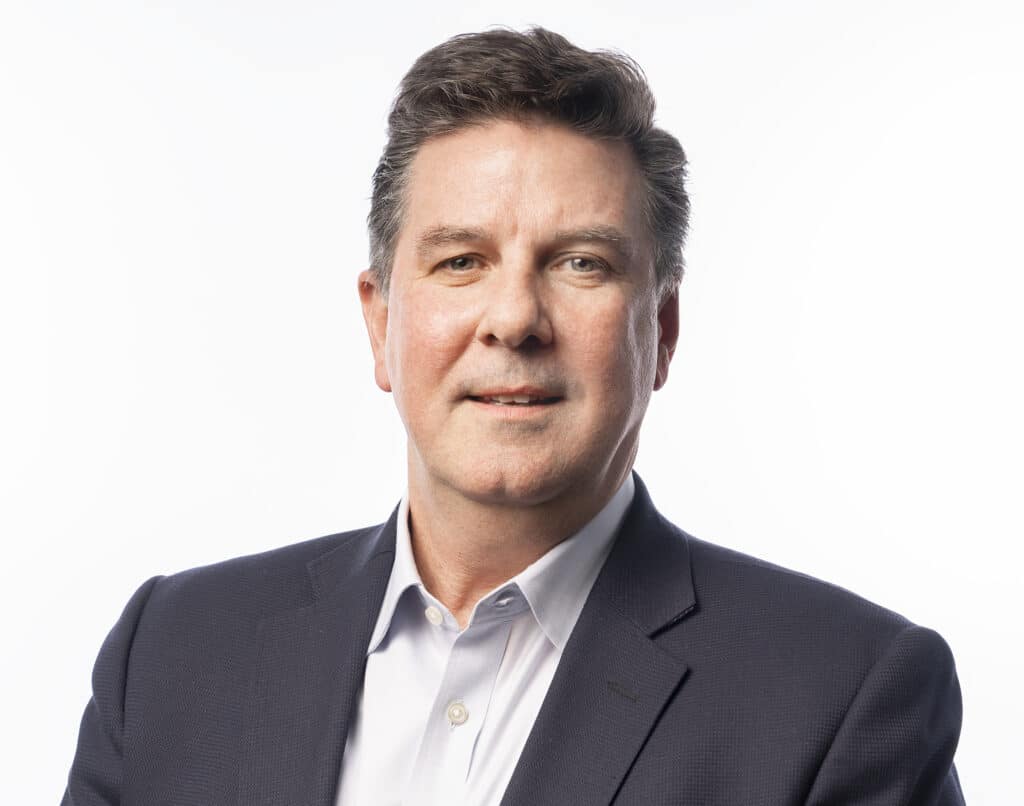 If you are a veteran or military spouse looking for an exciting career in a growing industry, contact us at Salute. We can help put you on the path to success.
If you are looking to close the data center talent gap with individuals committed to bringing military precision to their careers, contact us. Employ the heroes of today, tomorrow.