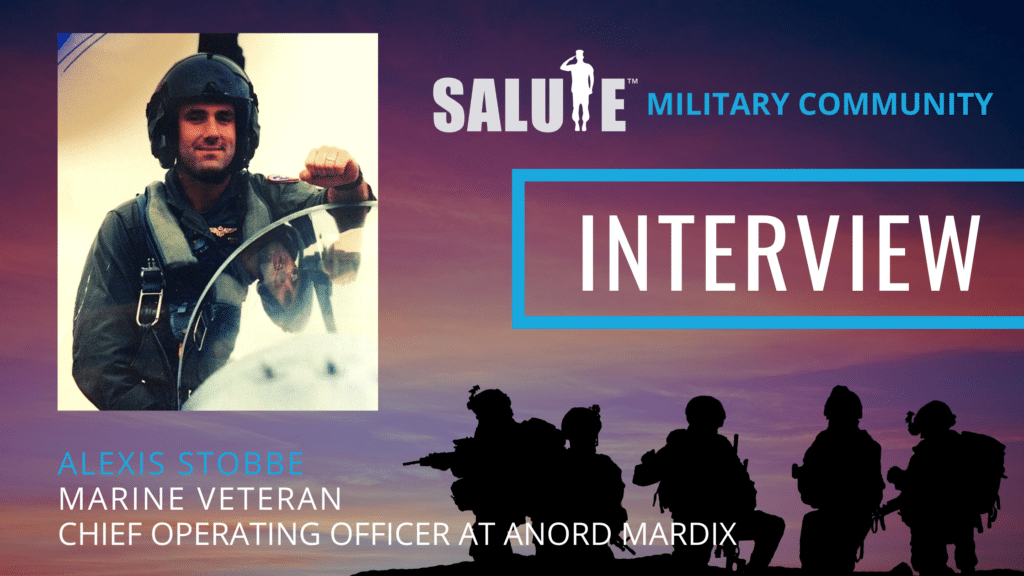 What is the Salute Military Community?
The Salute Military Community is a unique cohort of veterans who serve as examples of the value military training and experience bring to our industry. The Veterans Community supports Salute's mission and strives to achieve our shared vision of providing veterans and military spouses career opportunities in the data center industry. We are proud of these veterans for giving back to other veterans seeking to start careers in this industry.
Lee Kirby, Salute Co-Founder, and retired Army colonel interviewed Military Community member Alexis Stobbe, Chief Operating Officer at Anord Mardix, and Marine Veteran.
Before we dig in, our readers would love to get to know you a bit. Can you tell us a bit about your childhood?
I grew up just outside of Pittsburgh, PA, as a Steelers fan and playing just about every sport. My dad would take me to air shows at the Arnold Palmer Regional Airport in Latrobe, PA. Even before Top Gun came out, I was hooked on aviation from watching the Blue Angels come through town almost every year.
And what are you doing today?
I am the Chief Operating Officer for Anord Mardix (USA). We design and manufacture critical power distribution solutions that support a large portion of the global hyperscale, multi-tenant, and enterprise data center markets.
Can you tell us a bit about your military background?
I attended the University of Pennsylvania on a Navy ROTC scholarship and was commissioned as a Second Lieutenant in the US Marines in 1997. I received my wings and was trained as a fighter pilot assigned to Marine Fighter Squadron 122, where we completed back-to-back overseas deployments flying the F-18 Hornet —finished out my active duty time as an instructor at the University of Mississippi. After separating completely for a few years, I rejoined the reserves as an aviation safety advisor to the Commanding General of the 4th Marine Air Wing in New Orleans, where I retired after 20 combined years of active and reserve service.
Can you share the most interesting story that you experienced during your military career? What "takeaway" did you learn from that story
Fighter pilots are a pretty ruthless bunch with dark senses of humor, so our stories tend to focus on the dumb things, or "buffoonery," that we were lucky enough to live through. As a young First Lieutenant who was moving through my initial squadron qualifications during our pre-deployment training in Yuma, AZ, I was eager to continue the trend of receiving high praise from my senior flight leaders. On this occasion, I was scheduled with "Howdy" Douds, our Operations Officer, for a low-altitude attack mission. We had just dropped down to 200ft above the desert floor and 500mph and started aggressively maneuvering to avoid surface to air radars on our way to the target—a simulated surface to air missile (SAM) site. Our carefully briefed "SAM Weave" maneuver was a combination of horizontal and vertical zig-zags where the jet was rolled inverted (yes, you knew a Top Gun reference was coming) and pulled back towards the desert floor. After a couple of iterations of the SAM Weave (but still well short of the target), I accidentally hit the bomb release or pickle switch while inverted and pulling back to the desert floor. Sheer panic set in as I was pointed down at the rocks and sand with a 500lb bomb that I had just released hovering directly above me. I have replayed what happened in the next 4 seconds countless times in my mind—yet I still don't know specifically what control inputs my feet and hands applied to the stick and rudder pedals. Somehow, I managed to get away from the bomb and pulled out with the low altitude warning blaring in my ear. I literally missed the target by a mile but fortunately, the bomb exploded on the desert floor and not against my airplane. Howdy Douds, certainly less than impressed, waited an eternity before uttering in a dry drawl, "Stubby… what in the Hell was that?" So, I am one of the few who have nearly bombed themselves out of the sky. As the old aviation adage goes, "You are always only as good as your last flight" — and with that disgraceful dismount came the opportunity to rebuild my fledgling professional reputation after a noticeably public failure. Over my time in the squadron, successes outnumbered failures—but failures in judgment and execution always occurred. The lesson was, owning it (not seeking other factors to blame), taking your lumps and time in the negative limelight, and moving on with a resolution to get better. While my buffoonery turned out a non-event, it surprises many people to learn that even peers of mine who ended up negligently crashing $50M jets were back flying again so long as they owned their mistakes with humility.
Do you think your experience in the military helped prepare you for business or leadership? Can you explain?
Absolutely. The military gives you a disproportionately high amount of responsibility at an early age. In some ways, I have still not eclipsed the same level of responsibility as I held when I was 26 and responsible for the international movement of a squadron's worth of airplanes and Marines. With the tremendous amount of inherent personnel turnover, the military also prepares you for constantly developing and building teams, a very transferrable skill.
None of us can achieve success without some help along the way. Is there a particular person who you are grateful for who helped you get to where you are? Can you share a story?
Dr. Pat Kennedy, the founder of OSIsoft (now part of Schneider Electric/Aveva), was instrumental in giving me an opportunity to join his sales team and enter a great industry. After separating from active duty, I was initially involved in real estate development and the subsequent crash of that sector in 2008. Dr. Kennedy gave me my first opportunity in mission critical, which has proven to be a very stable and growing industry.
You are a part of the Salute Military Community, which shares a common passion for helping veterans get into the data center industry. It is centered on veterans helping veterans. Why is this important to you?
Despite the military's tremendous leadership and skills development, the transition from the ranks to the civilian world is challenging and confusing. It can lead to very trying periods in a veteran's life. In my opinion, mentorship in the subtle nuances and unspoken truths not found in the typical transition assistance really make a difference. A mentor can help properly frame military experiences and contextualize skills for the professional route the veteran is seeking is critical.
You are a person of great influence. If you could inspire a movement that would bring the most amount of good to the most amount of people, what would that be? You never know what your idea could trigger.
On a strategic level, many companies from the mid-market to multi-billion publicly traded have started to focus and invest significant resources on their Environmental, Social, and Governance (ESG) profile. This process of self-discovery and evaluation of important non-financial drivers presents a tremendous opportunity to accelerate and properly resource veteran initiatives for the long term. As leaders in these companies, we can make sure existing veteran programs (large or small, formal or informal) are included and properly recognized in these discussions. On a tactical level, discuss this concept with customers, partners, suppliers—that hiring and developing veterans is not just good for their ESG profile—but good for business.
How can our readers follow you online?
Readers can follow me on LinkedIn.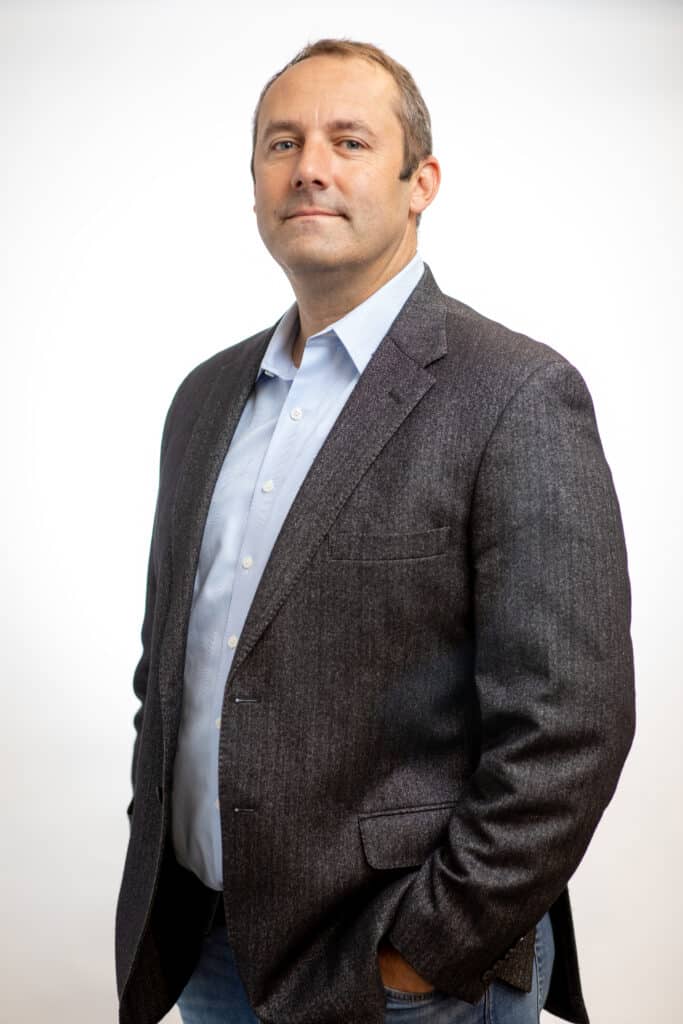 If you are a veteran looking for an exciting career in a growing industry, contact us at Salute. We can help put you on the path to success.
If you are looking to close the data center talent gap with individuals committed to bringing military precision to their careers, contact us. Employ the heroes of today, tomorrow.