Written by Lee Kirby, Co-Founder & Chairman of Salute Mission Critical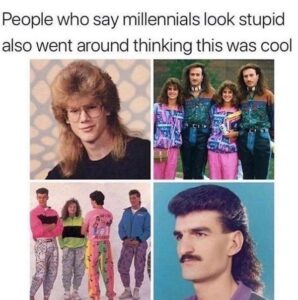 It seems like every generation goes through a very similar path of accepting or rejecting the generations that follow. I remember sitting and listening to old fuddy duddies when I was a teenager talking about my generation. To them we were a bunch of long-haired hippies with no work ethic who just wanted to party all the time. I sit in on meetings these days and hear the current version of old fuddy duddies use many of the same descriptors of the generations that are coming into the work force now. I have never been a fan of generalizing negative stereotypes across an entire demographic because it is usually based on an individual experience that does not represent the majority. If you stop watching reality TV and look around you, you will see young people entering the workforce with education and learning abilities that allow them to embrace new technology and innovate far greater than before (aka better and faster than you). They are not encumbered by "this is how we have always done it" but bring a new perspective that is exactly what we need and should be highly valued. If you ask them to do something, they do not ask for a tutorial, they search YouTube or draw on the vast resources that are available to them and were not available to us.
I was waiting with my team for a helicopter in Iraq in 2009 and chatting with them while we hydrated. As we shared stories, two things became glaringly obvious. The first was realizing that I had joined the military before anyone there had been born. The second was that each and every one of them had joined the military knowing that they would go in harm's way. Their willingness to sacrifice everything for something greater than themselves made me realize that every generation shares the profile we portray as the Greatest Generation and each generation just gets better and better by emerging with different ways of thinking. At Salute, most of our team are millennials and they are bringing different ways of thinking and a new value proposition as employees, as veterans and as the next generation. They have made us a better company than I ever imagined with their fresh ideas and new ways of doing things. They have all the key attributes of disciplined work ethic, driving to fulfill mission requirements and ensuring all stakeholders are informed throughout the process. Today's fuddy duddies have a choice. They can embrace the next generation and share wisdom based on experience and leave a legacy that will be the foundation for even greater accomplishments or wither away into obscurity in the comfort of a delusion that the next generation is going to drive the world to destruction because they lack the haircuts and work ethics of their generation (only one of those is true).
Every generation builds on the accomplishments of the last and this generation is no different. That natural evolution combined with the new generation fulfills a destiny that should be thought of as "the NEXT Greatest Generation". By embracing and supporting those that follow your generation, your legacy is even more profound as they will contribute even more to mankind as a consequence. I am happy to share lessons I have learned from millennials in combat and business.
…and just wait, because Gen Z is beginning to enter the work force and will bring a perspective that is new and untethered.