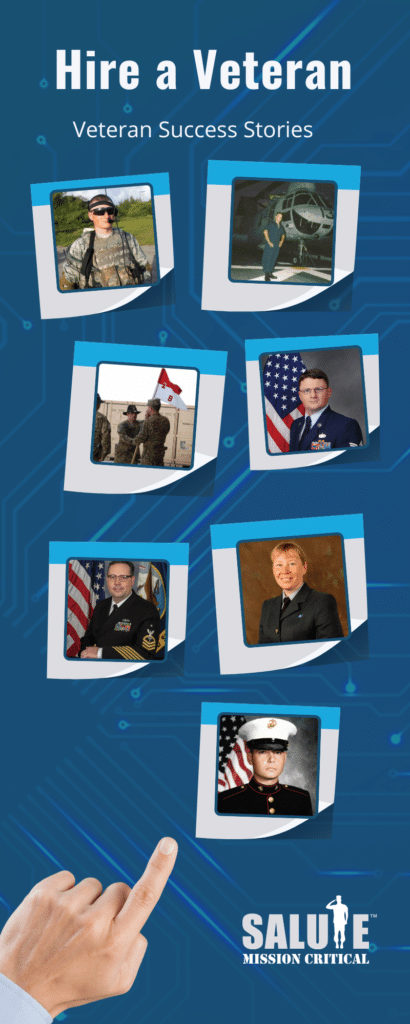 As we commemorate Hire a Veteran Day, we want to share our passion for employing Veterans and highlight the numerous benefits that Veterans bring to the workforce. Moreover, explore the countless military transition success narratives that exemplify the transformative power of military experience and the indelible mark it leaves on those who have served.
"To break free from the continuous cycle of raising a family in one of the most dangerous neighborhoods in Chicago and ensure that any future family members would have a better start in life, Antar decided to join the military. As a result of his experience serving his country, he was driven to change his life for the better by learning a new trade."

From the Streets of Chicago to Data Center Engineer for Amazon – the story of Antar Tidwell, Air Force Veteran and Data Center Engineer
The Value of Military Experience
One of the primary reasons we advocate for hiring veterans is the invaluable experience they bring to the table. Throughout their military careers, veterans develop a unique skill set that is unmatched in its breadth and depth. They possess qualities such as discipline, leadership, teamwork, adaptability, and problem-solving skills, all of which are transferable to various professional fields. These qualities enable them to excel in high-pressure environments, think critically, and thrive in dynamic workplaces.
"For those Veterans that were in the Infantry, they had to maintain a vehicle, communication systems and weapon systems. They follow preventative maintenance checks and services (PMCS) on a routine basis and per the recommended schedule. As a Data Center Technician, you see the same skills, just different equipment. They can be trained to apply the same disciplined maintenance and skills to data center equipment. It is not just the Infantry, though, because these skills are shared by all soldiers, sailors, airmen and marines who have performed the same support functions."

Smart Leaders Hire the Military Community
Commitment and Strong Work Ethic
Military personnel understand the meaning of dedication and perseverance. They have undergone rigorous training, faced challenging situations, and worked under immense pressure. This instills in them an exceptional work ethic and a commitment to excellence. Veterans are known for their punctuality, accountability, and determination to go above and beyond expectations. By hiring a veteran, companies can benefit from this unwavering dedication, resulting in increased productivity and a positive work culture.
"Never forget that you only get one shot at this life. While you may have had great mentors, friends, family or influencers in your past, you still have to decide to improve each day, to keep moving forward, building a life of quality for yourself so that you can inspire others to do the same."

Don Melchert, Marine Corps Veteran and Data Center Manager /Site Lead at Salute Mission Critical
Teamwork and Leadership
In the armed forces, teamwork is essential for mission success. Veterans have experienced working collaboratively with individuals from diverse backgrounds, fostering a strong sense of unity and cooperation. They understand the importance of effective communication, adaptability, and supporting their colleagues to achieve shared objectives. These teamwork skills, combined with their natural leadership abilities, make veterans valuable assets to any organization, as they can inspire and motivate others to achieve their best.
"The logistical, operational and leadership experiences that I acquired from 10 years of active duty service are the primary reason I can be effective at a company like Google. Because of my military experience, I can almost instinctively filter out the noise and maintain a laser-like focus on the "real" risks."

Mike Louer, Army Veteran and Program Manager at Google
Problem Solving and Decision Making
The military exposes service members to situations that demand quick thinking and decisive action. Veterans are well-versed in problem-solving techniques and can analyze complex scenarios to identify practical solutions. They have learned to remain calm under pressure and make critical decisions with limited time and resources. This ability to think strategically and make sound judgments is a significant advantage in the business world, where adaptability and problem-solving are vital for success.
"Another important skill was decision-making. This is key, especially as an Officer of the Deck navigating a ship at sea or as the Tactical Action Officer responsible for properly employing a ship's sensors and weapons. Decision-making is a critical and near-constant process while serving in those positions – in some cases, they can be detrimental to the safety of the ship and the crew."

Don MacNeil, Navy Veteran and Chief Revenue Officer at EdgeConneX
Diversity and Inclusion
Diversity and inclusion are crucial for fostering innovation and driving success in today's global marketplace. Hiring veterans enhances these efforts by adding a unique perspective to the workforce. Veterans come from various backgrounds, cultures, and demographics, enriching the workplace with their diverse experiences and ideas. Embracing diversity helps create a vibrant and inclusive environment that promotes creativity and fosters collaboration among employees.
"Diversity is important in the workplace because it brings a wide range of perspectives along with unique ideas and experiences. Without diversity, we become stagnant and don't grow as a company or personally."

Rebecca Thigpen, Military Spouse and Talent Acquisition Associate at Salute Mission Critical
All in all, their unparalleled skill set, unwavering commitment, teamwork, leadership, problem-solving abilities, and diverse backgrounds make them an asset to any organization. If you want to make a difference in a Veteran's life, hire them!
If you are a Veteran looking for tips and insights on finding your next mission after transition, check out this guide for Veterans by Veterans. If you want to explore career opportunities with us at Salute, please email recruiting@saluteinc.com or check out our current openings.