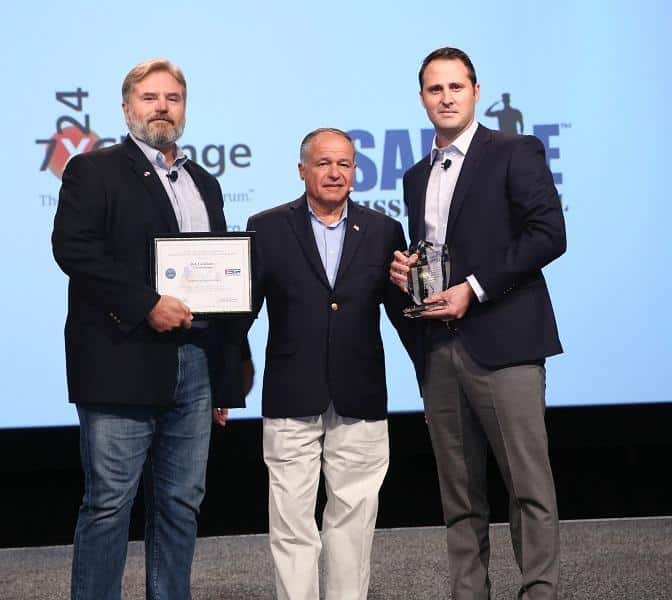 Left to right: Lee Kirby, award recipient Bob Cassiliano, and Jason Okroy.
Salute executives were honored to present Robert ("Bob") Cassiliano with the Patriot Award and the Selfless Service Award at the 7×24 Exchange International Fall Conference in Phoenix, AZ today. Mr. Cassiliano's lifelong support of the military and veterans has positively influenced the data center industry to embrace and value the sacrifices made while serving and the skills now available to start data center careers.
The Patriot Award is given by the Department of Defense, Employer Support for the Guard and Reserve (ESGR). "The Patriot Award reflects the efforts made to support citizen warriors through a wide-range of measures including flexible schedules, time off prior to and after deployment, caring for families, and granting leaves of absence if needed," according to the ESGR website.
Cassiliano's dedication to national security and protecting liberty, as reflected in his work supporting reservists and National Guard, is recognized and appreciated by the individuals who count the most: service members. Recipients of the award can only by nominated by an employee serving in the National Guard or Reserves, or their spouse.
The Selfless Service Award was presented to Cassiliano by Salute Mission Critical. This is the first time this award has been given and was inspired by Cassiliano's example. "Bob has shown selfless support of our mission to address veterans' unemployment, while at the same time helping solve the data center industry's personnel shortage," said Lee Kirby, Salute's Chairman and Ret. Colonel, U.S. Army Reserve. "His leadership has changed the lives of many veterans and their families," added Jason Okroy, Salute's CEO, "and their gratitude is represented in this award."