This guide will provide insight into:
Capacity planning and power requirements
Rack layout/deployment
Equipment Logistics and Movement
Containment options
Quality Assurance
Security, Health and Safety
Structured cabling services
Finding the right partners
As Lee Smith, VP of Operations at Salute Mission Critical, once said, "Think of data center deployment like baking a soufflé. Do you have all of the ingredients? Have you made it before and tested the recipe? Do you have the kitchen tools to make it happen? Do you understand the completion of the steps and handing off from one step to another?" Like baking a soufflé, deploying a data center is not just about the data center design, site, operations, parts or maintenance. It is about everything that makes the entire system work together as required. Good ingredients, together with good processes and procedures, are what contribute to overall success.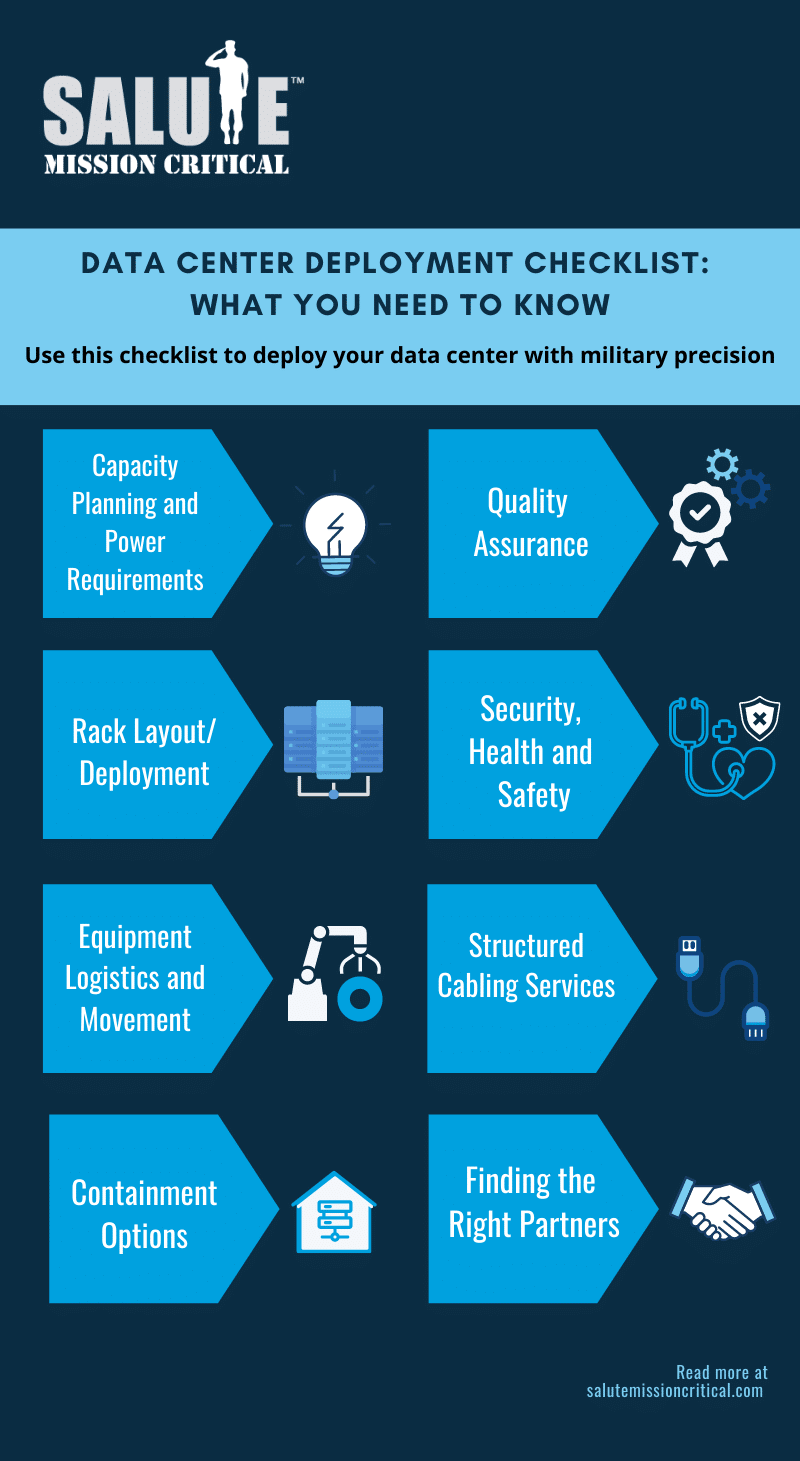 Capacity Planning and Power Requirements
Starting with the end in mind will help you realize returns that are critical to success in the race to capture and retain market share. Lack of planning capacity can significantly impact the design and future capabilities of the data center. Insufficient power and cooling capacity to support client and end user needs can result in revenue loss, reduced productivity and a lower level of customer satisfaction.
The moral of the story? Understand the IT load power requirements. Outline the initial requirements and then establish a strategy based on future expected expansions. You can use a Data Center Infrastructure Management (DCIM) tool to provide a real-time depiction of the IT loads the data center can support and cooling capabilities to help plan for future growth.
Rack Layout/ Deployment
Now that you have planned your capacity and power requirements, let's strategize your rack layout. Technological advances like AI, Autonomous Vehicles, gaming and remote working are causing application-specific hardware to be denser than traditional servers. Therefore, laying out the racks to account for higher density is crucial. Assessing whether doors are needed in order to meet specific requirements is also vital.
Open Racks vs. Closed Racks
It comes down to this – do you need to adhere to security requirements that often dictate that doors are mandatory? If not, do you prefer to work without doors since they may be an extra expense and restrict access and airflow through the data center?
The choice is yours; just know that you may need to purchase more expensive equipment in the future to retain cooler temperatures if you decide to purchase doors.
Equipment Logistics
Determining the safety requirements, combined with an understanding of the logistical effort to relocate the equipment predictably and successfully from origin to destination, is critical to the overall success and stability of any mission critical data center campus or environment. Ask yourself the following questions to assess what is required to get a piece of equipment to its final destination:
What type of equipment is being moved?
Is it heavy?
Is it large?
Is it more delicate?
Does it require special handling, such as batteries or other more sensitive equipment?
What safety measures are required to move the equipment?
Do I have access to individuals who can utilize these assets safely?
Supporting equipment, such as pallet jacks and forklifts may require additional operator training and experience. There may be requirements for additional security measures and interfacing with other people and stakeholders within the environment where this specific activity will be done. Make sure that you have all the bases covered before attempting to move anything from point "A" to point "B".
Containment Options
Reducing energy consumption is a key objective of any data center owner/operator who desires the cost savings that come from even the simplest of solutions. The challenge lies in understanding that data center consumption increases over time. Embracing sustainability involves reducing consumption on a long-term basis and creating a maintenance plan that can help the provider capitalize on the initial gains made during the early phases of their project.
According to the U.S. EPA, a robust data center containment solution can reduce fan energy consumption by up to 25% and deliver 20% energy savings at the cold water chiller. It can save a data center approximately 30% of its annual utility bill without additional CapEx. Created to essentially separate the hot and cold air, there are two containment options that should always be considered.
Hot Aisle Containment (HAC) vs. Cold Aisle Containment (CAC)
Basically, cold aisle containment encloses the cold aisle so that only cold supply air flows into the air intakes of the IT equipment.
On the other hand, hot aisle containment encloses the hot aisle to collect the IT equipment's hot exhaust air, ensuring that only hot exhaust air returns to the computer room air conditioners. Both options will improve efficiency and lower operating costs. The advantage of hot air containment over cold air containment is that your employees will benefit from separating the hot air, thereby having a cool room to work in unlike with cold air containment.
Quality Assurance (QA)
Data centers are in the business of trust and a good recipe alone doesn't guarantee success. Training, skills and experience greatly contribute to the success of a data center deployment. Relying on resilience alone can be a mistake in some situations. A quality assurance process is one that:
Continuously monitors data center performance
Ensures positive or mitigates and eliminates negative results and outcomes
Provides continuous service improvement
Details relevant and current documentation
You can trust
If you don't have the staff in place to adhere to every aspect of the QA process, Salute Mission Critical has the staff around the globe to provide skilled data center professionals.
Security, Health and Safety
Hazardous activities or conditions can cause injury and loss of critical systems. Having standards and procedures in place with consistent documentation can help guide everyone (new and old) working in the data center. Also, choosing the right access control management protocols can provide the insight to forecast security personnel and optimize building security functions. The key elements to keeping the data center environment safe and secure include:
Identifying critical activities
Developing expectations that, when met, will achieve the desired outcome of conducting all activities safely; not just the critical ones
Managing a safe operation or activity
Measuring performance against expectations by observing critical activities
Immediately correcting behavior that is outside stated expectations
Positively reinforcing behavior that complies with expectations
Salute's defined process is strategized for success and constantly evolving to improve regardless of the situation. Download the playbook to see how Salute is solving the data center talent crisis.
Structured Cabling Services
Configuring and installing fiber and copper cabling throughout the data hall can be one of the most important parts of deployment. Having a structured process in place is critical to any deployment project. Make sure you have the following:
Conveyance & pathways supported with ladder racks/cable trays + fiber duct
Systematic labeling to ease future expansions
Color coding for hassle-free troubleshooting
Bundling cables according to function + extra for the future
Bend radius installation of copper and fiber cables installed to manufacturers' specs
Enough slack is left for future expansions/ modifications
Full documentation of cable runs, which are detailed with computer-aided design (CAD) drawings
Structured industry cabling design
Cable Testing with throughput and standards compliance verification
The Right Partners Are Crucial For Success
Having the right partners in place that are trained and well-versed on the whole process is a critical factor for success. Simultaneously, ignoring the processes and systems because there isn't enough staff for the project is a recipe for failure and downtime. Traits to look for in a data center deployment partner include:
Documentation
Success Stories
Certifications and Training
Risk Mitigation processes
Plan for improvement
Testing and Evaluation
Emergency Preparedness
Ask yourself the following questions. What data center changes impact the business/ site risk? How are we to respond as business requirements change? Do we understand the interdependencies between components within the systems? Do we have the right training in place to make sure the staff is well versed in the continually evolving world of technology?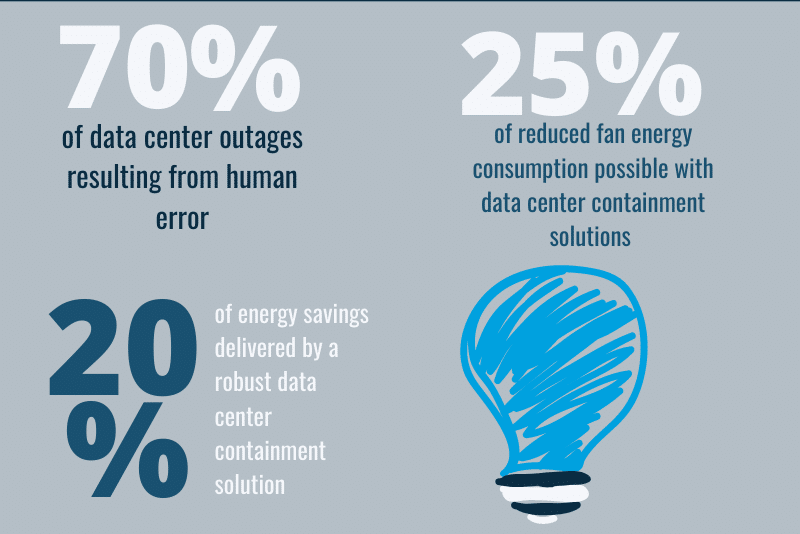 The Consequential Cost of Downtime
With more than 70% of data center outages being a result of human error, we have to continuously factor in the potential cost of downtime. And downtime is not just about the data center's recovery – it's the total time taken for the last IT system to fully recover and be reinstated, including the cost of lost productivity.
What kind of issues can failures in deployment cost?
Mission-critical & reputational impact
Unpredictable negative results/outcomes
Unmitigated disasters & outages
Failed operational execution
Customer & market dissatisfaction
Missed SLA's; Loss of trust
Financial/Productivity losses
A data center is only as good as its resilience, trained operational skills and updated site documentation. From the moment your racks, or any other mission-critical equipment, arrive at the loading dock, through installation and commissioning, until the moment you can flip the switch and put them into production, Salute Mission Critical serves all your deployment needs. Salute has developed proprietary tools to allow full transparency of highly effective operations. The operations model has proven that the right balance of people, processes, technology and quality assurance achieves superior results and this becomes a competitive differentiator for clients. If you need the right partner in place to deploy a data center, contact us to get skilled expertise with military precision.