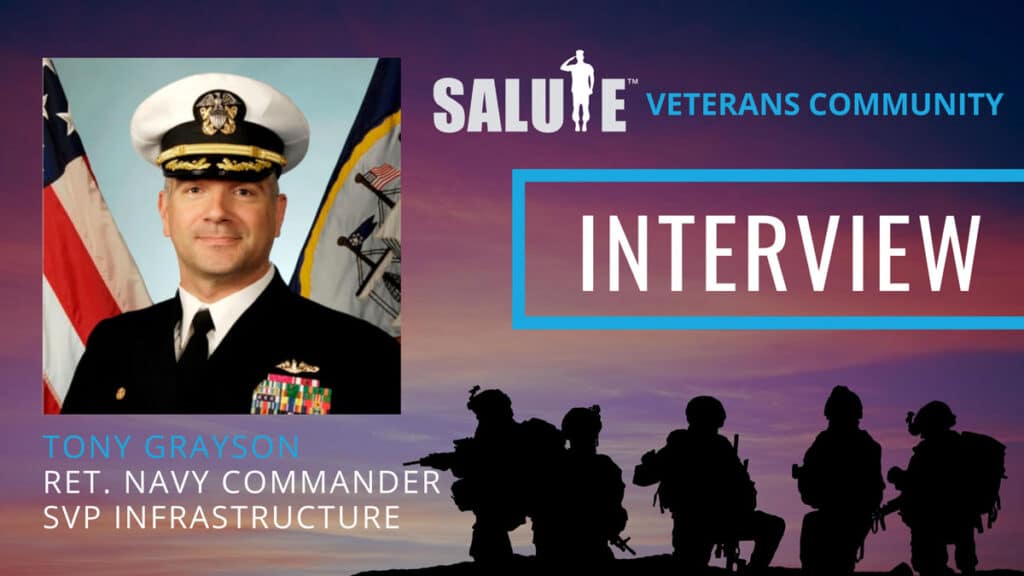 What is the Salute Veterans Community?
The Salute Veterans Community is a unique cohort of veterans who serve as examples of the value military training and experience bring to our industry. The Veterans Community supports Salute's mission and strives to achieve our shared vision of providing veterans and military spouses career opportunities in the data center industry. We are proud of these veterans for giving back to other veterans seeking to start careers in this industry.
Lee Kirby, Salute Co-Founder and retired Army colonel interviewed Veterans Community member Tony Grayson, SVP of Infrastructure at Oracle and retired Navy commander.
Before we dig in, our readers would love to get to know you a bit. Can you tell us a bit about your childhood?
Thank you, Lee, for the kind introduction – I would start by saying I had a good childhood in a military family. My grandfather was a Navy WWII pilot and part of the famous, and my dad was an Air Force contracting officer who worked on everything from the F-15 Eagle to the MOAB (Massive Ordnance Air Blast). Like most military families, we moved around a lot, but most of my childhood was spent in the Washington DC area while my dad was stationed at the Pentagon and Fort Belvoir.
Between my grandfather and father, I grew up hearing "sea stories" around the kitchen table. I found these stories fascinating not only for their bravery, like when my grandfather was shot down and spent 3 weeks in a raft in the Pacific, but for their desire to always put their "shipmates" and country before self…. even when it meant putting themselves in harm's way.
One of my favorite things to do growing up was to drive with my dad to Fort Belvoir and watch movies at the base cinema. I enjoyed this because the movies always started with the National Anthem and I was surrounded by the people I respected and admired, people who had taken the oath the defend their country. I enjoyed how interactive the audience was during the movie: they were never quiet and would often shout or make comments at the screen. This behavior continued in every I was a part of. I think it is part of the culture that encourages camaraderie and fun. This behavior has become part of me, even makes my family shush me when we watch movies together!
My upbringing grew a strong sense of service in me and at an early age, I remember telling my family that my dream was to go to the Naval Academy to get the best start at a career in the Navy (sorry, dad). What exactly I wanted to do in the military was constantly in a state of flux. I wanted to be everything from a Marine Tank Commander to an F-14/ F/A-18 Pilot. To help prepare me for my goals, I swam competitively and dedicated myself to my studies. All of this paid off when I received a nomination from the Vice President and was selected to attend the Naval Academy, class of 1996.
Can you tell us a bit about your military background and explain the significance of your receipt of the Stockdale award?
At the Academy, I learned a lot about the submarine force and eventually it would become my career path forward. What drew me to choosing the submarines as a profession was the competition, its focus on understanding the technology, and the challenge of operating "alone and unafraid." What I mean by that last point is when we submerged, it was dependent on the team onboard alone to succeed.
Unlike ships and planes; while on mission, you could not call to ask for help, or get the insight of your boss to help you succeed. It was just you and your shipmates to execute a mission approved by the President.
If you did your job right, no one knew anything happened, but if you failed, you would be on the front page of most of the world's newspapers.
My first tour was on the ballistic missile submarine USS NEVADA (SSBN-733G) where I completed six patrols. Then I was stationed in Miami, FL where I served as an aide to a Marine Corps General at US Southern Command. After Miami, I served as a Department Head on USS CONNECTICUT (SSN-22) in Groton, CT. In that position, I completed a Central Command Deployment and was even offered the chance to step in as the acting Executive Officer (XO) for six months when the XO had a medical emergency. From that assignment, I moved to Millington, Tennessee to serve as a detailer. In Millington, I made over 400 perfect assignments and every officer was happy! I served my XO on USS (SSGN-726), where I helped develop a new tactic with the SEALS and completed four missions in places I cannot discuss.
After OHIO, I was selected as the Executive Assistant (EA) to FIFTH FLEET in Bahrain. In that job, I was lucky to have some pretty unique experiences. I traveled to every country in the Middle East, got shot off a catapult from multiple carriers (yes, maybe I should have been Maverick), met brief heads of state and senior government officials, and received personal mentoring from Gen. James Mattis, Vice Admiral (VADM) Mark "MRT" Fox, and VADM James "Fozzie" Miller. All these experiences heavily influenced my Commanding Officer tour.
For the next three and a half years I had the good fortune to be the Commanding Officer of USS PROVIDENCE (SSN-719). During that tour, I learned a lot about myself and what it means to be a leader on difficult missions. Those experiences were so valuable that I wouldn't trade them for anything. I learned just as much from my team as I hope I helped them be successful on that tour and others to come.
At the end of my tour, I selected as the recipient of the VADM James Bond Stockdale award. This award is only given to two Commanding Officer annually from the entire Navy, which was a big honor, but what made it special to me is that the recipients are nominated by their peers.
Can you share the most interesting story that you experienced during your military career? What "takeaway" did you learn from that story?
After my XO tour, I had the fortunate opportunity to move to Bahrain to be FIFTH FLEET's EA. The job not only gave me a unique insight into how our military and government ran at the highest levels, but it also gave me an opportunity to meet with government representatives and military professionals from around the world.
One such instance was during an exercise in Qatar with my then boss, VADM "Fozzie" Miller. At the end of the exercise, he was called to see the CENTCOM commander, Gen. Jim Mattis. Like a good EA, I grabbed my notebook and followed him ready to take notes on what Gen. Jim Mattis wanted my boss to do. During the conversation, Gen. Mattis looked at me and asked when I was finally leaving the job because most EA jobs only lasted 12 months and I was at it for 24 months! I told him that I would soon be leaving to join my family in Groton, CT (or Rotten Groton for my fellow submariners).
Excited that I was moving on to my command tour, he told me what it takes to be successful as a Commanding Officer – live for your troops, their success is all that matters. Delegate responsibility to the lowest competent level – doing so, rewards initiative and infuses an organization with ownership of the mission. Listen to your Chief Petty Officers with a willingness to be persuaded. They were getting a master's degree in your line of work while you were still in high school. So, listen to them! His "warrior monk" wisdom I can directly attribute to my success in my Commanding Officer tour and the Stockdale Award.
Do you think your experience in the military helped prepare you for business or leadership? Can you explain?
It certainly helped. In various capacities, I've been a manager since I was 22 years old. This is a unique feature of military experience; it's not the same in the private sector where most start out as individual contributors. Further, the Navy offered me skill development in operations, leadership, engineering, critical thinking, and decision making—all of which I have used extensively in my second career. Additionally, the military requires you to learn something new each time you switch jobs, and as a result, we do well getting up to speed quickly and helping move the business along.
I did learn one thing though. While the lessons learned and leadership techniques from my military service carry over– it is important that veterans take the time to understand the business climate of the company they are in.
The military lessons learned don't translate literally, often they must be adapted for context. For example, in business leadership you set the hiring goals for your team– in the military, you don't have that option. So, while your leadership and management experiences in the military context may be useful to inform your hiring goals, those skills will have to be adapted to the business.
None of us are able to achieve success without some help along the way. Is there a particular person who you are grateful towards who helped get you to where you are? Can you share a story?
I consider myself very fortunate to have the mentoring of some great leaders in our industry, and because I'm a list-maker, I've made a short list of them in no particular order, and I apologize ahead of time because I am sure I might have left some off!
Tom Furlong, Chris Crosby, Joe Kava, Hossein Fateh, Randy Brockman, Sureel Choski, Brian Cox, Doug Adams, Bob Hennegan, Chris Sharp, and Erich Sanchack.
Two specific people I would like to mention are Richard Miles at Facebook for being my first manager outside the Navy and for teaching me the ropes. He made sure I didn't make any newbie mistakes.
A good sea story to share would be while I was at Facebook. I was in a meeting with Richard Miles and was trying to think about how to take the current team and expand them into a larger global footprint. Richard looked at me and said: "Tony, you are no longer in the military and we don't need an immediate answer. Also, why does the organization structure have to be the same? Last time I checked, you are the boss and can do anything you want." This really woke me up and broke me out of the thinking that I just need to live by the current regulations, I could really do anything I wanted.
Another example is Svetlana Anikeeva at Oracle. As my Chief of Staff, she taught me what a good work ethic is and provided me critical feedback to help me be successful.
You are a part of the Salute Veterans Community, which shares a common passion for helping veterans get into the data center industry. It is centered on veterans helping veterans. Why is this important to you?
I consider myself very lucky to have achieved so much in a very short time. I was only able to be successful through the support of those who took the time to teach me, and because I wasn't afraid to ask. Unfortunately, I see a lot of transitioning veterans though who don't have this support and are finding themselves lost or worried. Even worse, they are selling themselves short and are jumping at the first opportunity which could slow their career progression.
I think it is our responsibility to be proactive and reach out to provide insight based on our bumps and bruises so they can be more successful than we were. It is good for the industry, it is good for each of us personally to give back, and it is good for veterans in general.
You are a person of great influence. If you could inspire a movement that would bring the most amount of good to the most amount of people, what would that be? You never know what your idea could trigger.
I am a big proponent of sustainability and how our industry needs to change to become a better steward of our resources. I see most companies just continuing to build the way they did five or ten years ago; unfortunately, this can't last because not only is the climate changing – government regulations are becoming stricter.
In the past, our industry has been overly focused on Power Usage Effectiveness (PUE). While that helped us become more efficient with our designs, it really did not have any disruptive change. From my perspective, we need to be focused not only on how we use our energy; but how we source our energy, how we build our data centers, what materials we use, how much carbon our supply chain uses, etc. Gone are the days of patting ourselves on the back because we operated a PUE of 1.15 while using enough water as a city of 50,000 every day.
Think about this: The United Nations' 2019 World Water Development Report that water scarcity is a problem that will only worsen in many parts of the world. Water usage worldwide has jumped by about one percent every year since the 1980s, and it is expected to keep rising at that rate until 2050 – resulting in a 20 to 30 percent increase from today. Combined with a potential decrease in water supply due to climate disruption, the UN expects water demand to outpace supply by almost 40 percent as soon as 2030.
Yes – a sustainable data center could have a higher Total Cost Ownership to implement, but I think the time of easy wins and talking around sustainability is ending. Regulators and customers will increasingly expect operators to provide detailed evidence of carbon reductions, water savings, and significant power savings while maintaining/improving resiliency. For those companies that lack the will to reduce their carbon footprints, there will be nowhere to hide, and their business will be affected.
So, we must change for the industry's sake and for the sake of the planet. I want to be a change-maker in this space and I hope others will join me in envisioning what's possible. Our industry could be a model for others.
How can our readers follow you online?
You can follow me on LinkedIn. And I will also be starting a blog in next month on Medium.com dedicated to Veterans, engineering, operations, networking, etcetera. Please follow and feel welcome to provide feedback. It really benefits all of us.
Thank you so much for these amazing insights. This was truly uplifting.
---
If you are a veteran looking for an exciting career in a growing industry, contact us at Salute. We can help put you on the path to success.
If you are looking to close the data center talent gap with individuals committed to bringing military precision to their careers, contact us. Employ the heroes of today, tomorrow.