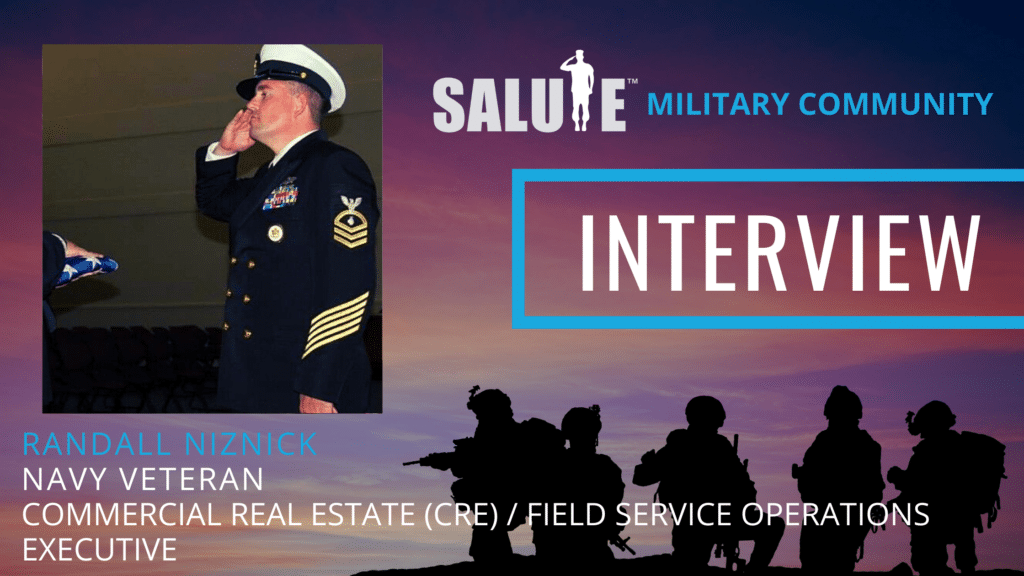 What is the Salute Military Community?
The Salute Military Community is a unique cohort of veterans and the military community who serve as examples of the value military training and experience bring to our industry. The Military Community supports Salute's mission and strives to achieve our shared vision of providing veterans and military spouses career opportunities in the data center industry. We are proud of these veterans for giving back to other veterans seeking to start careers in this industry.
Lee Kirby, Salute Co-Founder, and retired Army colonel interviewed Military Community member Randall Niznick, Commercial Real Estate (CRE) / Field Service Operations Executive and Navy Veteran.
Before we dig in, our readers would love to get to know you a bit. Can you tell us a bit about your childhood?
I was raised in a Navy family, my stepdad and brother served as well as my cousin. I have another cousin who went rogue and joined the Army, we don't talk about him much-just kidding.
I was working as a maintenance technician apprentice at a Press Stampings/Tool and Die Plant (Die-Matic Corp) in Ohio and upon graduation from high school my stepdad said, "We don't have money to send you to college and I don't want you to stay working here. I joined the Navy, so I highly recommend you join the Navy". I went to the recruiter, signed up, and the rest is history!
I didn't know that I signed up to be a Navy Seabee. My stepdad looked at the rate card (the document that explains the job and where the school is located) and he saw Seabees. He was like, "you're going to be a Seabee, back when I was in everyone wanted to be a Seabee!"
Little did I know my service would turn into a full 23-year career!
And what are you doing today?
I work for JLL as an outsourced Corporate Real Estate (CRE) services professional. I lead teams who deliver various CRE services for our clients, i.e. IFM, leasing, project management, etc. My current client portfolio is over 3 million square feet and is a mix of administrative office buildings and critical environments (call centers and a Tier III data center). However, I am in the middle of transitioning to a new role and account, switching over to our Public Institutions division supporting a Federal Government contract.
My new role will consist of leading our critical environments program for a national portfolio of data centers. I am looking forward to the new challenges and leading a new team of critical environments professionals.
When I'm not performing my day job, I mentor veterans on their career transformation from military service to corporate. I educate them on the vast opportunities in CRE, Facilities Management and Critical Facilities Management.
Can you tell us a bit about your military background?
I served in the US Navy Seabees (Naval Construction Force) from 1990-2013. I was a Utilitiesman which equates to HVAC, plumbing, boilers, water/sewage treatment. I loved my time with the Seabees as it afforded my family and I so many unique opportunities. I also did 2 special programs tours of duty. One was as the Facilities Operations Chief for Bancroft Hall, the world's largest single dormitory at the US Naval Academy. The other was supporting the US Department of State, Diplomatic Security for my last 5 years of military service.
I had numerous deployments during my time serving and am a Desert Storm/Shield veteran. I also deployed twice in support of humanitarian operations. Deploying in support of a humanitarian mission is a lot different than going to war. It takes a different mindset because the mission is so much different. Can't really explain it but I'm sure the readers can understand what I mean.
Can you share the most interesting story that you experienced during your military career? What "takeaway" did you learn from that story?
I was the Operations Chief for a 50-Seabee unit deployed to Banda Aceh, Indonesia after the massive 2004 Indian Ocean Tsunami. We were tasked with performing structural assessments on government buildings and schools. We also did many contingency construction projects throughout the region. There is no way to describe the amount of death and destruction we saw each and every day, it is indescribable.
However, through all the destruction we were met with smiles every day by the locals. It was inspiring to witness firsthand the strength of the human spirit. They had lost everything but still found reasons to smile. I think we can all learn a lot from that!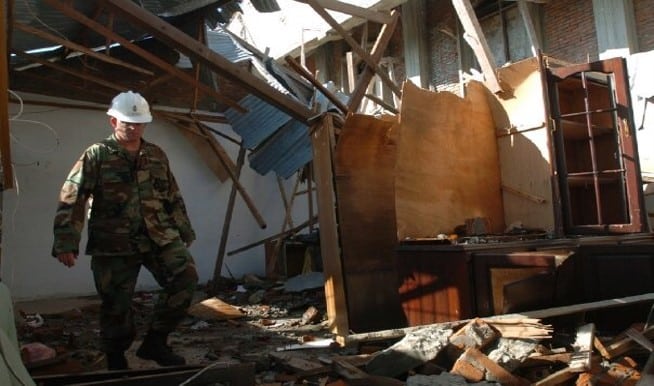 Do you think your experience in the military helped prepare you for business or leadership? Can you explain?
Absolutely! I have to be honest though and say it was more of my 5 years spent with the Department of State, Diplomatic Security than it was my "regular" military tours of duty. Having been exposed to the foreign service, working alongside and supporting members of the SES (Senior Executive Service) really was a turning point for me as an executive leader.
I have much to be grateful for that my 23-year military career afforded me. My family and I lived and worked overseas 3 times throughout my career, giving me global awareness that I apply almost daily and bring to the data center industry. The skills I learned from being a Utilitiesman and a Security Technical Specialist have paralleled directly with my data center career.
Having the schooling and hands-on experience with all facets of critical facility infrastructure and the experience with technical security systems has been instrumental in my understanding of the data center environment. The security posture and systems used to protect US Embassies abroad, for example, are almost identical to those that protect data centers.
None of us can achieve success without some help along the way. Is there a particular person who you are grateful for who helped you get to where you are? Can you share a story?
God, simple as that.
Early in my military career, I was going down some wrong roads and although I was raised Catholic, I lost touch with the church. Even though I was having a pretty successful career, I was not living the best version of myself. Then God brought Sheri into my life and that all changed. My wife is a devout catholic and she saw my addiction and made me an ultimatum, "it is the bottle or me but you can't have both". I chose her and here we are 19 years later and still going strong!

Sheri has been there for me through thick and thin and she always knew my potential even when I didn't. With her motivation, I went to college (first in my family), was promoted to Chief Petty Officer in the Navy Seabees, and have had a pretty successful corporate career post-service. I attribute all of this to her loving support and her brutal honesty. She was always the one to tell it like it is and tell me when I was messing up without sugarcoating.
She also knocked the ego off my shoulder when I first retired from the Navy Seabees which I very much needed. I kept telling everyone I was a Chief in the Navy and talking about my "unique" tours of duty at the Naval Academy and with the Dept of State. Sheri basically broke it off in my backside and said that my ego was showing and I would never get anywhere unless I kicked it down a few notches. It was a tough pill to swallow but swallow I did, and everything just fell into place after that.
You are a part of the Salute Veterans Community, which shares a common passion for helping veterans get into the data center industry. It is centered on veterans helping veterans. Why is this important to you?
I want veterans to have a second career post-service and not just a second job. I guess I want to do for veterans what my wife Sheri did for me, help them to see their true potential and give them the tools to take that potential and make it a reality.
But, I will also say, I keep it real. There is a lot of "noise" out there, and a lot of people say they want to support veterans or help veterans but in reality, their heart is not in it. There are also many who do not have strong corporate experience but are giving advice to newly transitioned veterans. In my opinion, you have to be smart in who you network with and who you seek advice from.
I have been retired since 2013 and have held roles in a small-sized company and a few large fortune 500's. I have learned a ton from each one of those companies, but even today, I am still learning. So, I just try and pay it forward where I can to assist my fellow veterans with their career navigation.
You are a person of great influence. If you could inspire a movement that would bring the most amount of good to the most amount of people, what would that be? You never know what your idea can trigger.
Not sure if this is a movement per se but I will say this. When I was in the Seabees, everyone was referred to as a "Seabee". Not an Asian Seabee, not a Black Seabee, not a Hispanic Seabee, not a Gay Seabee-we were all Seabees, plain and simple.
I would love nothing more than to see that promulgate itself in corporate America. I think it is awesome that we have female CEOs, but I just wish that someday we will just say "CEO" without the precursor. Or to take it to our industry. I wait for the day that we just say, "now there is an awesome data center technician" and leave the gender or race piece out of it.
How can our readers follow you online?
Readers can follow me on LinkedIn.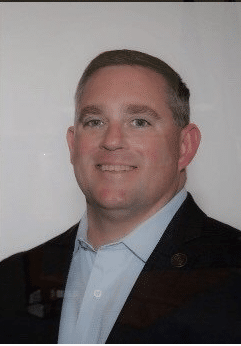 If you are a veteran looking for an exciting career in a growing industry, contact us at Salute. We can help put you on the path to success.
If you are looking to close the data center talent gap with individuals committed to bringing military precision to their careers, contact us. Employ the heroes of today, tomorrow.