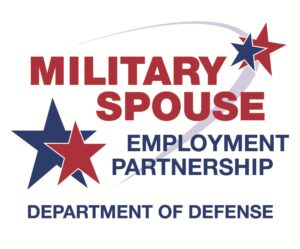 Detriot, MI – July 7, 2020 – Salute Mission Critical, a global data services company, is expanding its commitment to provide employment and training opportunities to military personnel and veterans by becoming a member of the Department of Defense's 'Military Spouse Employment Partnership'. The DoD program connects qualified individuals with hundreds of partner employers who have committed to recruiting, hiring, promoting and retaining military spouses. Its purpose complements Salute's mission of increasing opportunities for military spouses to obtain private-sector careers.
Military Spouses are often marginalized within the workplace because frequent relocation is often a barrier to finding and maintaining a rewarding career. In a recent survey, 36% of active duty spouses experienced a Permanent Change of Station move in the past 12 months while 79% of active duty spouses have experienced a PCS move during their husbands/wives' active duty careers. While military spouses are often well educated and qualified for a range of professions, they face a 24 percent unemployment rate and a 25 percent wage gap compared to their civilian counterparts.
These unsung heroes deserve a chance to pursue their careers without having such a difficult time. The inability of military spouses to obtain and retain employment as they relocate, compromises the quality of life of military families and the readiness of the military force.
Jason Okroy, Co-Founder and CEO of Salute Mission Critical, states, "Military spouses are often faced with significant challenges on their own. We want to make things easier in an already uncertain world. They have the determination and a level of discipline like no other, which is perfect for this ever-changing industry. They served our country and should not be dismissed."
Co-Founder and Chairman of Salute Mission Critical, Lee Kirby said, "While I was deployed on multiple combat tours, my wife had an enormous job, taking care of 3 kids and being the head of our household, on her own. If you ignore the emotional component of this situation and consider the planning and multi-tasking required, you discover that this experience is what you look for in great project managers. Military spouses are an invaluable asset that keeps the home front intact while soldiers fight for our freedom."
Salute provides a win-win scenario for growth-oriented data center operators by solving the industry's talent gap through the recruitment, training and deployment of veterans and military spouses turned data center specialists.