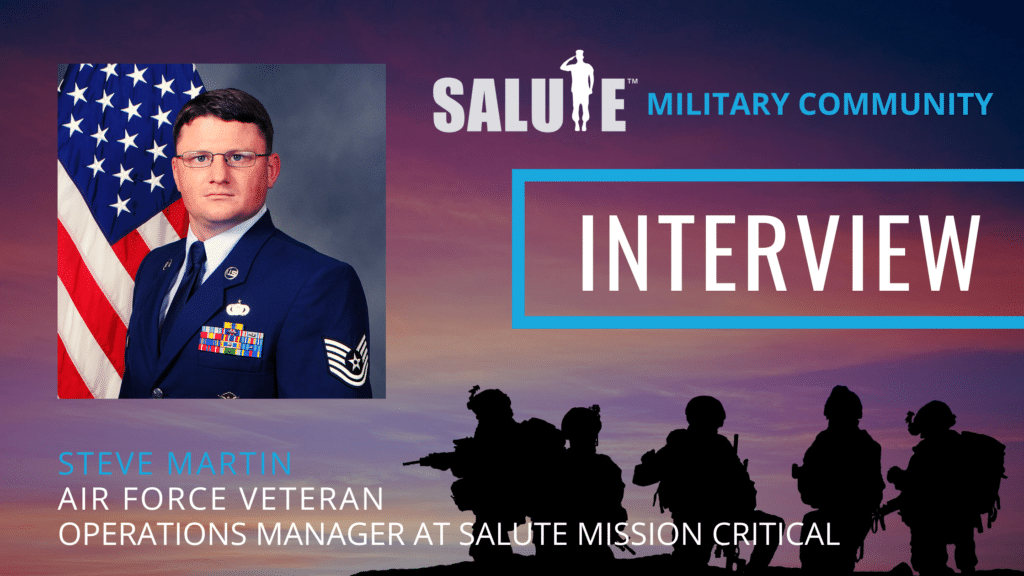 What is the Salute Military Community?
The Salute Military Community is a unique cohort of veterans and the military community who serve as examples of the value their experiences bring to our industry. The Military Community supports Salute's mission and strives to achieve our shared vision of providing veterans and military spouses career opportunities in the data center industry. We are proud of the military community for giving back to other members seeking to start careers in this industry.
Lee Kirby, Salute Co-Founder, and retired Army colonel, interviewed Military Community member Steve Martin, Operations Manager at Salute Mission Critical and Air Force Veteran.
Before we dig in, our readers would love to get to know you a bit. Can you tell us a bit about your childhood?
I grew up in Tulsa, Oklahoma and enjoyed hunting and fishing. I remained active throughout my early childhood, with baseball being important to me. Later, I joined the high school wrestling and swim team. As a teenager, I enjoyed rock climbing and skydiving. Throughout high school, I rode a unicycle often for events and was considered a class clown.
And what are you doing today?
I am an Operations Manager at Salute Mission Critical, overseeing a staff of more than 70 employees in various positions, including Data Center Project/Program Managers, MEP Admins, Admins, Technicians and Security, in various locations across the United States. Currently, I work remotely from Houston, Texas.
Can you tell us a bit about your military background?
I joined the Air Force straight out of high school in 2002 and was first stationed at Whiteman Air Force Base in Missouri, where I provided security for Department of Defense nuclear weapons and B2 Stealth Bombers. Later, I was stationed in Alaska, Alabama, South Korea, and California. I completed several deployments to Curacao, Qatar, and South Korea. I completed 20 years in the Air Force, providing law enforcement and security for billions of dollars and assets and hundreds of thousands of U.S. and coalition personnel.
Can you share the most interesting story that you experienced during your military career? What "takeaway" did you learn from that story?
As vulnerable as military deployments can be, they are life-altering experiences and can lead to good things. I was deployed to Al Udeid, Qatar, in 2010, where I met my wife, Theresa. At that time, she was working as a contractor. We got married in 2011 in Eagle River, Alaska. I later deployed in 2016 from Joint Base Elmendorf-Richardson, Alaska, to Al Udeid, Qatar again, where I met Ryan Brown, who is now my current Director for Salute Mission Critical.
In a vast world, the seemingly insurmountable distances shrink as you traverse it, connecting and collaborating with individuals from all corners through military service. It is in these experiences that the true value of these global connections is revealed as they transcend time and continue to shape lifelong relationships. These profound bonds, forged against all odds, represent invaluable connections that would have otherwise remained untapped.
Do you think your experience in the military helped prepare you for business or leadership? Can you explain?
One of the most significant character traits the military instilled in me was discipline. I lacked discipline before joining the military. Initially, I joined knowing someone with a sharp uniform would whip me into shape, and I had no choice but to follow orders. It was the best decision I ever made. Discipline got me through 20 challenging years in the military, strengthened my resilience, and allowed me to pursue and overcome educational challenges and pursue educational goals and professional development (which I would not have pursued).
None of us can achieve success without some help along the way. Is there a particular person you are grateful for who helped you get to where you are? Can you share a story?
Ryan Brown/Director of Multi-Skilled Services at Salute Mission Critical, helped me succeed. Ryan is a great mentor and always passes his knowledge to his subordinates, ensuring they are as equipped as he is. Additionally, Ryan always has time for mentorship. While in the military, Ryan was approachable to all military ranks but was also good at providing constructive feedback when necessary. Ryan provided the opportunity to mold new military leaders and maximize their capabilities.
You are a part of the Salute Military Community that shares a common passion for helping veterans and military spouses get into the data center industry. It is centered on veterans helping veterans. Why is this important to you?
A significant challenge for veterans is separating from the military and transitioning into the civilian world. Many have only known one "industry" and that's government. Working for the military, you are surrounded by processes and policies your whole career. Not knowing how to adapt to the corporate world typically brings a lot of anxiety. Veterans helping other veterans provides assurance and confidence for the separating member. For members already separated, supporting veterans is about common bonds and guidance with resources. My separation was smooth, thankfully, due to the veterans I knew guiding me along the way.
As an Operations Manager at Salute Mission Critical, I am truly grateful to be part of an organization that not only values its employees but also embraces a mission that resonates deeply with me. Working here is a source of immense joy as I witness firsthand the positive impact we make in the world. Our mission to provide digital infrastructure services fuels my passion for excellence, and the collaborative spirit within our team fosters an environment of growth and innovation. Salute Mission Critical is more than a workplace; it's a community driven by purpose, and I am honored to be a part of it.
You are a person of great influence. If you could inspire a movement that would bring the most amount of good to the most amount of people, what would that be? You never know what your idea can trigger.
To me, addressing the fundamental needs of humanity, such as water, food, and shelter, is the most important. These necessities are the building blocks for a thriving society, and by ensuring their availability to all, we can create a more equitable world. With compassion and empathy at the core, we can alleviate suffering, enhance livelihoods, and empower individuals to reach their full potential.
How can our readers follow you online?
Readers can follow me on LinkedIn.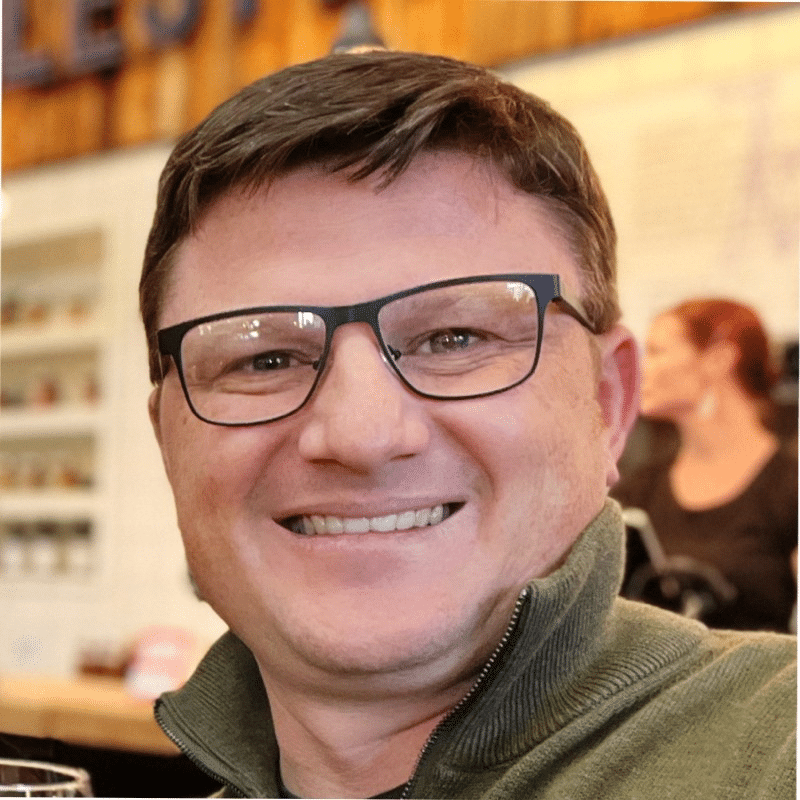 If you are a veteran or military spouse looking for an exciting career in a growing industry, contact us at Salute. We can help put you on the path to success.
If you are looking to close the data center talent gap with individuals committed to bringing military precision to their careers, contact us. Employ the heroes of today, tomorrow.