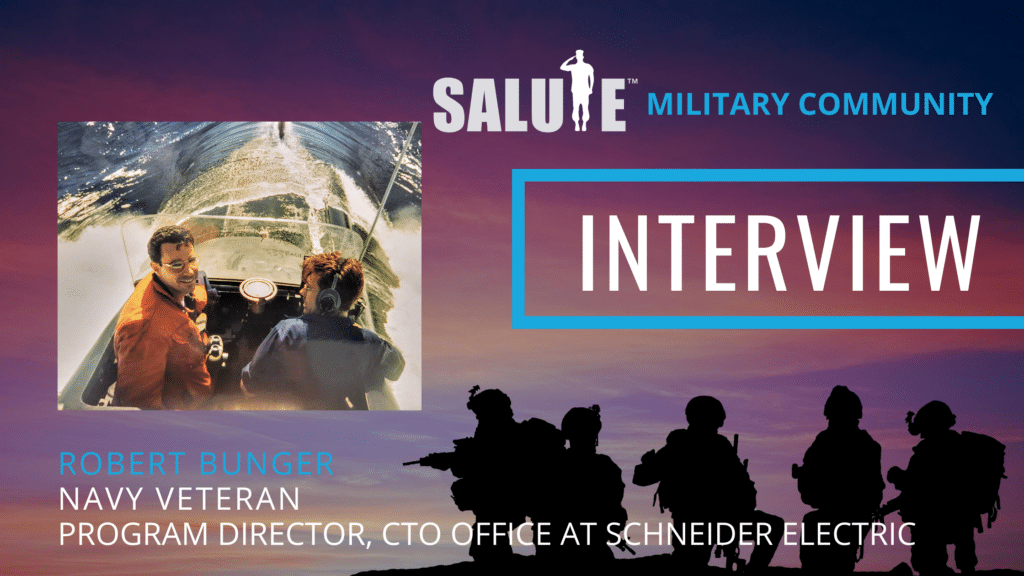 What is the Salute Military Community?
The Salute Military Community is a unique cohort of veterans and the military community who serve as examples of the value military training and experience bring to our industry. The Military Community supports Salute's mission and strives to achieve our shared vision of providing veterans and military spouses career opportunities in the data center industry. We are proud of these veterans for giving back to other veterans seeking to start careers in this industry.
Lee Kirby, Salute Co-Founder, and retired Army colonel interviewed Military Community member Robert Bunger, Program Director, CTO Office at Schneider Electric and Navy Veteran.
Before we dig in, our readers would love to get to know you a bit. Can you tell us a bit about your childhood?
There is a bit of military background in my family. My great grandfather served in the Civil War and my father's oldest brother was a Navy pilot in WWII. After the war, he participated in Operation HighJump, a Navy scientific expedition to Antarctica, where he discovered unfrozen lakes that were subsequently named after him, Bunger Hills. My father entered the Navy towards the later part of WWII. He became a pilot like his older brother and the peak of his career was flying missions off the USS Valley Forge in the Korean War. Given all that, my childhood was fairly uninteresting. I grew up in the suburbs of Washington DC, in Northern Virginia. My father was retired from the Navy by the time I arrived, so I grew up in the same house my whole childhood. I was not a typical Navy brat and I did track, band and scouting.
And what are you doing today?
I work for Schneider Electric, based out of the Northeast. I am a Director in the CTO office, focusing on future solutions for data center facilities.
Can you tell us a bit about your military background?
I was lucky to start my military career at the boat school, U.S. Naval Academy in Annapolis, MD. (Go Navy!) I had wanted to follow in my dad's footsteps and be an aviator (Top Gun being a recent movie also helped), but new eyeglasses and allergies forced me to look at other options. I took the nuclear power path and ended up on the USS Providence (Los Angeles class attack submarine) in Groton, CT. After 8 years of active duty, I transitioned to the Navy Reserves and started my civilian career at American Power Conversion (APC) in 1998. While in the reserves, I drilled with the Submarine School unit in Groton, CT, and when I was working in Denmark for APC, I drilled with a U.S. Naval Activities U.K. unit based out of West Ruislip, England, just outside of London. I retired from the reserves in 2015.
Can you share the most interesting story that you experienced during your military career? What "takeaway" did you learn from that story?
I could talk about crossing the equator in the Pacific while a midshipman on an old Belknap class cruiser, the USS Sterett (CG-31), based out of Subic Bay, Philippines. That's a story over a beer. There are a lot of leadership nuggets I can tell, but this is a funny story. While on the USS Providence, we were transiting on the surface in the Mediterranean. We were heading to Gibraltar to offload some riders who were onboard the past week for some testing. I was Officer of the Deck, and my CO was also on the bridge. As we approached, I radioed the U.K. Navy at Gibraltar, "Royal Naval Base Gibraltar, this is a U.S. Submarine approaching for personnel transfer, request rendezvous point." The response from the British Navy was, "Roger US Submarine, please rendezvous 2 cable lengths South of buoy 4." I smartly reply, "Roger, rendezvous 2 cable lengths South of buoy 4. Out." I looked at the CO and asked, "What's a cable length?!" He replied, "I have no idea; you're the one who went to the Naval Academy!" So, we agreed that going near buoy 4 was good enough. The Brits found us. They were clearly messing with us by throwing in cable length terminology. Not sure there were any deep learnings, but some takeaways are:
Don't assume leaders have all the answers; they need the backup, and their judgment needs to be appropriately questioned.
Don't sweat the small stuff. Focusing on perfection is not the best way to get some jobs done.
Do you think your experience in the military helped prepare you for business or leadership? Can you explain?
Military experience absolutely prepared me to make a difference in my civilian job. The advantages the military gave me include, but are not limited to:
Being able to stay calm in stressful situations. Most people in the military experience some harrowing situations, especially those that have been in combat. I have never been in combat but operating a nuclear power plant underwater provides a fair amount of stress. I remember once at my civilian job, there was a crisis and I asked, "Did anyone get killed? Are we sinking? Are we on fire?" After answering 'no' to all those questions, we moved on to calmly tackle the problem.
Working within and leading teams comes naturally. The military gives the fundamentals of teamwork and people leadership.
Creating process and structure and executing procedures is in our DNA. About 45% of the U.S. military is less than 25 years old. Success is achieved through process, procedure, and lots of training.
The last bullet brings me to a potential slight handicap. Many people in the military are accustomed to operating with a lot of structure, especially in nuclear power. There are plenty of times in the civilian world where the organization is ambiguous, ambiguity in how to get stuff done, and occasionally vague goals. I have sometimes struggled with this, but realize you have to move forward and just "do"; that is better than any mistake or misdirection that might happen along the way.
None of us can achieve success without some help along the way. Is there a particular person you are grateful for who helped you get to where you are? Can you share a story?
I am lucky to have had many fantastic leaders and co-workers throughout my career. I have had (and needed) a lot of help! When I left active duty and started at APC, Steve Anderson hired me. He ran customer & tech support. I got the interview because Steve was a veteran of the Navy and a spook during the cold war, riding submarines. Steve was a very positive leader, a great team builder and did a great job inspiring the people working for him. He helped make my transition successful.
You are a part of the Salute Military Community, which shares a common passion for helping military families get into the data center industry. It is centered on veterans helping veterans. Why is this important to you?
I have worked with some of the most dedicated & selfless people in the military. I knew people would do whatever it took for the mission and their shipmates. These are the type of people that any company would be lucky to have. This is why I love Salute's mission. They provide exiting service members opportunities and match these skills up with companies that need them in mission-critical facilities. A real win-win!
You are a person of great influence. If you could inspire a movement that would bring the most amount of good to the most amount of people, what would that be? You never know what your idea can trigger.
Approach situations assuming that people are good and want to do good things. To quote Stephen Covey, "Seek first to understand then be understood." We can achieve much more together than divided.
How can our readers follow you online?
Readers can follow me on LinkedIn.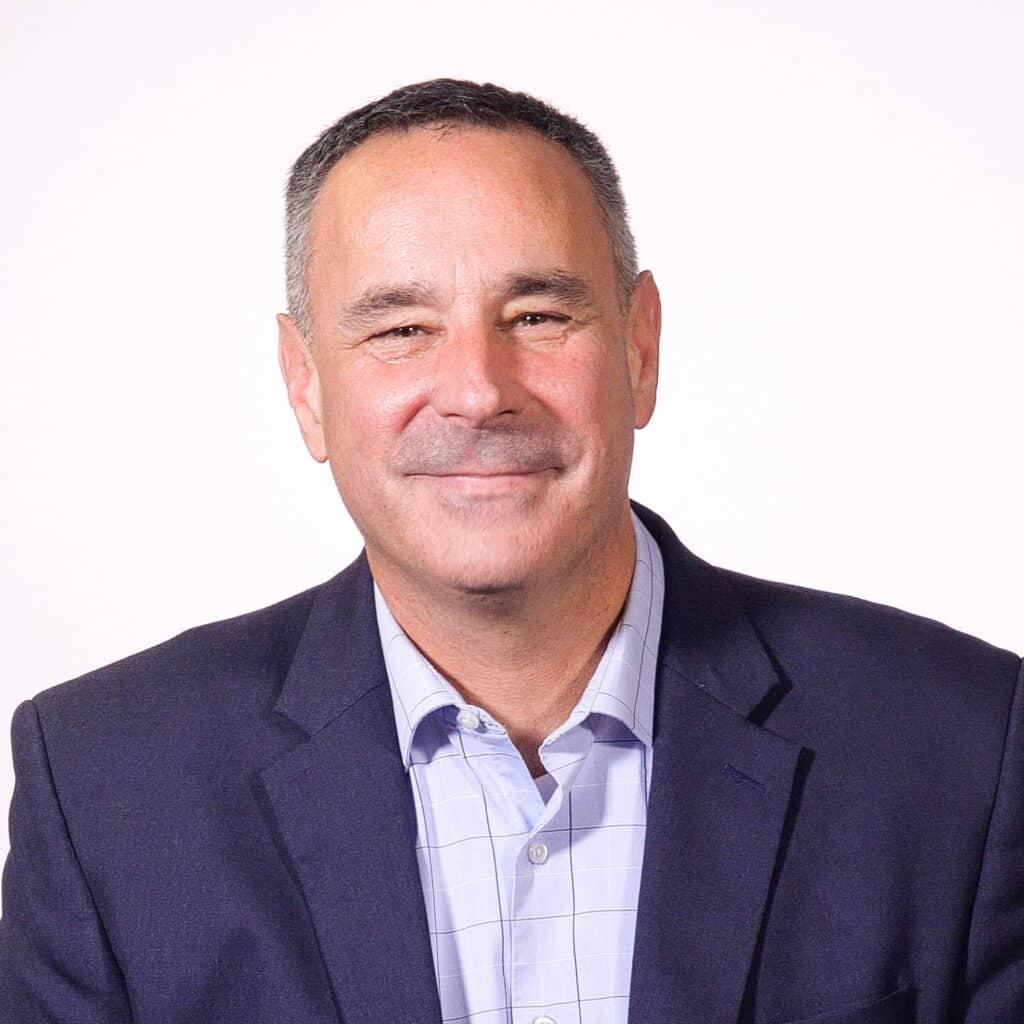 If you are a veteran looking for an exciting career in a growing industry, contact us at Salute. We can help put you on the path to success.
If you are looking to close the data center talent gap with individuals committed to bringing military precision to their careers, contact us. Employ the heroes of today, tomorrow.