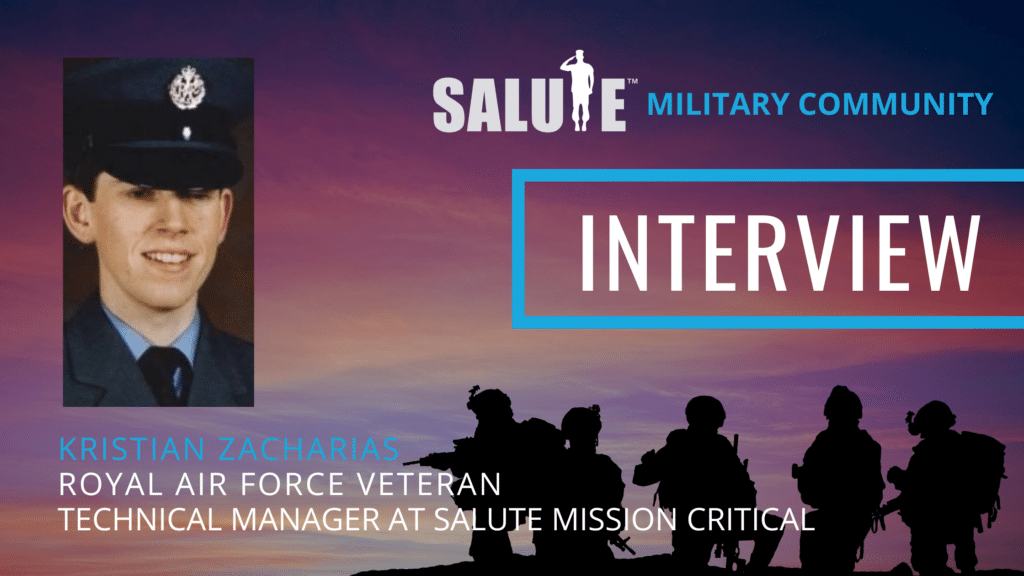 What is the Salute Military Community?
The Salute Military Community is a unique cohort of veterans and the military community who serve as examples of the value their experiences bring to our industry. The Military Community supports Salute's mission and strives to achieve our shared vision of providing veterans and military spouses career opportunities in the data centre industry. We are proud of the military community for giving back to other members seeking to start careers in this industry.
Lee Kirby, Salute Co-Founder, and retired Army colonel, interviewed Military Community member Kristian Zacharias, Technical Manager at Salute Mission Critical and Royal Air Force Veteran.
Before we dig in, our readers would love to get to know you a bit. Can you tell us a bit about your childhood?
I'm a product of Blackpool, a picturesque seaside town in the north-west of England. My journey to where I am today started with a curious childhood. I was the kid who loved building scale model aircraft and couldn't resist taking apart things in my dad's garage. Those early days ignited a dream within me: I wanted to be an engineer in the Royal Air Force (RAF). When I received my acceptance at the tender age of 17, I was on cloud nine. Sure, I had completed an engineering course at the local college but stepping out of my home and into the military, I was filled with youthful naivety. My dear mum shed tears for a month, worried about her adventurous child.
And what are you doing today?
After dedicating 13 years to military service, I embarked on a new path in telecommunications and Data Centre Operations as an engineer. Through hard work and determination, I eventually rose to the position of Global Director of Service Operations, where I had the privilege of supporting hyperscale customers. However, I decided to take a step back from engineering for a few years to gain a deeper sense of personal fulfillment and life perspective. During this time, I worked with individuals facing learning disabilities, addiction challenges, and homelessness. It was a profoundly humbling experience that taught me valuable lessons in humility and gratitude, which I carry with me to this day.
Today, I'm proud to serve as a Technical Manager in the Salute EMEA Design team. In this role, I provide invaluable mechanical and electrical consultancy to clients seeking to expand or optimise their Data Centre assets and sites. I also conduct capacity unlock feasibility studies, offer due diligence support for new acquisitions, and share my wealth of Data Centre operational expertise whenever it's needed. I've had the privilege of contributing to the rollout of the Salute Playbook at one of our EU sites, further solidifying my commitment to excellence in this field.
Can you tell us a bit about your military background?
My journey began when I enlisted in the Royal Air Force as a Ground Support Equipment Technician. After a rigorous 6-week boot camp, I headed to South Wales for Trade Training. There, I immersed myself in the world of combustion engines, jet engines, hydraulics, compressors, and a wide array of aircraft Ground Support Equipment. I even learned the art of crafting precision metalwork, where hand filing to a tolerance of 2000th of an inch became second nature, thanks to my military training.
My initial posting took me to RAF Halton, a military hospital and aircraft apprentice training camp. Despite the relative quiet on the live aircraft front, I frequently found myself deployed to other RAF camps to carry out ground maintenance and support activities across the south of England. This environment provided ample opportunities for personal growth and engagement in recreational, educational, and sporting activities. I proudly represented RAF Halton in field hockey, participating in matches against different camps and inter-service tournaments, even overseas. My sports trophies remain a cherished reminder of my time representing the military in this sport.
My military journey continued at RAF Lyneham, the then-base of the Hercules C-130 transport aircraft. In addition to my regular camp duties, I supported numerous national and international sorties with the aircraft. One unforgettable experience involved jumping off the lowered tail-ramp in mid-flight, using a fixed-line parachute, and landing in the sea off the south coast of England—an exhilarating and, admittedly, wet adventure! During my service, I also secured a three-year day release to study Mechatronics at college, allowing me to develop a diverse skill set that would prove invaluable in my civilian life.
I was fortunate to be detached to the Falkland Islands in the South Atlantic on three separate occasions, each for four-month tours. During one tour, I was attached to an RAF Regiment Squadron responsible for protecting the airfield with surface-to-air missiles. I provided round-the-clock support for all power generation equipment at four remote, camouflaged missile sites. Driving to these locations at night was always an interesting experience, as headlights were strictly forbidden to avoid revealing our positions.
For my other two tours, I received specialised training to produce hospital-grade liquid oxygen for aircraft and medical use. These tours not only allowed me to witness the incredible local wildlife, including penguins and seals, but also provided the opportunity to work closely with other services such as the Royal Navy and British Army.
In the course of my RAF service, I had the privilege of making my first-ever visit to the United States during a six-week exercise at Eielson USAF Base in Alaska. There, I supported the detached C-130 Hercules aircraft and had the chance to partake in a plethora of amazing military and social experiences.
My military journey was an incredible adventure filled with unique experiences and valuable skills that would pave the way for my successful transition to civilian life.
Can you share the most interesting story that you experienced during your military career? What "take away" did you learn from that story?
In 1997, I had the remarkable opportunity to join a Hercules squadron for a tri-country exercise hosted at Eielson US Air Force (USAF) Base in Alaska. This exercise brought together military aircraft from the USA, UK, and Japan, marking a historic moment in collaborative military operations.
Living on a USAF base was an experience like no other, made even more unforgettable by the incredible USAF personnel who welcomed us into their homes for entertainment and Independence Day celebrations. During my time there, I had the chance to witness the Alaskan wildlife, spotting a bear and a groundhog. I also ventured into the nearby town of North Pole, where Christmas festivities persisted year-round, even though most of the day was bathed in sunlight. And, of course, working in close quarters with USAF-15s, A-10s, and even stealth bombers was a thrill beyond words.
One particularly memorable incident occurred when a group of RAF colleagues and I were refueling equipment one weekend. Unbeknownst to us, we crossed a red line near the USAF jet fighters, triggering a security incident. Suddenly, we found ourselves face down on the tarmac, surrounded by military police with guns trained on us. Once our identities were verified, the atmosphere shifted, and the USAF personnel were apologetic and friendly. To this day, I enjoy sharing that unique experience as a memorable anecdote.
What this experience taught me is that regardless of service branch, trade, or rank, there exists a natural comradeship within the military, transcending borders and cultures. It also reinforced a valuable lesson: when on a USAF base, it's wise to steer clear of their aircraft!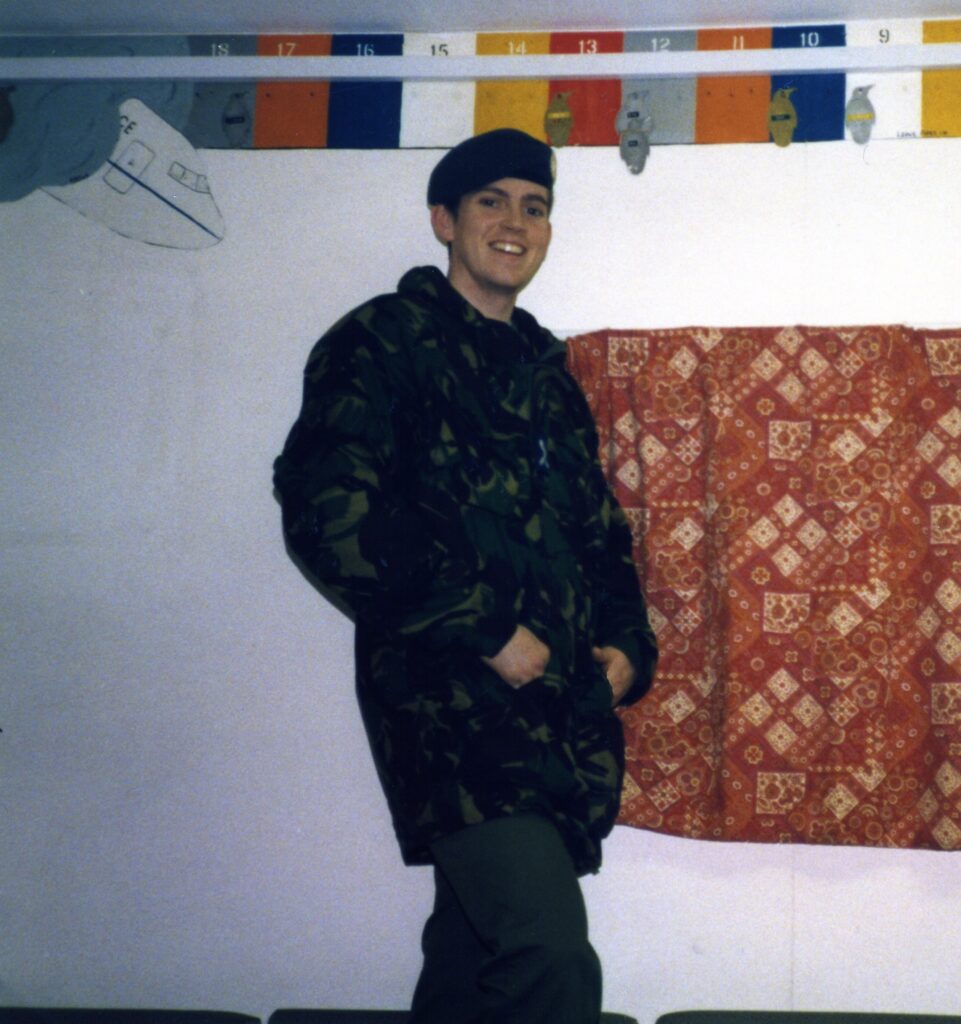 Do you think your experience in the military helped prepare you for business or leadership? Can you explain?
Absolutely! My military experience provided me with invaluable training in the importance of teamwork and getting things right the first time. It laid the foundation for understanding the culture of motivation and how to bring out the best in people. I learned that true leadership means leading by example and being willing to do the same tasks you ask of others. Moreover, the military's ever-changing social circles sharpened my social skills and ability to connect with people from diverse backgrounds.
However, transitioning to civilian life presented its own set of challenges. Having been in the military from a young age, I found myself feeling somewhat disadvantaged in certain aspects of civilian work environments, as I had never been exposed to non-military ways of thinking. It was a daunting experience. In my first civilian job, I was taken aback when everyone simply packed up and left at 17:00, even though there was still work to be done! To this day, I can't quite bring myself to do that. Nevertheless, I did come to realise that the "us versus them" cultures that can exist in some civilian workplaces aren't how military personnel operate. This realisation empowered me to leverage my skills to bring people together and foster collaborative work environments.
None of us can achieve success without some help along the way. Is there a particular person you are grateful for who helped you get to where you are? Can you share a story?
In my military journey, I had the privilege of forming an enduring bond with a remarkable individual, Clive Fotheringham. Clive and I weathered challenges and triumphs together while serving in the military, and our connection has only grown stronger since transitioning to civilian life. Remarkably, we've collaborated in three distinct civilian organisations, an experience that expanded our horizons in ways we couldn't have foreseen.
Clive's influence has been pivotal in my career, introducing me to roles I might never have considered on my own. His trust in my abilities not only solidified our friendship but also honed our collaborative skills to a level where it feels like there's nothing we can't accomplish together.
Inspired by Clive's unwavering work ethic, honesty, integrity, and unwavering commitment to excellence, I've eagerly followed him into various professional ventures. It was through Clive that I discovered the rewarding opportunity here at Salute Mission Critical, a testament to the profound trust and mutual respect that defines our partnership.
You are a part of the Salute Military Community that shares a common passion for helping veterans and military spouses get into the data center industry. It is centered on veterans helping veterans. Why is this important to you?
Throughout my civilian career, I've had the privilege of collaborating with numerous veterans, and I've always been struck by what I consider their undeniable "x-factor" in terms of employability. However, there have been moments that left me deeply saddened. During my time working with homelessness initiatives, I encountered several veterans who had tragically spiraled into unemployment, substance abuse, homelessness, and deteriorating mental ill-health since leaving the service.
It's absolutely crucial that we recognise the incredible potential of veterans as soon as they transition to civilian life and convey to them that a bright future awaits in this new chapter. Adapting to civilian life and discovering one's place in the civilian world can be an intimidating and arduous journey. Veterans possess a unique perspective, demeanor, and way of thinking, often unaware of the valuable skills they bring to the table for potential employers. However, with the right opportunities, guidance, and support, they transform into invaluable assets, wearing their loyalty to a cause like a badge of honor that endures a lifetime.
You are a person of great influence. If you could inspire a movement that would bring the most amount of good to the most amount of people, what would that be? You never know what your idea can trigger.
My mission has always been clear: to tackle and prevent homelessness by offering stable, secure shelters equipped with comprehensive on-site support services. These spaces serve as sanctuaries for individuals navigating the turbulent waters of chaotic, trauma-ridden lives, helping them rediscover and realise their true potential. Among those who benefit from these vital resources are veterans who, for various reasons, have struggled to transition smoothly into civilian life, often grappling with the burdens of poor mental health and substance abuse.
How can our readers follow you online?
If you are a veteran or military spouse looking for an exciting career in a growing industry, contact us at Salute. We can help put you on the path to success.
If you are looking to close the data center talent gap with individuals committed to bringing military precision to their careers, contact us. Employ the heroes of today, tomorrow.