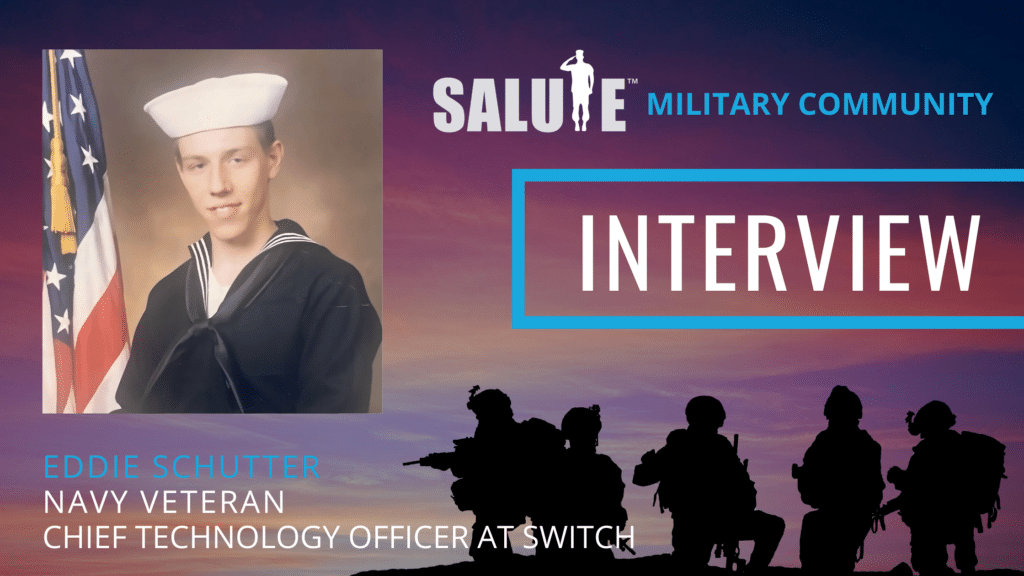 What is the Salute Military Community?
The Salute Military Community is a unique cohort of veterans who serve as examples of the value military training and experience bring to our industry. The Veterans Community supports Salute's mission and strives to achieve our shared vision of providing veterans and military spouses career opportunities in the data center industry. We are proud of these veterans for giving back to other veterans seeking to start careers in this industry.
Lee Kirby, Salute Co-Founder, and retired Army colonel interviewed Military Community member Eddie Schutter, Chief Technology Officer at Switch, and Navy Veteran.
Before we dig in, our readers would love to get to know you a bit. Can you tell us a bit about your childhood?
I grew up in East Texas with two brothers, my father and mother. I graduated from Longview high school in 1986. My father is a Vietnam veteran who immigrated from Holland after WW2, making me a 1st generation American. My paternal grandfather was part of the Dutch underground, and my last name, "Schutter", means Minuteman/Soldier in Dutch. My maternal grandfather was a Navy Seabee in the Pacific war of WW2. My surname lends itself to my history and family members who have been in service to their community.
In junior high, I learned how to do computer programming through an afterschool program. I did that as a hobby, and all through high school, I took all the computer courses I could, and I was part of the decathlon programming software development team. I also played soccer and football. I didn't have the funds to go to college, so I graduated high school, joined the Navy the next day, and went to boot camp at the Great Lakes Naval Station in Northern Illinois.
And what are you doing today?
I am currently the Chief Technology Officer (CTO) at Switch. CTO is a broad job description, but what is interesting about my role at Switch is that my CEO Rob Roy (who is also the founder of our company) has over 500 patented claims identified to him. So, when you have an inventor who is your CEO and founder, the CTO role essentially supports him and helps his inventions become realities that can scale out and be sold.
I also play the role of the expert on everything from facilities to the basics of electrical and mechanical systems and engineering, operations management, all the way up to automating cloud services for the services we provide internally and externally. So, my role is a combination of all things technical and operational. More specifically, my job on the technology and research side is to realize and productize the inventions of my CEO and our Switch Works labs organization.
How I got to this point seems worth sharing because it highlights many of the challenges that veterans face and the various paths you can take. When I got out of the Navy, there were few aviation jobs available, so I became a police officer in the city of Richmond, California using my G.I. Bill to pay for the police academy. I spent about three years in Richmond and about halfway through, I wrote some programs for the city. I rewrote the jail procedures manual by following how procedures work in the military; I also wrote some software programs that allowed them to do reporting, print off police reports, and organize mugshots in a system. The chief made me the assistant IT director and I worked for a really smart guy named Buck Felker. Buck was unique and very capable of leading a two-person team to support an organization of 900 people.
I helped build the first Local Area Network (LAN) and Wide Area Network (WAN) off a grant for our county. My job was half police work, and half IT director, and eventually, my wife wanted me to stop being a police officer because I had two children by that point. I put the word out, and my project manager, Karen Dahl from Pacbell, told me she thought I would be great; although I didn't think I had the depth or skillset to be effective in the industry. That was the dotcom era (95-96), the beginning of the dotcom bubble; we were sort of on the ground floor of building what the public internet was. Early on, I was part of the engineering teams that worked on the internet and internet access. That has given me a lot of background and foundational support for what we do today.
In 2000, SBC decided to build internet data centers and get into web hosting and web services. I was the senior network engineer for that project and became the executive director that ran the operations. That is also where I learned to build products including shared and dedicated web hosting, storage as a service, colocation, network peering, and network cross connects. Working with Tony Sorenson, Huy Vu, and others, we built the operations teams and designed the requirements for the data center. During this time, I became friends with Peter Gross of EYP, and Jim Smith, who at the time was CTO of COLO.com. I learned a lot about data centers from these men, and about data center operations from Ross Bawcum, VP at AT&T and Rick Felts, Sr. Office at KPMG. I also used patterns of military maintenance and support operations in the data center from my previous experiences in odd jobs I did along the way, such as security methods from working as an armored car guard at the Federal Reserve, and design and construction project process from working with my dad who is a master electrician and general contractor. These experiences and partners all came together in my development of being a leader in data centers, critical operations, and digital infrastructure.
The first data center we built for SBC was in Dallas, and we were challenged by Ed Whitaker, the CEO at the time, to build a data center beginning in March of 2000 and have it up and running by August 1st. So, we took an old Montgomery Ward and converted it to a data center in 16 weeks and our first customer was ATA Airlines.
Since then, I've been involved in over 3 billion dollars worth of builds in data centers and continuing to this day, we have 9 projects under construction right now. I provide leadership and technology counsel to our organization and operations teams. I assist in coaching and mentoring our leadership. I often use my military operations, technology, and maintenance experiences to help relate to staff and to explain digital technology and operations concepts.
Can you tell us a bit about your military background?
Before I joined the Navy, I had been a goofball high school senior. My dad told me to either get a job or join the military, so he helped me figure out my options for serving in the Navy. When I did the ASVAB at MEPs, I was eligible for just about anything, and I just didn't know what I wanted to do. Top Gun had just come out, so I thought I wanted to do something with aircraft. I entered the Navy in 1986 as an aviation electronics technician candidate, went to boot camp at Great Lakes, went to A school in Millington, Tennessee, and got certified.
At my first duty station, I happened to be assigned to a room where all my roommates were overachievers. One of my roommates was in aircrew, and he convinced me to try it out with him. I passed the swim test, ended up at Pensacola, Florida, went through aviation aircrew school, and got assigned to the HM-12 minesweeping squadron with MH53Es. My leadership encouraged me to take courses, so I did about two years' worth of schooling with the education program on base. I also CLEP'ed out of a lot of different courses. About 18 months after my final duty station in San Francisco, HM-15, I had met my wife and ended up going to Texas A&M for their ROTC program. At A&M, I got to my final year and then Desert Storm began. I was invited to come back to the Navy because of my qualifications, and after Desert Storm, I was offered a large reenlistment bonus to stay. I took that path rather than a commissioned officer. I ended up in patrol squadron 40 and became an aviation in-flight electronics technician on P3s. From 1993 to 1995, I was assigned as a reservist to HM-19 minesweeping squadron out of Alameda. I used that time to work on my airframe and air mechanic certifications from a journeyman program. I used all the education opportunities the Navy gave me to just keep learning. Being a lifelong learner has been the backbone of where I am today.
Can you share the most interesting story that you experienced during your military career? What "takeaway" did you learn from that story?
I learned that you really do reap what you sow.

– Eddie Schutter
With anything you are involved in, you will get out of it what you invest into it. If you look at the most successful technology leaders in our industry, more than half of them have a military background and no degree. The degree doesn't define the individual; it's just a program. Some people get the discipline of learning on their own, others through the military. Still, there is no way you can be a Steve Jobs, Elon Musk or Rob Roy unless you learn how to learn and constantly adapt to the industry, leveraging your and others' knowledge to solve problems better.
Just prior to Desert Storm and the Panamanian conflict, our squadron was trying to get qualified to do a sea detachment to demonstrate our mission responsibility. We tried to find dummy mines with minesweeping gear and shoot them with 50 caliber machine guns as part of the certification. I had to do daily plane captain inspections as well as fly as aircrew on these certification missions. Half of our squadron was gone and only two aircraft were left. One was out on a flight and the other one we just got off a flight from. The Maintenance Chief assigned the daily maintenance inspection to me. These maintenance inspections require you to follow a job card of procedures, and plane captains treat this very seriously because overlooking steps on the method of procedure (MOP) can kill the flight and ground crews.
In this specific instance, I had been flying all day and was assigned to do the inspection that night. Mind you, I was 18 years old and just about to turn 19. I was frustrated but went out with my toolkit and no MOP guide. I had done the maintenance inspection many times and felt I could do it from memory. So I didn't follow the instructions per the MOP. I damaged the caps while filling the tail rotor hub by turning a reverse threaded aluminum cap in the wrong direction with a breaker bar. When I realized my mistake, I was scared and mad at myself, but I confessed to the maintenance chief. The squadron received a Class B mishap which should have gotten me demoted or released from the Navy. However, I was lucky that my leadership chose to have me learn from the experience by recertifying on everything related to maintenance and re-enforce the learning objectives through guided demonstration of skills. Additionally, my punishment was repainting 1/3 of a mile of taxiway with a toothbrush instead of my normal job duties. The understanding and grace the leadership team showed me while humbling me with the paint job helped me understand why my negligence to do the job entrusted to me the right way put so many of my fellow squadron shipmates' lives at risk, and the readiness of our whole squadron at risk. Years later, several of my close friends and crewmates would lose their lives to mistakes such as mine. These experiences have motivated a commitment to excellence and attentiveness to detail in all of my work. I learned that no matter how insignificant I felt about my job or rank, my decisions can and will affect the lives of my peers, their families, and the success of the whole organization.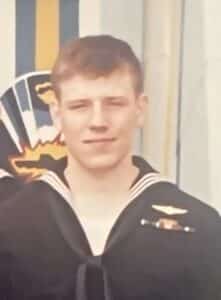 Do you think your experience in the military helped prepare you for business or leadership? Can you explain?
I learned teamwork, the value of team diversity, and how to enjoy work.

– Eddie Schutter
Everyone has life problems that affect your day-to-day decisions and productivity. In a team, we must give each other support and recognize that even when people are letting you down, you must first seek to understand, then pull together so the team can be better and your shipmate can pull through. We all win together, and we all lose together, so it doesn't matter how strong the strongest person is or how smart the smartest person is; the individuals cannot complete the team's mission without teamwork. When you have people not doing their best job, there is a reason that you should try to understand, and then there's a path to the team working together to support the individual, the team, the organization and the mission.
I also learned that diversity makes for a better team. When you first join the military, you are thrust among people with a different heritage, speech, values, principles, food preferences, and motivations. As you develop in each of the training schools and eventually to the fleet, you begin to unify around the same mission, goals, language, and even fun, all while maintaining the diversity that makes you unique. This diversity helps greatly to solve problems as a team when you are under pressure.
The most important thing I learned is that you need to do the job you enjoy doing, not just what you're qualified to do. When you enjoy your work, you excel in learning to become an expert and a productive team member with a good attitude. Doing a job or tasks that you do not enjoy is a waste of your life and an eventual trap. If you choose the work you're interested in and develop enjoyment in the work, you'll succeed both in the job and in work/life balance. Many of my most enjoyable memories in the Navy were when we were working 18 hour days on deployment, and successfully completing our jobs or mission.
None of us can achieve success without some help along the way. Is there a particular person who you are grateful for who helped you get to where you are? Can you share a story?
For me, there are many people who helped me in my journey, and naming just one isn't possible. Though in the interest of time, I will only name a few.
My first mentor as an adult was Lt. Tom Larson, who was my department head and was a pilot in our squadron. He always treated everyone with respect, especially subordinates, but he was also expected us to exceed expectations. When I wanted to get my degree and become a naval officer, he encouraged me to complete the base education courses and recommended me to the Naval Academy. He later passed away in service after his aircraft crashed in 1991.
Dickson Choy, originally CTO at PBNI and then SBC Datacom was my first CTO & VP of Operations. He recognized my potential and was tough on me, but he taught me how to manage and how to lead in ways people were motivated to follow. Dickson recruited me to help build the first internet data centers at SBC. He retired at 45 years old, but he still is a very close friend and mentor today.
Mary Ann Croak, Senior VP of Reliability & Engineering at Google, was my supervisor for a short while at AT&T. She has more than 200 patents issued and 100 patents pending. As a leader, she always treats her staff special and with dignity. Even though she is soft spoken, she is clear and resolute in her expectations. I never wanted to let her down, or disappoint her. She leads you to think in a different way and challenges you to consider other perspectives. To this day, I look up to her leadership and skill in critical thinking.
John Donovan was the former CTO at AT&T and then became President. He helped me understand the strategic and innovation side of the industry and how to trust in my abilities. He constantly challenged me to achieve more through innovative thinking, courage to make mistakes, and fire to achieve more.
Krish Prabhu, CEO of Alcata Luscent and later CTO at AT&T. Invested heavily in me to become a better business leader, a better coach to my team, a better innovator, and a better partner to my peers and suppliers. He was a master at negotiating for the benefit of our company and our partner/suppliers.

Today, my CEO Rob Roy is the most influential mentor and coach I have. Rob impressed me first as his customer through his attention to detail, vision of the future, and clarity of the situations and solutions at hand. His datacenters are the best in the industry, and I admire his technical depth, entrepreneurship, and inventiveness. He operates from a deeply held philosophy of doing good for others and it will return good to you. Since the beginning of Switch, Rob has recognized the value and work ethic of prior service members. In fact, the majority of Switch's operations staff have prior military backgrounds.
Honor everyone, treat people special, do more than they expect from you, and do it with a good attitude. This one lesson has benefitted me the most in my career and in leadership.

– A Lesson from Eddie Schutter's Dad
You are a part of the Salute Military Community, which shares a common passion for helping veterans get into the data center industry. It is centered on veterans helping veterans. Why is this important to you?
Veterans often set artificial limits on themselves, and they think they don't have the capabilities for the commercial marketplace. They've learned the discipline, the teamwork, the leadership, the technology, they often enter the industry with imposter syndrome when in actuality, they do have what the skills and competencies needed to be successful. We need to help veterans and the industry understand how enormously valuable the skills and experiences from the military are. The devotion and discipline of being an expert in your platform is what I encourage veterans to achieve and apply to their job. This inevitably results in veterans setting a higher standard of accountability and performance in their companies.
You are a person of great influence. If you could inspire a movement that would bring the most amount of good to the most amount of people, what would that be? You never know what your idea could trigger.
Make the data center industry a more diverse industry in thought, experience, capability. When the founding members started iMasons our main goal was to make the industry more diverse and to share our knowledge and experience with the next generation.
When you evaluate iMasons and see the work we're doing, you realize we are not a social club. We're aligning to the problems in the world we can have the most impact on. When you look at our most successful members, they magically generate success by investing in good people with diverse experiences, backgrounds, ideas, heritage, and genders. They reap rewards much greater than industry peers who exclude diversity in their daily decisions. As an organization, iMasons has achieved more influence in industry diversity than any other industry organization I've been a part of. We've done more to open doors than anybody else has. We demonstrate this through our commitment to underrepresented groups through our committees, our events, our work with Hampton University, HBCUs, and the Inclusive Engineering Consortium, and our effort to make the industry aware that we cannot meet the demands of the digital future through the monoculturalism of the past.
"The greatest solutions and innovations in our industry have yet to have happened, because of the lack of diversity and inclusion in the digital infrastructure industry."

– Eddie Schutter
The digital infrastructure we are building is what the world is innovating on. The global economy relies on the quality and innovations of our digital infrastructure. I correlate today's digital infrastructure to the roadways of the Roman era that underpinned all progress in that age. You can still see its footprint today and legacy on humanity today. We are building the digital roadways of the future.
How can our readers follow you online?
Readers can follow me on LinkedIn.
If you are a veteran looking for an exciting career in a growing industry, contact us at Salute. We can help put you on the path to success.
If you are looking to close the data center talent gap with individuals committed to bringing military precision to their careers, contact us. Employ the heroes of today, tomorrow.