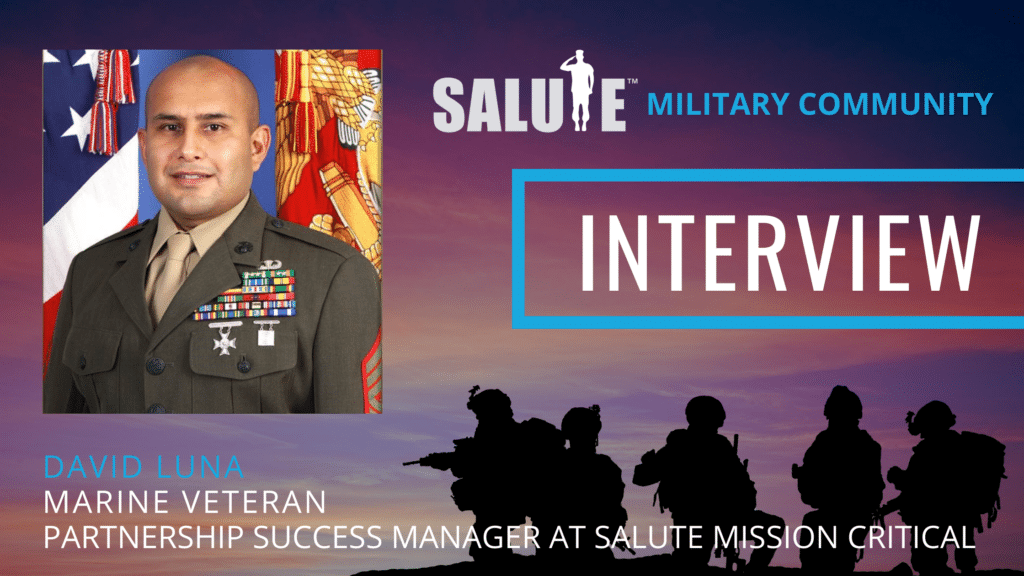 What is the Salute Military Community?
The Salute Military Community is a unique cohort of veterans who serve as examples of the value military training and experience bring to our industry. The Military Community supports Salute's mission and strives to achieve our shared vision of providing veterans and military spouses career opportunities in the data center industry. We are proud of these veterans for giving back to other veterans seeking to start careers in this industry.
Lee Kirby, Salute Co-Founder, and retired Army colonel interviewed Military Community member David Luna, Partner Success Manager at Salute Mission Critical, and Marine Veteran.
Before we dig in, our readers would love to get to know you a bit. Can you tell us a bit about your childhood?
I was born and raised in Texas in an area called the Rio Grande Valley. My hometown of Edinburg, TX, is an "All American City" with everything you'd expect from a small town where everybody knows everyone, and families have a strong sense of pride & history in the area. I come from a modest family, and my mother and father were both migrant workers before they got their start in life. My mother has been working in Special Education as a Paraprofessional for 35+ years. My father worked in adult probation until he retired and I have two siblings. My sister is an elementary Math teacher, and my brother is still finding his way in life. Growing up, I was just an average kid with average ambitions. As a pre-teen and into my teenage years, I worked for my paternal grandfather at his various fruit stands. Grandpa Luna taught me the value of hard work. My maternal grandfather also had a significant influence on my life. Grandpa Robledo worked and retired from the Hidalgo County Jail, where he worked as a cook, and he taught me the value of integrity. I'm proud to say that these two men had and continue to influence my life tremendously.
After high school, I gave my best effort at college and attended a couple of semesters at The University of Texas-Pan American. I always knew I wanted a college education but wasn't exactly ready at that time. I came into my own self-realization right around the age of 20. I joined the Marine Corps in 1997 and never looked back, but very proud of my humble foundation.
And what are you doing today?
I'm currently working for Salute Mission Critical (SMC) as a Partnership Success Manager (PSM). My role as a PSM is to bridge any gaps between operations, finance, sales and, more importantly, our partners in the data center industry. I started with SMC in June 2020 as a Project Manager and transitioned into the San Antonio Area Manager for one of our major accounts. In August 2021, I moved into my current role. I'm currently attending Texas A&M University: San Antonio and chipping away on a Master's of Education in Special Education-Autism/Emotional Behavior Disorder. I have a much-anticipated completion date of May 2022.
Can you tell us a bit about your military background?
I turned 20 years old at Marine Corps Recruit Depot (MCRD) in San Diego, CA. Like most Marines, I didn't plan on making the military a career; it just happened. My first four years in the Marine Corps were spent as a Supply Administration Clerk (MOS: 3043). In 2001, right about the time I was ready to hang up my cammies, an MGySgt approached me in the hallway while stationed at Headquarters Marine Corps and asked me, "Hey Devil Dog, do you speak Spanish?" I responded, "Mas o menos, Master Guns." It was at that moment that the rest of my Marines Corps career would change forever. The MgySgt talked to me about Counterintelligence / Human Intelligence (CI/HUMINT,) and Marine Interrogators (MOS: 0211 & 0251). I can honestly say that at that moment in time, I had no idea the Marine Corps conducted CI/HUMINT operations or interrogations. I met all the prerequisites to be a CI/HUMINT Marine and the rest is history. By the time I was Sergeant and during my first four years in the Marine Corps, I had been stationed at three different commands (Iwakuni, Japan, Washington, D.C. and Camp Pendleton, CA). As a CI/HUMINT Specialist, I deployed all over the world following the tragic events of 9/11/2001. I've had the honor and privilege of serving with America's finest young men and women.
Can you share the most interesting story that you experienced during your military career? What "takeaway" did you learn from that story?
If my many adventures in the Marine Corps have taught me anything, it is to "Bloom where you're planted". Having this mentality and accepting what it taught me that everyone plays a part in the bigger picture. One day you're counting MREs and the next, you're on patrol in search of high value target. One day you're sitting at the Battalion Headquarters working meal card rosters and the next day, you're on your way to Airborne training. The point being is that no matter what the Marine Corps had in mind for me, I had to accept it and "Bloom where I was planted" I carry this mentality with me to this day. No task is too small or too big.
Do you think your experience in the military helped prepare you for business or leadership? Can you explain?
Yes, definitely. It doesn't matter if you person does four years or retires after 30 years; the military is something everyone should experience because it takes you out of your comfort zone. When you're out of your comfort zone, it enhances your critical thinking skills. Additionally, EVERYONE is the same in the military. Yes, there's a rank structure, but everyone is sharing the same experiences, just at different ranks at the end of the day. The military exposed me to the importance and value of teamwork, diversity, inclusion, and leadership. From the moment a Marine recruit steps on those "Yellow Footprints", the Marine Corps is already grooming that person for the next level of responsibility and leadership. This mindset of seeking out more responsibly has been beneficial to me as I transitioned into the civilian sector.
None of us can achieve success without some help along the way. Is there a particular person who you are grateful for who helped you get to where you are? Can you share a story?
As mentioned, I'm heavily influenced and inspired by grandpa Luna and grandpa Robledo. They will always be the foundation for where I am today. However, the woman I've called my wife for the past 22+ years has been my motivation, my reason for being, pushing me along when things got tough and when my grandpas were no longer around; she has been simply "my everything". Lucy Luna blessed me with a daughter and son and has stood by me during the long deployments and sleepless nights. She's been the light in my darkest moments.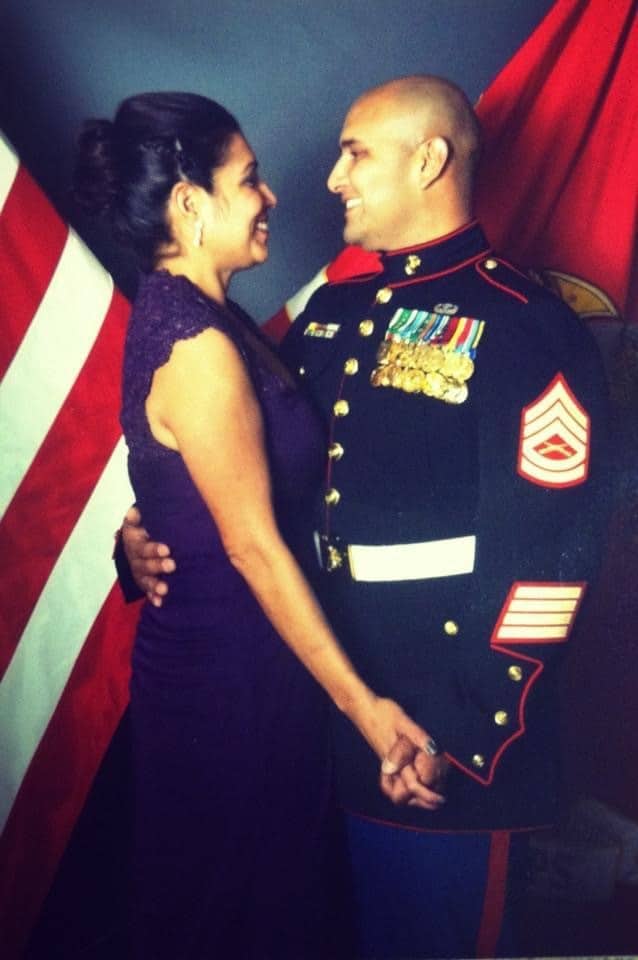 You are a part of the Salute Veterans Community, which shares a common passion for helping veterans get into the data center industry. It is centered on veterans helping veterans. Why is this important to you?
The Veteran community is like no other. You can have the same college alma mater as someone, or grow up in the same hometown, but the bond and brotherhood / sisterhood established in the US Military is like no other. Veterans have an unwritten obligation to help each other out. The Marine Corps and Veteran community is my legacy. If I don't do everything I can to assist, I'll be letting the Veterans who came before me down; and that will not happen.
You are a person of great influence. If you could inspire a movement that would bring the most amount of good to the most amount of people, what would that be? You never know what your idea could trigger.
Teach tolerance and acceptance to our youth (and adults). The world is too small, and life is too short for anyone to resent another person. We are all different and there is no denying that. However, I believe being tolerant and accepting other points of view could go a long way in making our journey in life much more pleasant. I often say, "Strangers are just friends we haven't met yet" and "It's not wrong, just different".
"Bloom where you're planted."

David Luna
How can our readers follow you online?
Readers can follow me on LinkedIn.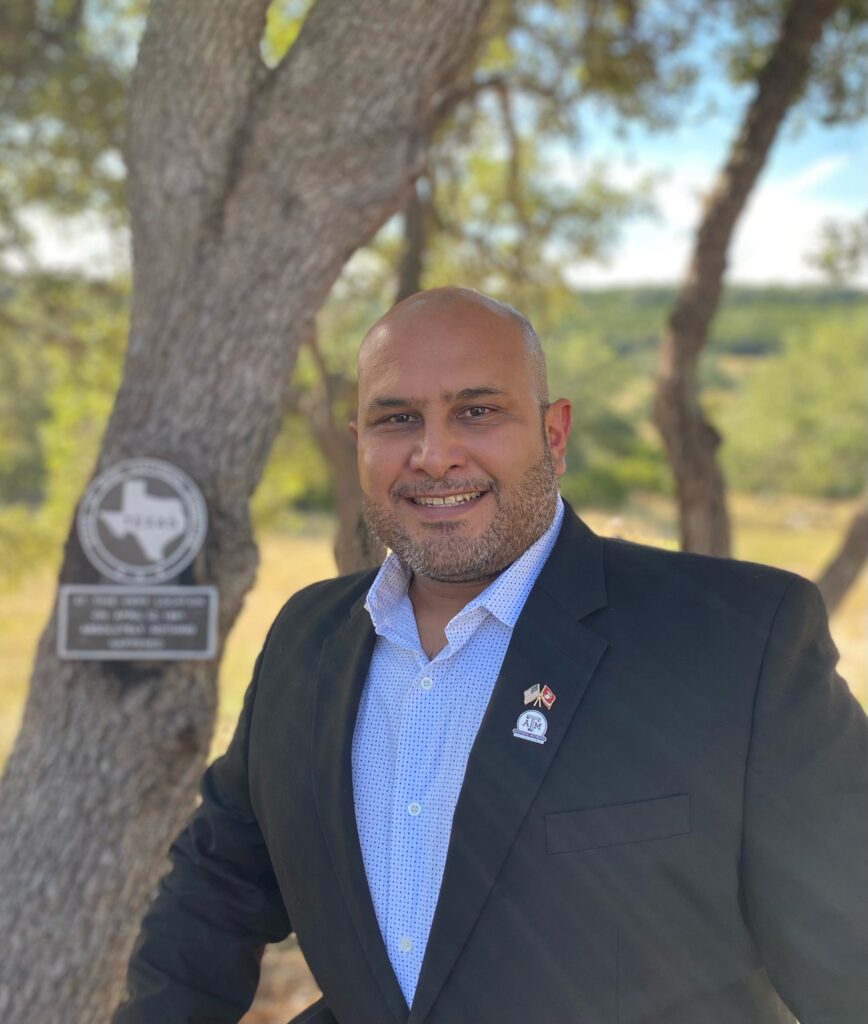 If you are a veteran looking for an exciting career in a growing industry, contact us at Salute. We can help put you on the path to success.
If you are looking to close the data center talent gap with individuals committed to bringing military precision to their careers, contact us. Employ the heroes of today, tomorrow.