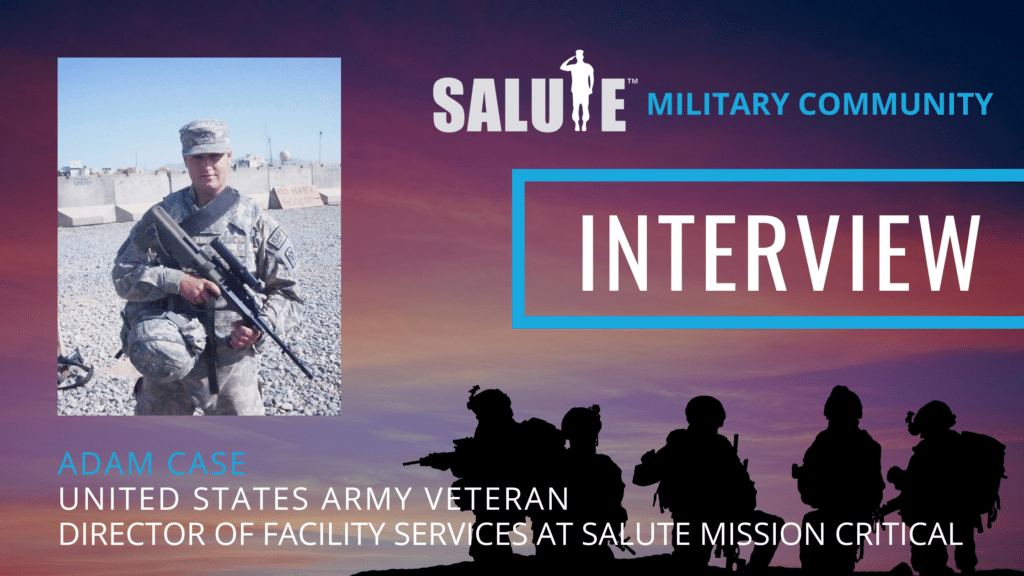 What is the Salute Military Community?
The Salute Military Community is a unique cohort of veterans and the military community who serve as examples of the value their experiences bring to our industry. The Military Community supports Salute's mission and strives to achieve our shared vision of providing veterans and military spouses career opportunities in the data center industry. We are proud of the military community for giving back to other members seeking to start careers in this industry.
Lee Kirby, Salute Co-Founder, and retired Army colonel, interviewed Military Community member Adam Case, Director of Facility Services at Salute Mission Critical and United States Army Veteran.
Before we dig in, our readers would love to get to know you a bit. Can you tell us a bit about your childhood?
I grew up in Portland, Oregon, and I'm the youngest of 3 children. My parents were always hardworking people who worked in the restaurant industry. Although both of my parents worked, sometimes two jobs, my family didn't have a lot of disposable income. What my parents showed me, though, was that hard work and determination pay off. By the time I was in high school, we were able to move from the modest means area of Portland that I grew up in, to purchasing a home in a middle-class suburb outside of Portland. The example that my parents set is what compelled me to join the military. Not only did I want to serve my country, but I saw this as a way to jump-start my career and develop valuable skills that I use today.
And what are you doing today?
I am the Director of Facility Services for Salute Mission Critical. I've been in this role for the last 2 and ½ years and I've been with Salute overall nearly 7 years.
Can you tell us a bit about your military background?
I joined the United States Army in 2008. My job was a 25S which is a Satellite Communications Operator/Maintainer. After basic and Advanced Individual Training (AIT), I was stationed in Fort Huachuca, Arizona, in the 86th Expeditionary Signal Battalion (ESB). In 2010, our Battalion deployed to Afghanistan for 1-year to support communications missions for various Forward Operating Bases (FOBs) across the country. My team deployed at FOB Wilson in Residential College (RC) South to supply tertiary communications. After our year-long mission, our unit returned to Fort Huachuca, and after my final year, I completed my four-year contract and left the Army.
Can you share the most interesting story that you experienced during your military career? What "takeaway" did you learn from that story?
The most interesting story I experienced actually occurred after my military career was over. Once I left the Army, I became a Department of Defense contractor doing Sat Comm. My job was to head back to Afghanistan to support the Army, Marines and Special Forces with these tactical Sat Comm systems called SNAPs. While there are some military members that saw action regularly in the Afghan war, I was classified as a Fobbit. A Fobbit is someone that sits on the base all day and supports the warfighters. While I was supporting the Marines on Camp Leatherneck, the British base on Leatherneck came under attack. The attack aimed to kill British Prince Henry, a helicopter pilot at the time. This attack led to 16 marines getting killed or injured. For U.S. civilians, they ended up locking us down on a Marine compound for about 12 hours while we heard gunfire erupt all over the base. While I was no longer a soldier, I had to prepare myself for a fight in case this was a serious attack. Given the lack of intel that we had, we had no idea as to the scope of the battle. The possibility of this being a dire situation was certainly on the table. I learned that day that you must prepare yourself for any situation, which is still something I use in business often.
Do you think your experience in the military helped prepare you for business or leadership? Can you explain?
Absolutely. Within my job as a 25S, we were put into remote locations, and we would need to get our equipment working and online with very little support or spare parts. The idea was to complete the mission no matter what. If we didn't establish communications, that could mean potential life or death for the warfighter. What Salute Mission Critical does on a daily basis may not be life and death, but the stakes are extremely high for the clients we support. Given my background in the Army, I was taught how to keep calm under pressure while being able to think critically and solve problems. Those skills have proven extremely useful in business and leadership.
None of us can achieve success without some help along the way. Is there a particular person you are grateful for who helped you get to where you are? Can you share a story?
Salute's former President of Operations, Kristen Vosmaer, was my Direct Supervisor for a period of four years. He taught me not just to think like a technician but also as a manager and a leader. Kristen was very good at bringing people out of their comfort zone, which in turn would bring out the best in them. He would often put me in situations where I had to figure out how to succeed very quickly. An example of one of those situations was starting the MSFT Boydton project. We hired a local team and had to figure out the service delivery within one day without having a lot of experience on the team. That project, in particular, was a huge learning moment for me, and the right preparation and communication will allow you to succeed even under difficult circumstances. I certainly owe a lot to Kristen, but it wouldn't be fair not to mention my other mentors in the company. Namely, Sonda Kolodzinski, Ryan Buhk, and Jason Okroy. Each of them taught me so many great and sometimes tough lessons all along the way.
You are a part of the Salute Military Community that shares a common passion for helping veterans and military spouses get into the data center industry. It is centered on veterans helping veterans. Why is this important to you?
During my time in the military, many of my battle buddies didn't know what they wanted to do when they completed their military service. In fact, I really didn't have a clue as to the path I wanted to pursue myself. When Sonda Kolodzinski found me, I was a stay-at-home dad going to school part-time. While I knew what data centers were, I never thought of them as a potential career. Since my time at Salute, I have hired hundreds of fellow veterans and placed them into what I think is a fantastic career. The one thing that I love about Salute is that our goal is to give anyone who joins our company a potential career and not just a job. Sometimes that is within Salute itself, and other times our employees get the training/experience that would lead them to a career with one of our prominent data center partners.
You are a person of great influence. If you could inspire a movement that would bring the most amount of good to the most amount of people, what would that be? You never know what your idea can trigger.
The movement that I feel the proudest to inspire is a movement to get kids to understand the complexity and influence of all of the technology that we use every day. Most people have no idea how their technology works and what infrastructure goes into it. Of course, being in the data center industry, we know that data centers (DCs) are the backbone of the internet. But suppose the next generation of kids learned how technology worked and became interested in the data center industry. In that case, we could see our next generation create quantum leaps and reach the potential of what data centers can accomplish.
How can our readers follow you online?
Readers can follow me on LinkedIn.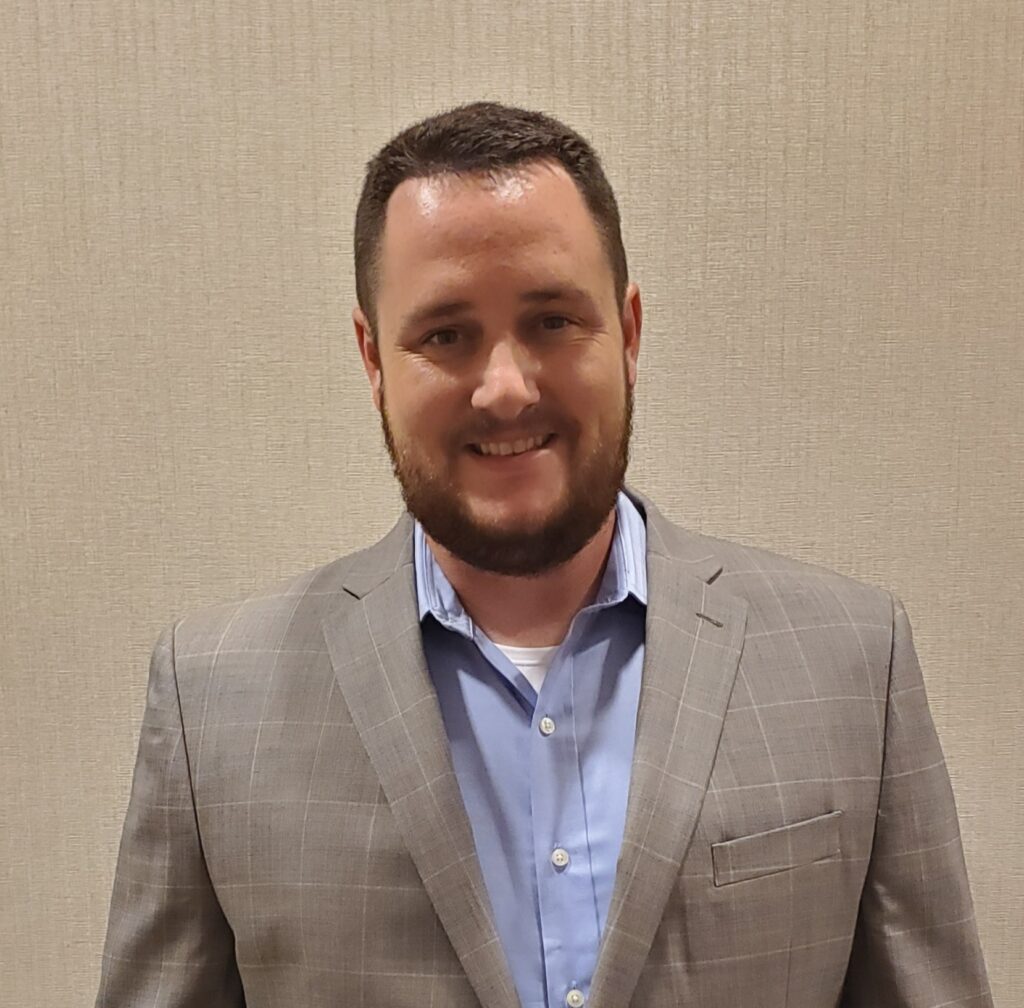 If you are a veteran or military spouse looking for an exciting career in a growing industry, contact us at Salute. We can help put you on the path to success.
If you are looking to close the data center talent gap with individuals committed to bringing military precision to their careers, contact us. Employ the heroes of today, tomorrow.